It's time for another delicious cookie recipe and what better than Cashew Chocolate Chip cookies!
This one-bowl cookie recipe is easy to make and doesn't create a lot of dirty dishes…yay.
These Cashew Chocolate Chip Cookies are perfect for an afternoon snack or to take to your next get-together and is sure to be a hit with both kids and adults alike.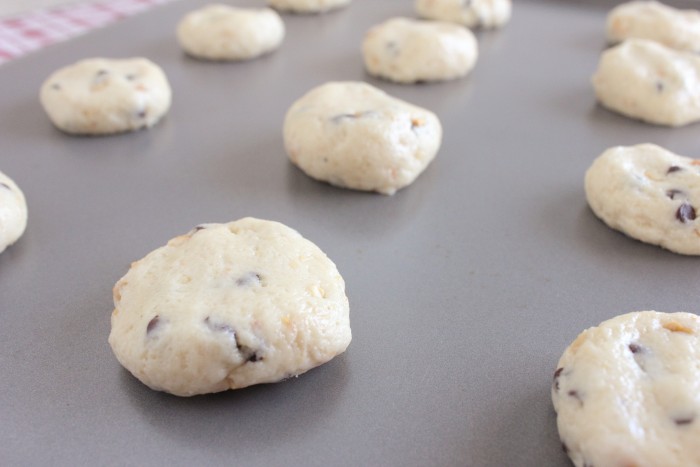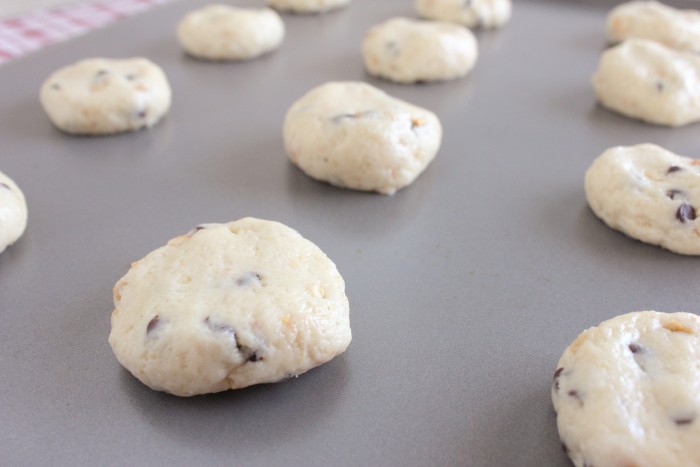 What makes these cookies a hit for me is that there is no rolling of cookie dough required.
Simply mix up the ingredients in one bowl, form the dough into 1 inch balls and place on a cookie sheet.
Flatten the cookies to about a third of their height and bake.
Of course, if you don't like cashews you can substitute for another type of nut. Think peanuts, almonds, walnuts, or even macadamia nuts.
Start to finish these cookies only take approximately 30 minutes!
Grocery Shopping Tip: If you use a lot of cashews in everyday life consider buying a bag of them from a bulk store like Costco or Sams. Otherwise, I would price the cashews out at Trader Joes or Aldis. I find that their prices for nuts are pretty affordable.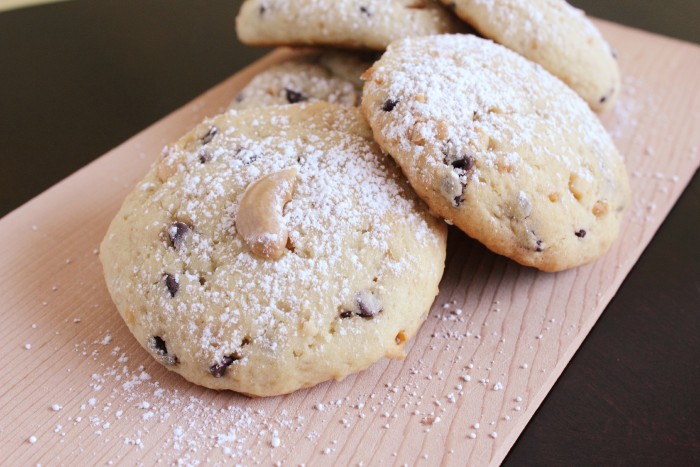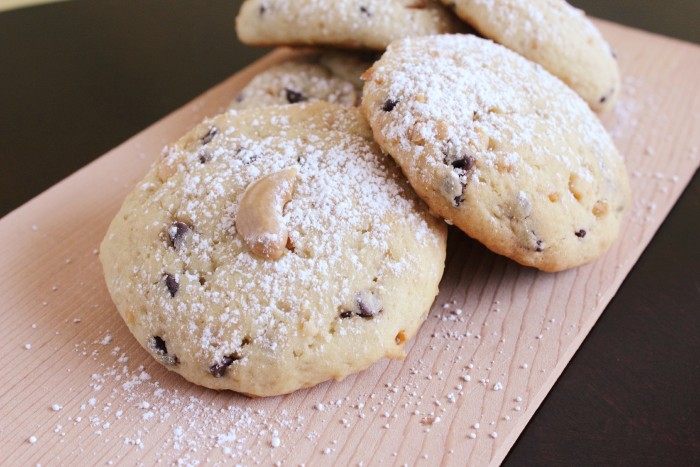 Cashew Chocolate Chip Cookies Ingredients
1 pkg. cream cheese, softened
1 cup butter, softened
1 1⁄4 cup sugar
2 teas. vanilla
2 1⁄2 cups flour
3⁄4 teas. baking soda
1 cup cashews, crushed
1⁄2 cup mini chocolate chips
3⁄4 cup powdered sugar
Cashew Chocolate Chip Cookies Directions
Preheat oven to 350.
In a medium bowl cream together the Cream Cheese, Butter, Sugar and Vanilla.
Add the Cashews, Chocolate Chips, Flour and Baking Soda mix until moist dough forms.
Form dough into 1 inch balls and place on a cookie sheet flatten them to about a third of the height.
Bake until just starting to brown around the edges, 10-12 minutes. Cool Completely.
Dust with powdered sugar just before serving.
Find More Cookies Here
Lemon Coconut Cake Mix Cookies
Snickerdoodle Snickers Cookies Recipe
Grandma's Snickerdoodle Cookies
White Chocolate Peanut Butter Cookies
Reese's Pieces Oatmeal Cookies Recipe
Caramel Heavenlies Easy Cookie Recipe