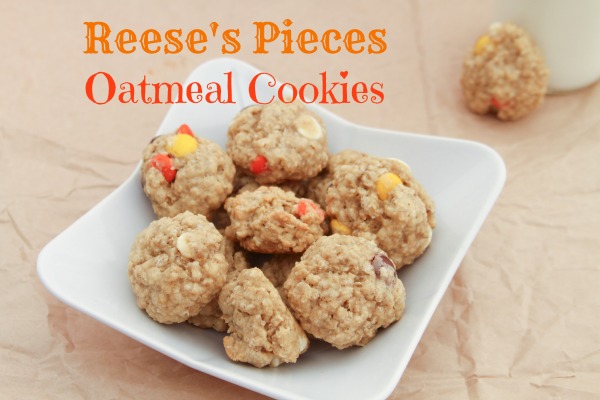 Quite honestly, these Reese's Pieces Oatmeal cookies may go down in history as the best cookies ever!
I originally saw these over at Mom On Time Out and knew I had to make them.
Me, being me, meant that I adjusted the original recipe to my own taste. I have been cutting the sugar down in all my recipes and everything still taste great.
I was glad that the reduced sugar didn't affect how much we loved these cookies.
I shaped the cookies into balls before baking.
Next time I will just drop by the spoonful onto the tray so they bake out more flat. Regardless, these cookies were gone the day after I baked them.
Em & Alan kept saying how much they loved them and that is high praise indeed. I make a lot of cookies so they have a lot of cookies to compare to.
As I'm typing this post, Em is reminiscing about how great these cookies are and asking when I'll make them again.
Her exact words "Those cookies are sooo good. When are you making more?"
Easy Reese's Pieces Oatmeal Cookies Ingredients
3/4 cup butter, softened
1/2 c brown sugar
1/4 c sugar
2 eggs, room temperature
1 Tbls vanilla
2 1/2 cups quick-cooking oats
1 1/2 cups AP flour
1/2 tsp salt
1/2 tsp baking soda
1 theater size box of Reese's Pieces (around 4 ounces I think)
1/2 cup White Chocolate Chips
Easy Reese's Pieces Oatmeal Cookies Directions
In a bowl cream together butter and sugars. Add one egg at a time until they are fully incorporated. Add vanilla.
In another bowl mix oats, flour, salt and baking soda. Mix into the butter mixture. Add Reese's Pieces and white chocolate chips.
Cover and place in fridge for an hour.
Preheat oven to 350 degrees.
Remove from fridge and drop by spoonful on parchment lined cookie sheet. Bake for 10-12 minutes.
Cool on wire racks.