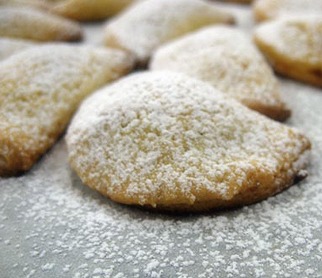 Please welcome Paula from the soon to be published site Love & Gingerbread to the blog. Love & Gingerbread is set to go live on Oct 15. It is all about European Christmas' and I can't wait. I convinced Paula to share a few sneak peaks from her site with us. She shared an European Brown Gingerbread and now she brings us a recipe for Chestnut Tortelli Cookies, also known as Baby Jesus' Pillows.
Now, over to Paula.
Having met Deb I learned about her yearning for Italy. Living in Munich means Italy is never far, means as well there will be plenty of pictures from Italy, Italian Christmas Markets and well, no Italian Christmas would be complete without one or more traditional desserts!
I love chestnuts. I love picking them and I love Italian chestnut fairs. Find yourself in Italy in Autumn and make sure you visit one. The chestnut fairs (sagre) offer everything from caldarroste (roasted chestnut kiosks), to castagnaccio (cake made from chestnuts, pine nuts and raisins), chestnut flour, chestnut marmalade, Christmas chestnut tortelli and even ravioli pasta.
Autumn in Italy is an enchanting promise and opens the pre-Christmas season.
Chestnut Tortelli Cookies Recipe
INGREDIENTS:
3-1/2 cups all-purpose flour
2 teaspoons baking powder
1 teaspoon salt
8 tablespoons unsalted butter, cut into chunks
2 eggs, room temperature
1/4 cup olive oil
2 tablespoons cold water
10 ounces peeled, cooked fresh or canned chestnuts
2/3 cup sugar
1 tablespoon unsweetened cocoa powder
3 tablespoons rum or brandy
1-1/2 teaspoons ground cinnamon
3/4 cup chopped semisweet chocolate or mini chocolate chips
Confectioner's sugar for coating
DIRECTIONS:
Combine the flour, baking powder, and salt in a food processor.
Add the butter and pulse the mixture until coarse crumbs form.
In a small bowl, whisk together the eggs, oil, and water.
Add to the flour mixture and pulse until a dough starts to form.
Remove the dough, shape into a disk, and wrap in plastic wrap.
Let rest for 30 minutes. The dough can also be refrigerated for up to 48 hours.
Combine the chestnuts, sugar, cocoa, and rum, and cinnamon in a food processor.
Process until finely chopped and transfer to a bowl. Stir in the chocolate.
Preheat the oven to 375-degrees F.
Line 2 large baking sheets with parchment paper.
Divide the dough into 4 pieces.
Roll out each piece about 1/8-inch thick.
With a biscuit cutter, cut out 2-1/2 inch rounds.
Place a teaspoon of the filling on one half of each round.
Moisten the edge of the round with a little water, fold the round in half and pinch the edges to seal.
Place the tortelli on the baking sheets.
Bake 15 minutes or until lightly browned and crisp.
As the tortelli come out of the oven, transfer them to a bowl filled with the confectioner's sugar.
Roll them in the sugar and then transfer to wire racks.