This easy black bean and corn soup recipe helps solves the "what to eat" dilemma.
You know, those days when it feels like there is NOTHING in the house for lunch or dinner? You dig and dig through the cabinets and fridge and just don't see anything. This happens one too many times at our house.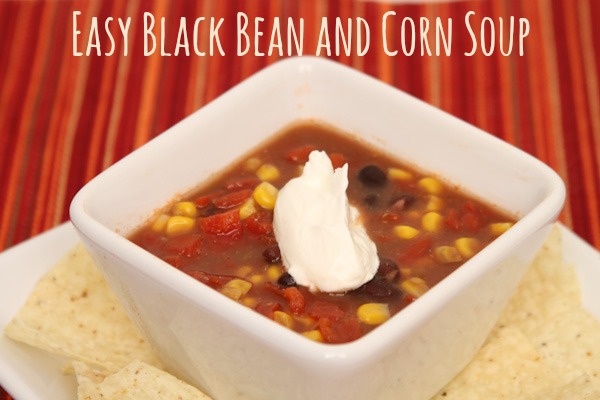 My sister was visiting and I was whining that I couldn't find anything for lunch. I yelled out "hey, what can we make with black beans??"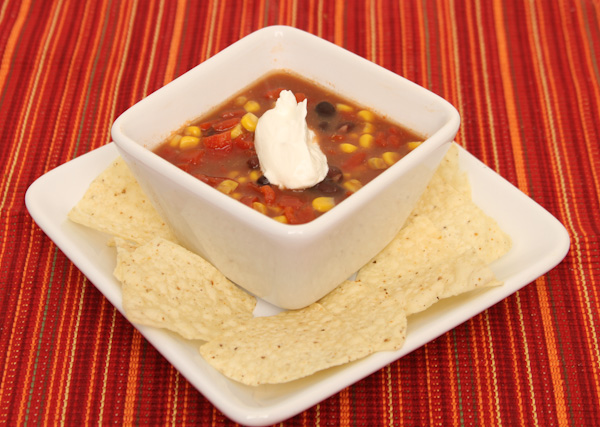 She thought about it for a minute, asked if I had any corn, tomatoes and chicken broth, which, surprisingly I did and said she would whip up some soup. Even better, she was willing to make lunch.
Sweet!!! It's not very often someone else makes lunch for me.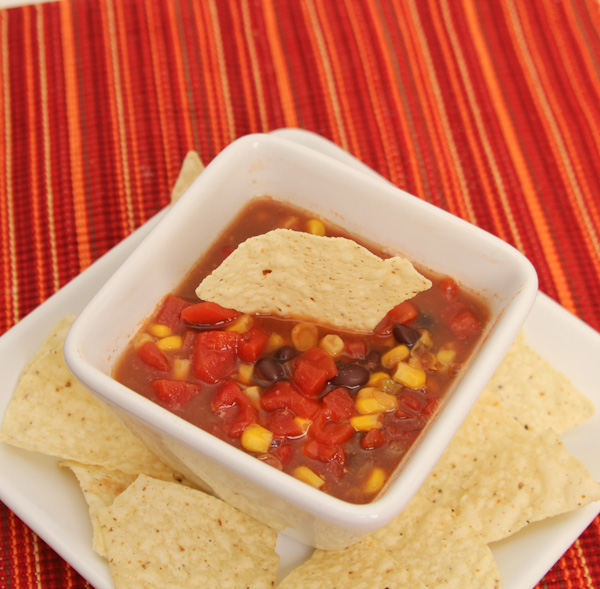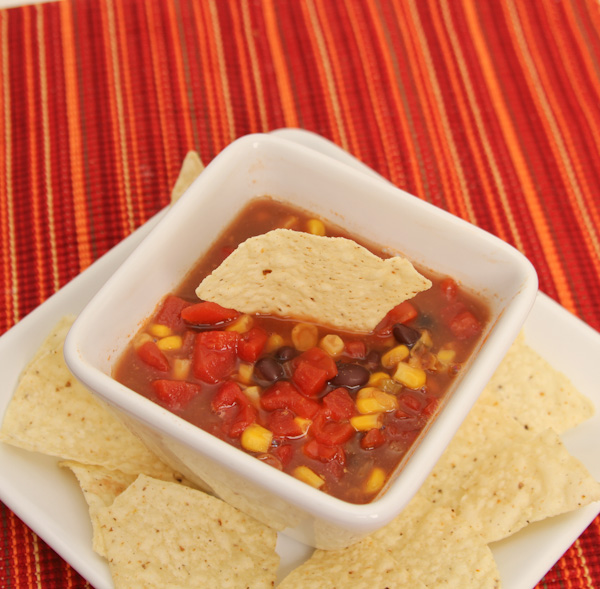 Oh, look at all that yummy goodness! This soup was quick and easy to make.
She had it cooking on the stove within 5 minutes and then we just had to wait for it to simmer for a bit to meld all they tasty flavors together.
After 30 minutes I couldn't wait any longer and dug into the soup.
Lets just say there wasn't much left over after we had lunch. I would definitely make this soup again.
You can top with avocado, cheese, sour cream, onions, chives and/or chips. I tried it with both chips and sour cream. They were both excellent!!
Black Bean & Corn Soup Recipe
Author:
Cook time:
Total time:
Ingredients
1 can corn
1 1/2 cans black beans
3 cups chicken broth
1 can diced tomatoes with onion, green peppers,
1 1/2 teaspoons garlic powder
1 1/2 teaspoons of cumin
1 1/2 teaspoons of salt
pepper to taste
sour cream
tortilla chips
Directions
Mix all ingredients together in a medium-sized saucepan. Heat over medium heat for at least 30 minutes.
Top with your choice of toppings
Want more easy recipes? Check these out!
Easy Egg Roll in a Bowl Recipe
Easy Beef Burgundy Stew Recipe
Easy Chili With Chocolate Recipe + 7 More Chili Recipes You'll Want To Try
Caramel Heavenlies Easy Cookie Recipe
PIN EASY BLACK BEAN AND CORN SOUP TO PINTEREST