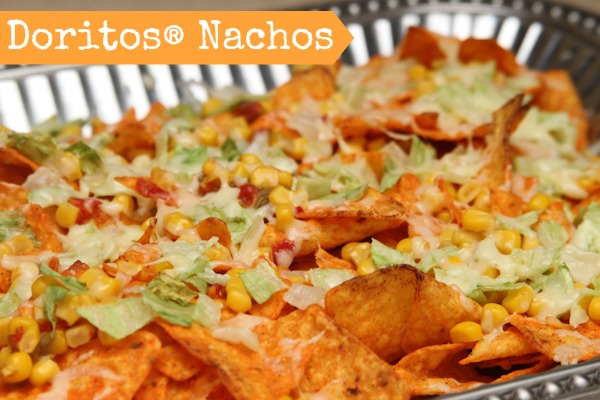 A while back I was making nachos and thought I wonder how good this would be with Doritos as a base? Of course, I didn't have any Doritos in the house and didn't give the idea much more thought. A week later I was visiting my son and he said: "I made the BEST nachos the other night using Doritos as the base."  Whhaaaaattttttt??? And that is how Doritos Nachos were born for us. I don't think we'll ever go back!
So, if you've never used Doritos as a base for your nachos you have to give this a try. Grab an oven-safe tray and layer it with Doritos®, cheese, corn, black beans, salsa, lettuce, etc. Whatever you would normally use on your nachos just use on the Doritos®. Pop the tray into the oven at 350 for 5-10 minutes or until the cheese has melted. That's it, easy, peasy.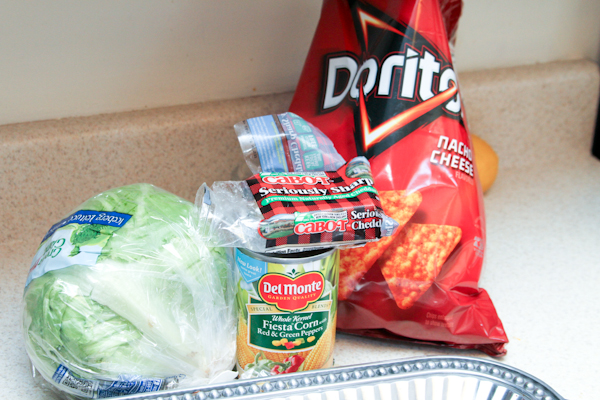 I used this adorable pan from Wilton Armatale to bake the nachos. It makes a great serving tray as well since it can go from oven to table.
Don't bake the Doritos nachos too long or they'll start to get a little crispy on top (see image below). Even with the crispy edges on some of the Doritos, these turned out so very, very good!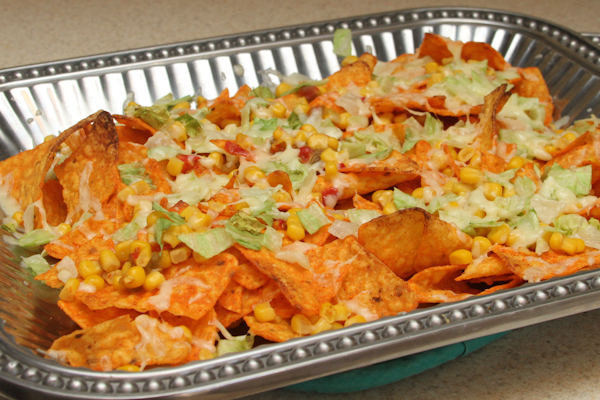 Since Em made these my request for black beans was overruled, but even without the black beans we all really liked these. Next time your make nachos try replacing the plain tortilla chips with Doritos.
Doritos Nachos Ingredients
Doritos
1-2 cups Cheese, shredded
Corn, 1/2 can
Black beans, 1/2 can
Salsa, to taste
1 cup lettuce, chopped
Any other topping that you like.
Sour cream and/or guacamole served on the side
Doritos Nachos Directions
Place a layer of Doritos on the tray. Top with nacho toppings of choice. Repeat so that you have two layers of chips and toppings. Bake at 350 for 5-10 minutes or until cheese is melted.
Serve with sour cream and/or guacamole.
More party recipes to try:
Green Pepper Ring Recipe (like onion rings but made with green peppers–SO GOOD!)
***Pin Doritos Nachos To Pinterest***