This sausage pinwheels recipe is a delicious and easy-to-make snack that will quickly become a crowd favorite.
The recipe requires only three simple ingredients that are readily available in any grocery store. The combination of breakfast sausage and cream cheese creates a savory filling that is encased in a flaky pastry crust.
These pinwheels can be made using either crescent roll dough or thin pizza crust, depending on your preference.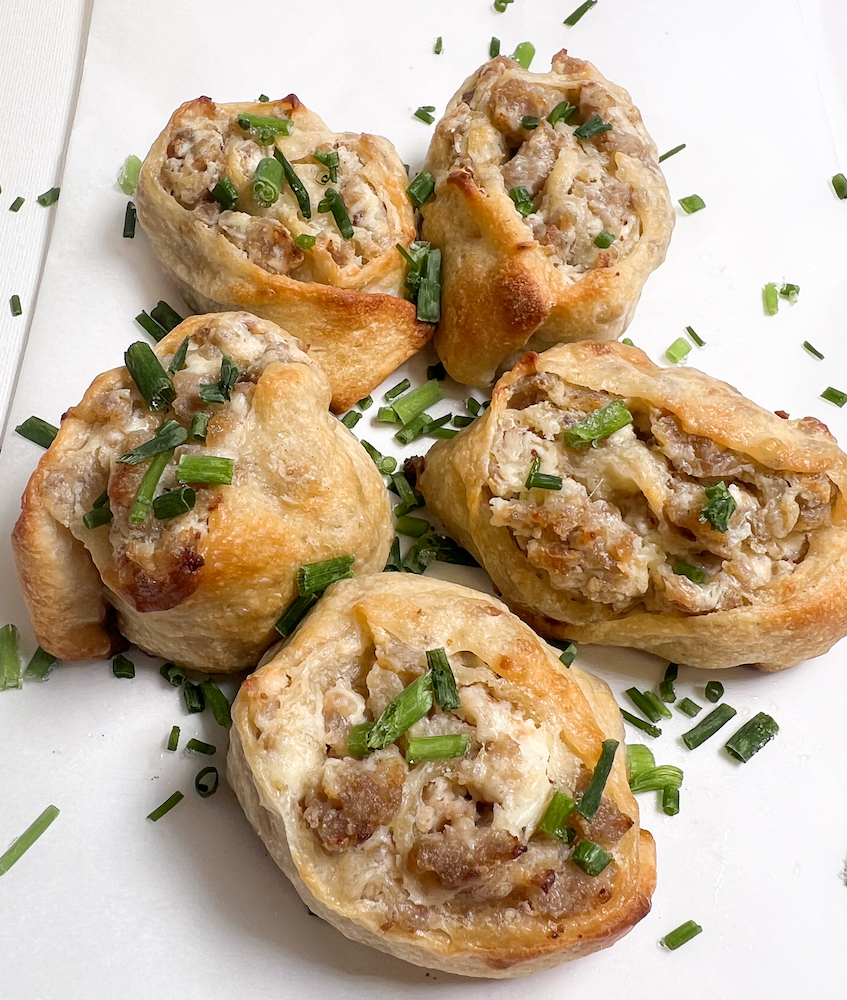 If you're in a hurry, you can use the pre-packaged crescent roll dough that is now available in a sheet format, making the preparation process even easier.
The sausage mixture is made by frying breakfast sausage and then adding cream cheese until it is well combined.
Once the sausage mixture is ready, it is spread onto the dough, rolled up, and cut into hearty slices.
The pinwheels are then baked until they are golden brown and crispy, giving them a delicious crunch.
These pinwheels are perfect for any occasion, whether it's a party, game night, or even a quick snack.
I've tossed around the idea of adding scrambled egg to these pinwheels, but haven't tried that yet.

Sausage Pinwheels Recipe
Sausage Pinwheels Ingredients
2 package crescent rolls dough or thin pizza crust (both work)
1-8oz package cream cheese
1-16oz package of bulk breakfast sausage
Sausage Pinwheels Directions
Fry breakfast sausage according to package directions. When sausage is done, add cream cheese and mix until combined. Remove from heat.
Unroll crescent rolls onto a greased cookie sheet. (Tip: Pillsbury now makes the crescent rolls in a sheet so that you don't have to press seems together.) P
ress seams together if needed.
Divide the sausage mixture in half and spread on each of the crescent sheets.
Starting from the shortest end roll dough into a log.
Cut into pinwheels. (I cut mine thick and hearty)
Place cut side up on a n greased cookie sheet and cook at 375 for 8-10 minutes.
Check Out More Party Food Ideas
PIN EASY SAUSAGE PINWHEEL RECIPE TO PINTEREST