Get ready to impress your family and friends with these delicious and unique twist on Luck of the Irish cake balls.
Perfect for St. Patrick's Day, these adorable little monsters are sure to be a hit with kids and adults alike. Not only are they cute, but they're also versatile, you can use them for other holidays by just changing the color of the coconut.
Imagine Valentine's Day with pink coconut or 4th of July with red, white, and blue coconut. The possibilities are endless.
These unique and fun twist on Luck of the Irish cake balls are a great way to add a touch of festivity to any occasion.
Let's get started and make these delightful treats together!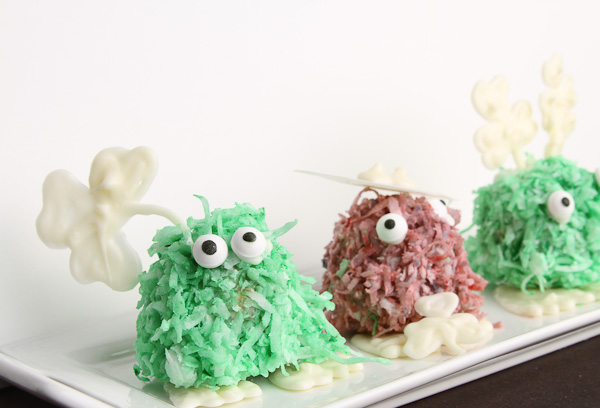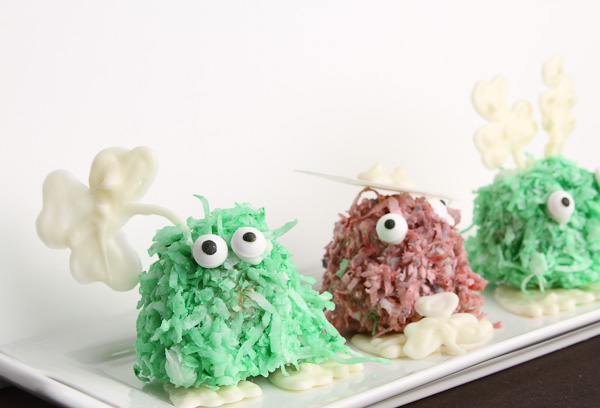 Note: I made this recipe quite a few years ago and don't recall the yield or time it took to create. To be fair, I'd probably set aside an afternoon (including cooling time) to make this recipe. My best guess for yield would be approximately 12 cake balls
Luck of the Irish Cake Balls Ingredients
1 3/4 cups all-purpose flour
2 cups granulated sugar
1 cup cocoa powder
1 1/2 teaspoons baking soda
1 1/2 teaspoons baking powder
1 teaspoon salt
2 large eggs
1 cup whole milk
1/2 cup oil
2 teaspoons vanilla extract
1 cup boiling water
Luck of the Irish Cake Balls Directions
Preheat the oven to 350 degrees F (175 degrees C). Grease and flour a 9 X 5 inch loaf pan.
In a large mixing bowl, combine the flour, sugar, cocoa powder, baking soda, baking powder, and salt.
In a separate mixing bowl, whisk together the eggs, milk, oil, and vanilla extract.
Slowly pour the wet ingredients into the dry ingredients and mix until fully incorporated.
Mix the batter for 3 minutes on medium speed.
Slowly add the boiling water, starting with a small amount and then pouring in the remaining water.
Pour the batter into the prepared pan.
Bake at 350 degrees for 45 minutes or until a toothpick inserted into the center comes out clean.
Remove from the oven and allow to cool completely.
Frosting Ingredients
1/4 cup dark cocoa powder
2 cups soft unsalted butter
1/4 cup half & half
1 teaspoon vanilla extract
3 cups powdered sugar
Frosting Directions
In a mixing bowl with a paddle attachment, beat the butter until smooth.
Add the half & half and beat until fluffy and light.
Add the vanilla extract and beat for 1 minute.
Slowly add the powdered sugar and cocoa powder and beat until well blended, scraping the sides of the bowl as needed.
If the frosting is not stiff enough, add more powdered sugar 1/4 cup at a time.
Test the frosting by spooning a small amount onto a spoon and turning the spoon upside down. If the frosting holds its shape and does not slide off the spoon, it is ready to use.
Additional Cake Ball Ingredients
1 cup flaked coconut, more may be required depending on how many cake ball sizes
Green food coloring
2-3 cup white chocolate chips, have more on standby in case you need to practice creating shamrocks and monster feet
How To Assemble Luck Of The Irish Cake Balls
Once the cake is cool, crumble it into a large mixing bowl.
Add a spoonful of the frosting to the crumbled cake and mix well.
Add more frosting as needed until the mixture holds together and can be shaped into balls.
Use an ice cream scoop or spoon to scoop out small portions of the cake mixture and roll them into balls.
Place the cake balls on a baking sheet lined with parchment paper and chill in the refrigerator for 30 minutes.
Melt the white chocolate chips in a double boiler or in the microwave, stirring frequently to ensure that it melts evenly.
Remove the cake balls from the refrigerator and insert a skewer stick or toothpick into the center of each ball.
Dip each cake ball into the melted white chocolate, using a fork to coat it evenly.
Remove the cake ball from the chocolate and roll in the colored coconut. This part may be a little messy, but just enjoy the process.
Place the ball on a parchment lined cookie sheet to set up.
Using a small dollop of frosting or chocolate adhere two small eyes to the center of the cake ball
Create the feet and shamrocks with white chocolate We freehanded the design on parchment paper, waited for it to cool completely and then attached to the Luck of the Irish Cake Ball.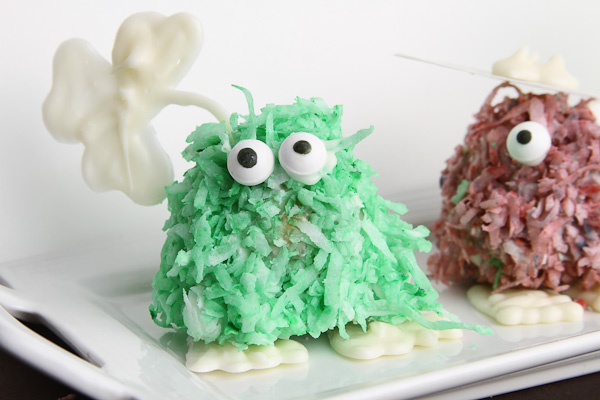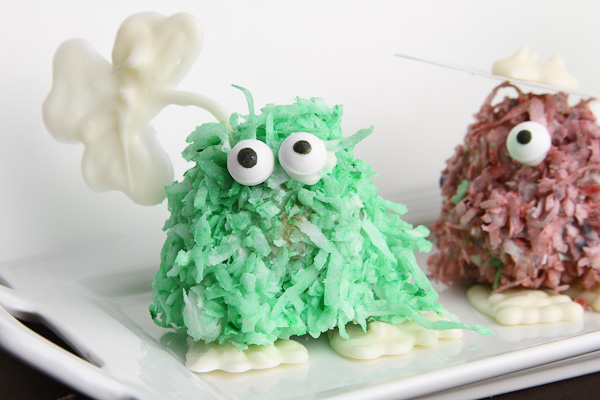 ASSEMBLY TIPS:
Making the coconut stick to the balls was pretty challenging. Make sure there is a good layer of chocolate on the cake balls before rolling in coconut to have success.
We used skewer stick to create a hole in the ball to insert the shamrock decoration.
Pin Luck of the Irish Cake Balls to Pinterest