Back in the Spring I attended a cooking class at Ann Arbor Cooks as a guest of the United Dairy Industry of Michigan. The class was a lot of fun and almost all the recipes made during the class used milk or cheese.
This class taught me how to tie a pork loin AND gave me hands-on experience when I actually tied a pork loin for the first time ever.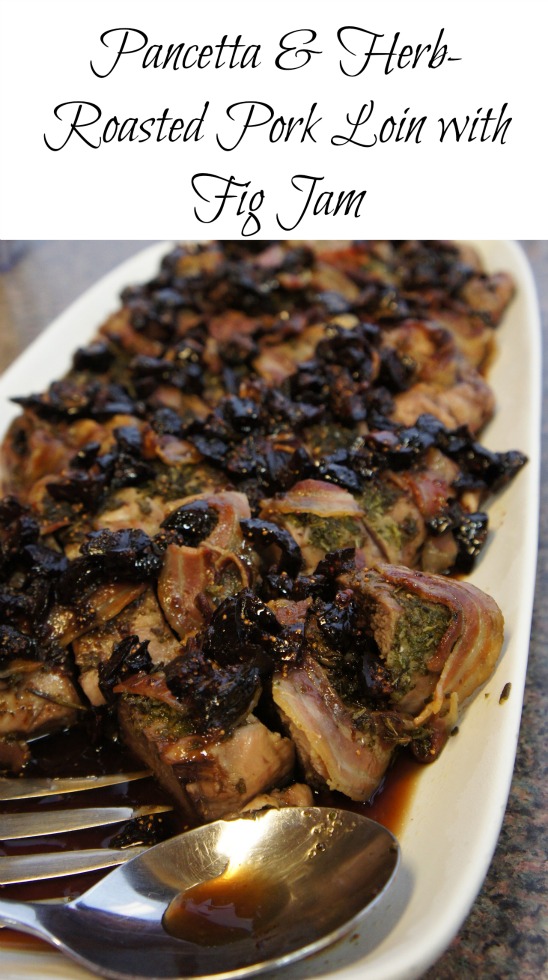 It's not as hard as I expected and is really as easy as tying a shoe. Glad I checked that off my "figure it out" life list. Of course, fig jam is a tasty compliment to pork loin.
I love cooking with figs so was happy to get my hands on this tasty recipe.
Natalie at Ann Arbor Cooks provided all the recipes, including this one, for the class. If you live in Michigan and are looking for a great cooking class be sure to check out Ann Arbor Cooks. They offer a variety of classes for all levels of cooking.
PANCETTA & HERB-ROASTED PORK LOIN WITH FIG JAM
Serves 12
JAM INGREDIENTS
2 c. dry red wine
1 1⁄2 c. water
24 dried Black Mission figs, stemmed, cut into 1⁄4 inch cubes
1 c. sugar
1⁄4 c. fresh lemon juice
PORK INGREDIENTS
1⁄2 c. extra-virgin olive oil
2 Tbsp. chopped fresh sage
2 Tbsp. chopped fresh thyme
2 Tbsp. chopped fresh rosemary
1 Tbsp. salt
1 Tsp. ground black pepper
4 pork tenderloins (or 1 4 lb. boneless pork loin), tied to hold shape
2 oz. pancetta, thinly sliced
JAM DIRECTIONS
1. Bring all ingredients to a boil in a heavy large sauce pan over medium-high heat, stirring constantly until sugar dissolves.
2. Simmer mixture until thickened and reduced,stirring occasionally, about 45 minutes.
3. Transfer jam to large bowl and cool completely. Should be served at room temperature.
PORK DIRECTIONS
1. In a food processor, pulse together the olive oil,sage,thyme, rosemary, salt, and pepper until almost smooth.
2. Place pork in a roasting pan; rub herb mixture over both roasts; cover with plastic wrap and refrigerate overnight.
3. Preheat oven to 400 degreesF.
4. Season pork loins generously with salt and pepper.
5. Place pancetta slices on top of pork, overlapping if necessary; tie roast with butcher twine to hold shape
6. Roast meat until meat thermometer registers 140 degrees F.
7. Transfer pork roasts to cutting board; remove string and let rest 15 to 30 minutes before carving.
8. Slice and serve with fig jam.
Learn more about cooking with dairy:
Michigan Dairy News Bureau Facebook page
United Dairy Industry of Michigan recipe page
United Dairy Industry of Michigan Pinterest page
Enjoy!
Pin To Pinterest: