This post is sponsored by Primo® water, all thoughts and opinions are my own!
We drink A LOT of water in our house. When I started working on getting healthier I cut out almost all drinks that had calories which left the water, coffee, and tea for beverage choices.
We were tired of buying gallons of water and refilling a small water pitcher with a filter every couple of hours was getting old. Enter the Primo water dispenser with 5-gallon refillable bottles.
Yes!! Finally, something that is environmentally friendly, offers fresh and tasty drinking water and is affordable.
Plus, it keeps plastic bottles out of our landfills and out of our oceans.
Filling the 5-gallon water bottle is as easy as 1-2-3. I went to my local Meijer store (find a store near you) to the bottled water section and find the Primo water station (note, it may say Glacier water, same company). It should be a big blue dispenser.
Simply remove the non-spill cap from your empty bottle and set it in the dispenser.
Push the button to lower the filling tap.
Push the green go button to start the flow of water.

Once it's full, turn off the water, raise the filling tap, and place the lid back on your bottled water.

Push the green go button to start the flow of water.

Once it's full, turn off the water, raise the filling tap, and place the lid back on your bottled water.
What I love, besides it being so easy, is that our store is only 44 cents a gallon which makes it $2.20 for FIVE GALLONS!
Not only is that price so affordable, it's easy to keep fresh water in the house and keep plastic water bottles out of our landfills and out of our oceans.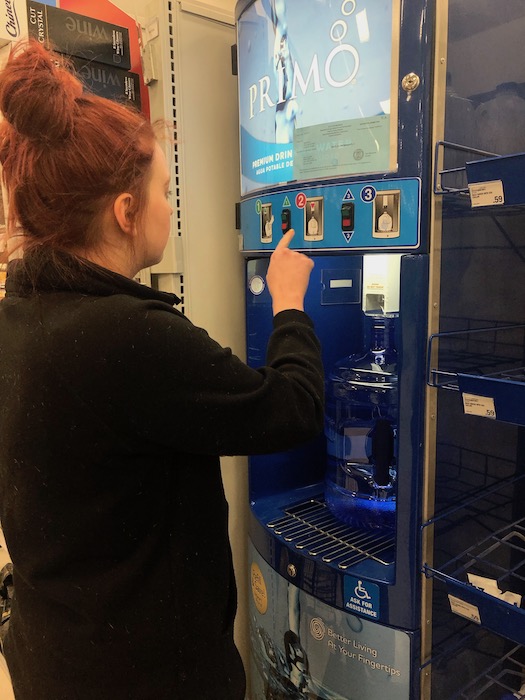 Why Bottled Water?
Our house has well water that is chock full of iron. While it won't hurt us, it definitely doesn't taste good. It has that icky metallic taste that we all abhor.
We tried a water softener but really didn't like how that water tasted. Using bottled water has really been our only choice and while, it's been ok when you drink as much water as we do you start to use A LOT of plastic.
Those single plastic jugs always bugged me. Even though we recycled them I still felt like I was not being as environmentally responsible as I should be. We always talked about buying a bigger dispenser and finally made it happen with the Primo Water Dispenser.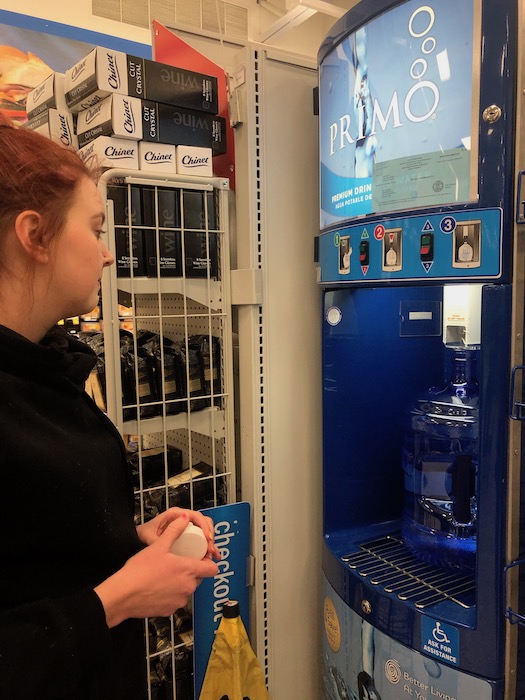 Having the Deluxe Bottom Loading Water Dispenser with Self-Sanitization solves so many issues. It takes refillable bottles, lets us pick from cold, cool, or hot water, and a 5-gallon bottle keeps us with water for a couple of days before we have to replace it.
We have two 5-gallon bottles so plenty for a week. We simply refill each week during our grocery run.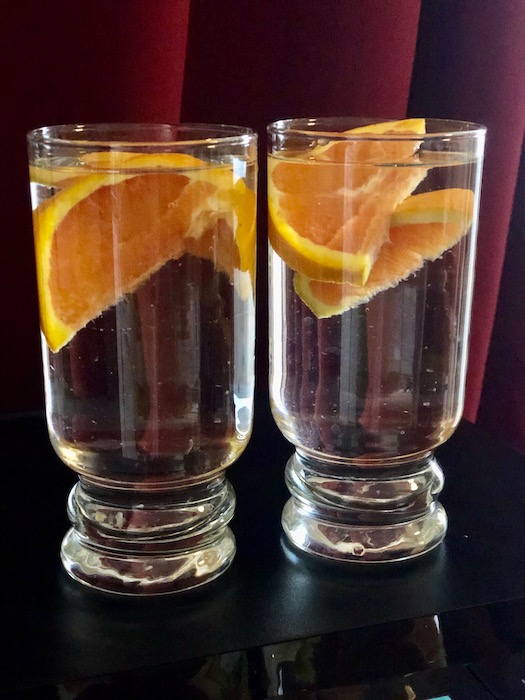 What Makes Primo Water So Good?
The water at the Primo fill stations goes through a multi-step purification process that includes reverse osmosis.
Reverse Osmosis is a type of filtration process. The water goes through filters that leave behind minerals, microscopic organisms, heavy metals, and impurities leaving behind clean, highly purified water.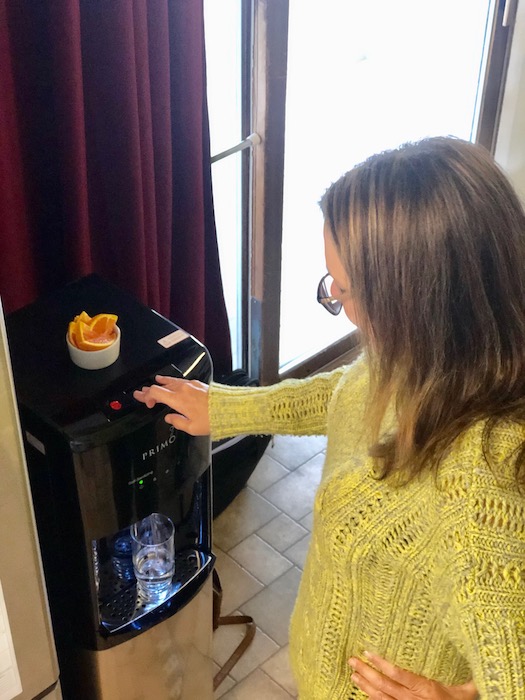 Spring Is The PERFECT Time To Reboot Your New Year's Resolutions!
If one of your New Year's Resolutions was to drink more water than now is a perfect time for a reboot.

We make all those resolutions at the start of the year and promptly forget them, but what if we done a Spring reboot to look at where we are with those resolutions.
We've been doing a great job of drinking enough water, but now I can reboot our need to recycle more
Each 5-gallon bottle saves 1,100 single-use bottles from the landfill!!
Less plastic for the landfill, we're responsible for less waste, and we can drink out clean, filtered water guilt-free.
Water, Water, Water
Our Primo dispenser has hot, cool, and cold water so regardless of what we're in the mood for we have easy access to a tasty beverage.
A note for families with children. The hot option has a child lock on it so that you don't have to worry about unexpected burns.
Most of the time I'm just filling my water bottle as I walk by, but sometimes a nice cup of tea or refreshing cold drink is in order.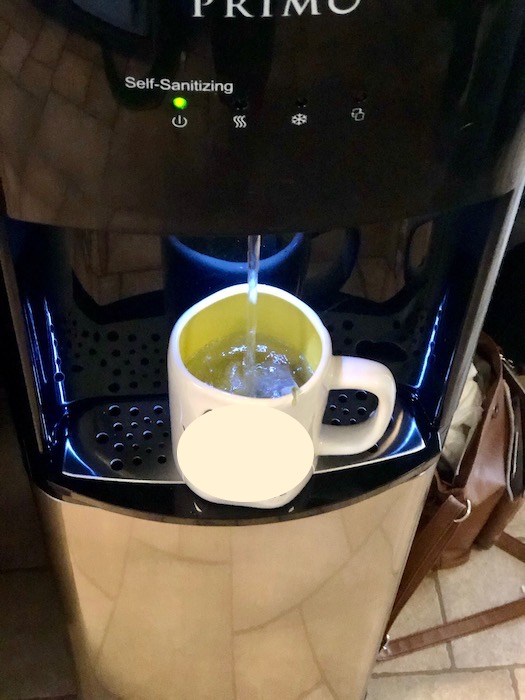 Pop a tea bag in my cup, add hot water and done. No waiting for the water kettle to boil. It's tea in no time at all. Same with iced tea, I simply use the ice cold water setting instead of hot water and done.
How To Drink More Water In A Day
You'll want to check with your doctor to see how much water you should drink in a day. For me, it's around 80 ounces.
When you break that down it's only 10 ounces for each hour of an 8-hour workday.
Fill a 10-ounce mug at the top of each hour (you should be getting up to stretch at least that often) and when the day is over you'll have met your water quota.
Of course, if you drink a cup in the morning and in the evening that is even less that you need to drink during the workday.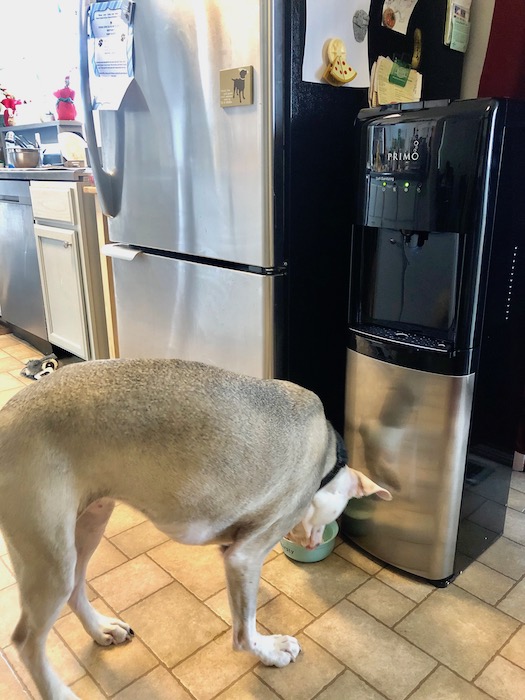 Water For Us, Water For The Pets
In addition to having fresh, high quality drinking water for us, our pets have a great water source as well.
Having quality water for them has always been important to us.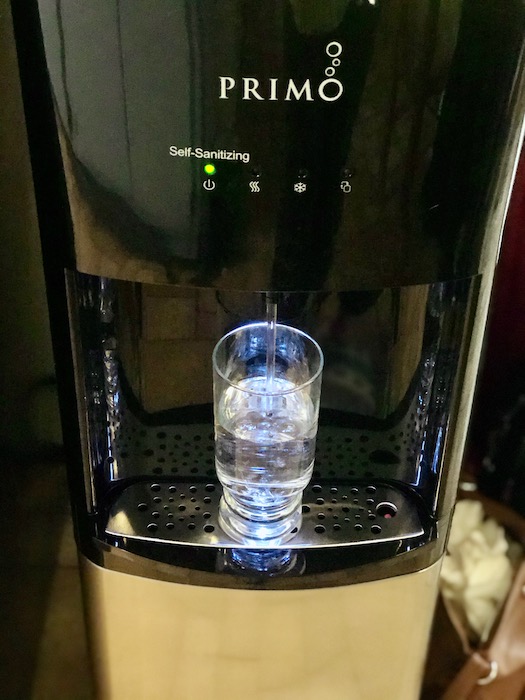 Again, this means fewer plastic bottles in our landfills and oceans because we can simply refill our 5-gallon bottles again and again.
We absolutely love it.
Visit thePrimo website to sign up for text messaging to receive a 20% off coupon code + free shipping.
This is a sponsored post on behalf of Primo.