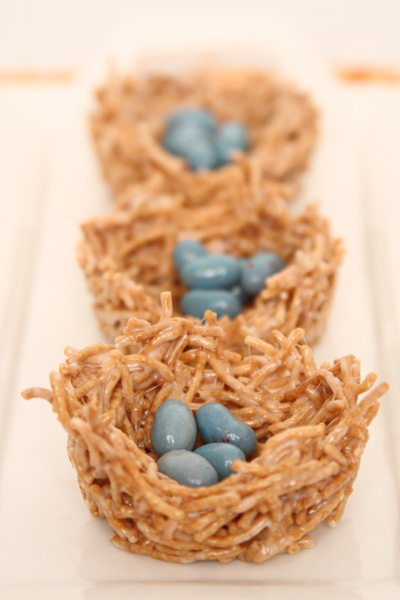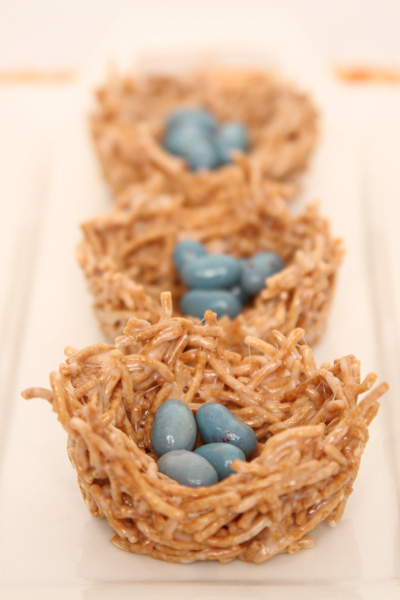 It feels like winter has been here so long. Months and months of cold, dreary days and way too much snow. Every February I hit a wall where I say enough is enough and I don't think I can take one more day of winter. Â Thankfully, I've made it to March without completely losing my mind. If I can make it through March then April will, hopefully, start to warm up. By warm I mean, we should at least see some days in the 50's. yay!
In case you can't tell, I'm so ready for spring to be here. I know its getting closer when I can start planning for Easter. I made up these adorable birds nests the other day and absolutely love them. I'll be making more and using them on our table for Easter dinner…they'll make adorable holders for  tasty Easter treats.  I put blue jelly belly jelly beans in the nests. Em actually had jelly beans left over from last Easter that she found when cleaning her room. Perfect timing if you ask me.
So incredibly easy to make. Make them up just like rice krispie treats except you'll replace the cereal with crispy rice noodles. Easy, peasy, right? All you need is a few ingredients and a cupcake pan. That's it.
Spring Birds Nests Recipe
Ingredients
7 marshmallows
1/2 T butter
1 c crispy rice noodles
Instructions
Melt butter in a medium size pan, add marshmallows and melt. Remove from heat and add crispy rice noodles.
Put rice crispy noodle mixture in well greased cupcake holders and form into nests.
Makes 6 nests.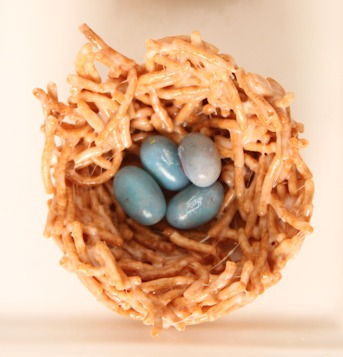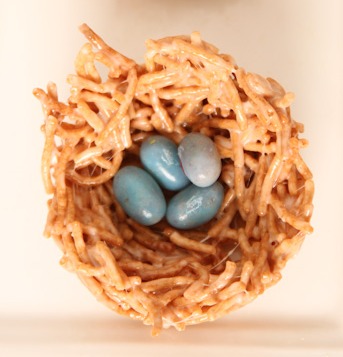 Do you have an easy Easter decoration that you make every year? Have you tried making these before? What decorations do you use on your Easter table?