This is the perfect cookbook for young singles or empty nesters. It really is the (note: affiliate link)Ultimate Cooking For One Cookbook. Includes everything from breakfast to dessert in easy to follow recipes like this chocolate strawberry shortcake recipe!
The recipes also share prep and cook time, perfect for busy nights, and nutritional information. For my friends on Weight Watchers or Keto, this makes it easier to make the right food choices.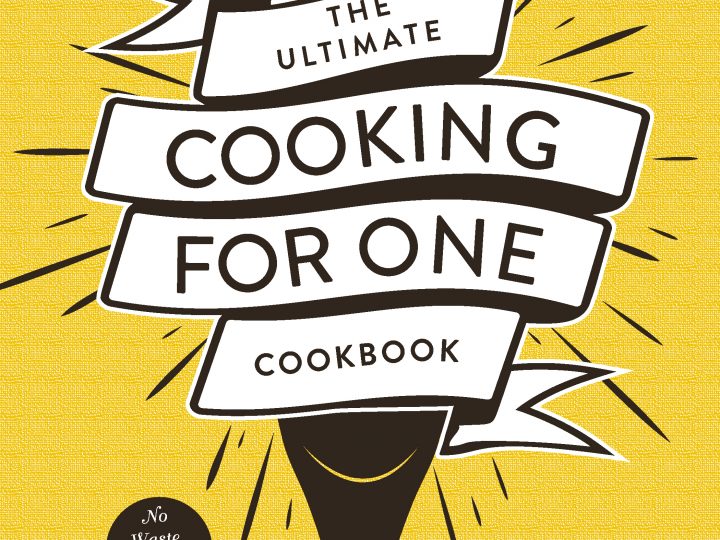 Excerpted from The Ultimate Cooking for One Cookbook by Joanie Zisk. Copyright © 2019 by Simon & Schuster, Inc. Photography by James Stefiuk. Used with permission of the publisher, Adams Media, an imprint of Simon & Schuster. All rights reserved.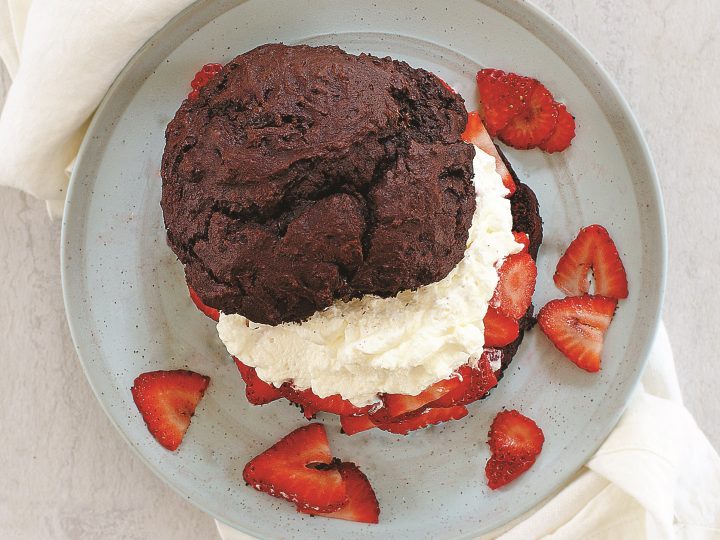 CHOCOLATE STRAWBERRY SHORTCAKE RECIPE
This Chocolate Strawberry Shortcake recipe is the perfect size to satisfy your sweet tooth.
The "biscuit" is slightly sweet thanks to a hint of cinnamon, cocoa powder, and a few chocolate chips, and is served with fresh sliced strawberries and a hefty dollop of whipped cream.
SERVES 1 | PREP: 5 MINUTES | COOK: 15 MINUTES
CHOCOLATE STRAWBERRY SHORTCAKE INGREDIENTS
6 tablespoons all-purpose flour
2 tablespoons cocoa powder
1 tablespoon granulated sugar
1⁄2 teaspoon baking powder
1⁄8 teaspoon baking soda
1⁄8 teaspoon ground cinnamon
1⁄8 teaspoon kosher salt
2 tablespoons cold butter
2 tablespoons semi-sweet chocolate chips
3 tablespoons 1% milk
1⁄4 cup sliced strawberries
1⁄2 cup whipped cream (recipe below)
CHOCOLATE STRAWBERRY SHORTCAKE DIRECTIONS
Preheat oven to 400°F.
Whisk together flour, cocoa powder, sugar, baking powder, baking soda, cinnamon, and salt in a small bowl.
Cut butter into flour mixture using either a pastry blender, a fork, or your fingertips until mixture resembles coarse crumbs.
Stir in chocolate chips, then add milk and stir until just combined.
Spoon dough onto a baking sheet lined with parchment paper and shape into a circle. Bake 14 minutes until the top is golden.
Remove from the oven and let cool 10 minutes.
To assemble Shortcake: Slice biscuit in half lengthwise, spoon sliced strawberries on the bottom half, and top with whipped cream. Top with remaining biscuit half. Enjoy.
Homemade Whipped Cream
To make your own easy whipped cream, simply pour 1⁄4 cup heavy cream and 1 teaspoon of sugar into a small mixing bowl. Whisk just until the cream reaches soft peaks, about 3 minutes.
PER SERVING
Calories: 787
Fat: 53g
Protein: 12g
Sodium: 675mg
Fiber: 7g
Carbohydrates: 76g
Sugar: 30g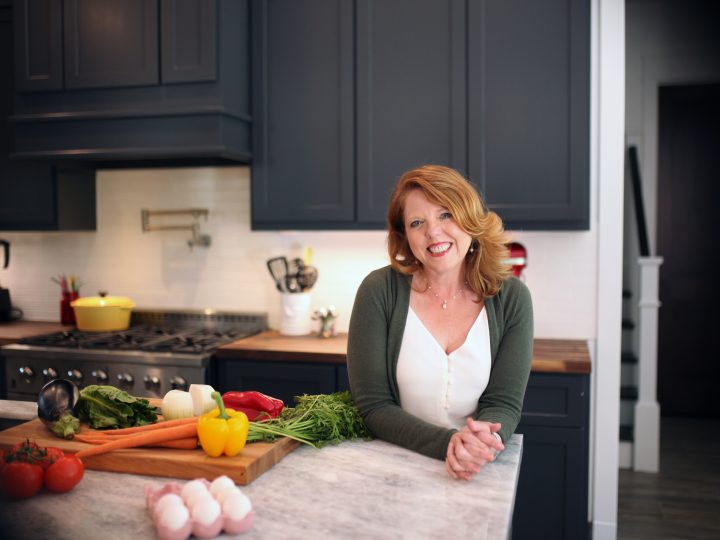 Joanie Zisk is the creator of One Dish Kitchen, a website where she creates single-serving and small-batch recipes.
Since 2012, Joanie has built a growing audience of loyal readers who crave good food for themselves. Joanie is a recipe developer, food stylist, food photographer, and TV contributor and lives in the Houston area where she pursues her passion for cooking, food, travel, and entertaining.
She is the author of The Ultimate Cooking for One Cookbook.
More Strawberry Recipes
Enjoy these delicious strawberry recipes year-round.
Pin Chocolate Strawberry Shortcake Recipe to Pinterest