Em decided that she wanted french toast for breakfast the other day. For some reason, it's not something I make very often, probably just a handful of times a year. Not sure why it never makes the short list for breakfast because it really is so very good.
I made Em some french toast and then I realized I had cream cheese and strawberries and I could make a faux stuffed french toast and my taste buds done a little happy dance at the thought.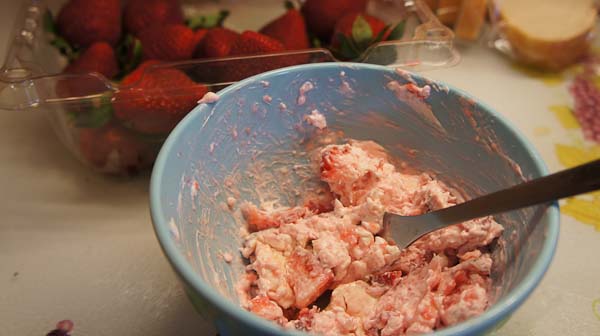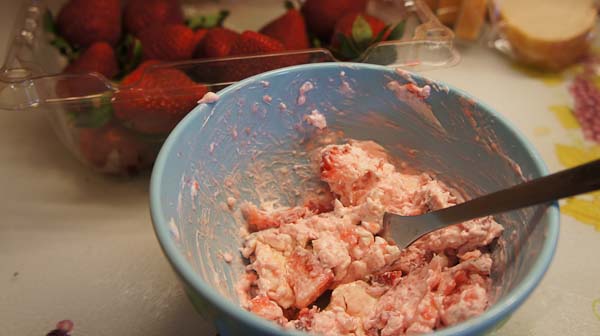 Mixing up the berries and cream cheese my mind instantly wonders to warm summer days and picking strawberries at a local Amish farm.
The Amish farm is about 20 miles from my house. It's down a dirt road and, unless I'm driving there I wouldn't be able to tell you how to find it. It's almost intuitive for me. Driving up to the house I usually see the Dad in the field working the land.
Walking back to the strawberry field I usually spot a few children running around and playing outside. I pass by greenhouses full of vegetables already exploding with color and heavy with vegetables.
I'm always amazed at how large their tomatoes are when its only June and my plants have just been planted. I guess that's a nice benefit of having a greenhouse. I love how calm the farm feels. It is quiet, it is peaceful and my soul is happy.
Arriving at the incredibly large strawberry patch I take a minute to breathe deep and just be in the moment. Oh, how I yearn for summer and picking berries. I need to make sure to pick extra berries this year. We go through them really, really quickly.
4 slices French Bread
1 Egg
1/2 teaspoon cinnamon
1 teaspoon vanilla
2 ounces cream cheese
4-6 strawberries
Syrup
DIRECTIONS
Mix egg, cinnamon, and vanilla in a shallow bowl.
Coat each side of the bread by dipping it in the egg mixture.
Place bread in a hot pan and cook on both sides until almost golden brown.
Spread cream cheese mixture on two slices of bread, then top with the remaining pieces to create a sandwich.
Continue cooking until cream cheese mixture warms through.
Remove from heat and serve with syrup. It's a little messy, but it's so tasty it doesn't matter.

More Strawberry Recipes:
Drunken Strawberry Crepe Recipe
6-Ingredient Strawberry Salsa You'll Want To Eat All Summer
Classic Strawberry Shortcake Recipe
Pin Strawberry Cream Cheese French Toast Recipe To Pinterest