Strawberry season is almost here in northern Michigan. Another couple weeks and I'll be able to go to the Amish farm and pick as many strawberries as I want.I love going to this farm to pick berries. It's so quaint. I love seeing all the yummy goodness growing in their greenhouses.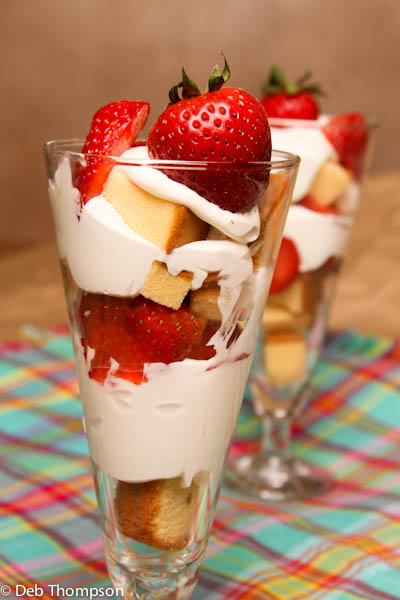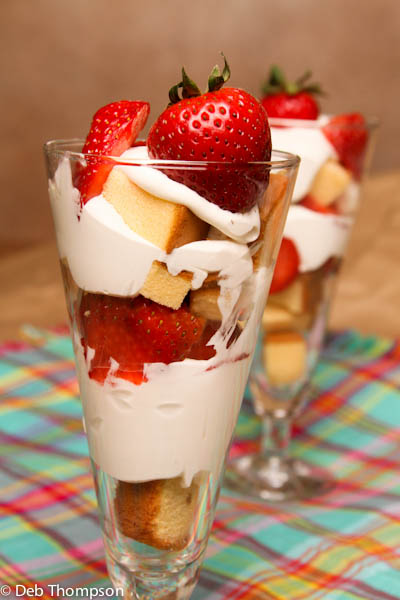 This recipe is so easy to make and is perfect for summer! This is so simple you could ask one of the kids to whip it up in no time at all.
Strawberry Trifle Ingredients
2 healthy slices of Pound Cake (I used Sara Lee)
4oz mascarpone cheese
2 tsp vanilla
2 tsp sugar
1 cup cool whip
8-10 large Strawberries, hulled and sliced.
Strawberry Trifle Directions
1. Cube pound cake into bite size pieces.
2. Blend mascarpone cheese, vanilla, and sugar together. Fold in cool whip. You can add more than a cup of cool whip if you like. I make this part according to what looks/taste "right".
3. Using individual serving dishes, layer pound cake, mascarpone mixture, and strawberries. Repeat. Top with berries.
Serves 2-3.
May be stored in the fridge until ready to eat. Usually within the day.
Add these strawberry recipes to your list of summer desserts:
Nutella and Strawberry Cookies (because seriously, can you have too much of a good thing?)
Classic Strawberry Shortcake – This is how we make it at our house. It a classic because it never disappoints.
Strawberry Rhubarb Coffee Cake – We have a few rhubarb plants in our garden. I really need to up my rhubarb game because this is the only thing I make. The rest of our rhubarb goes to my friend.
If you want a break from strawberries you have to give Aunt Ruth's Famous No Bake Cherry Dessert a try. It's another family favorite.
Pin This Delicious Strawberry Trifle Recipe To Pinterest