This quick and easy Spicy Buffalo Chicken Dip appetizer is perfect for tail-gaiting parties and other informal get-togethers.
Just toss all the ingredients into a slow cooker, turn it on, and viola! You have a tasty and delicious dish party-goers will love.
Adjust the amount of heat easily to suit individual tastes by increasing or decreasing the amount of hot sauce and jalapeno used.
My kids laugh at me because I leave all hot sauce and jalapenos out of my serving of chicken buffalo dip but add it in for everyone else.
Although the serving suggestions offered below are gluten-free, this tasty dip can also be served with crackers or crusty bread.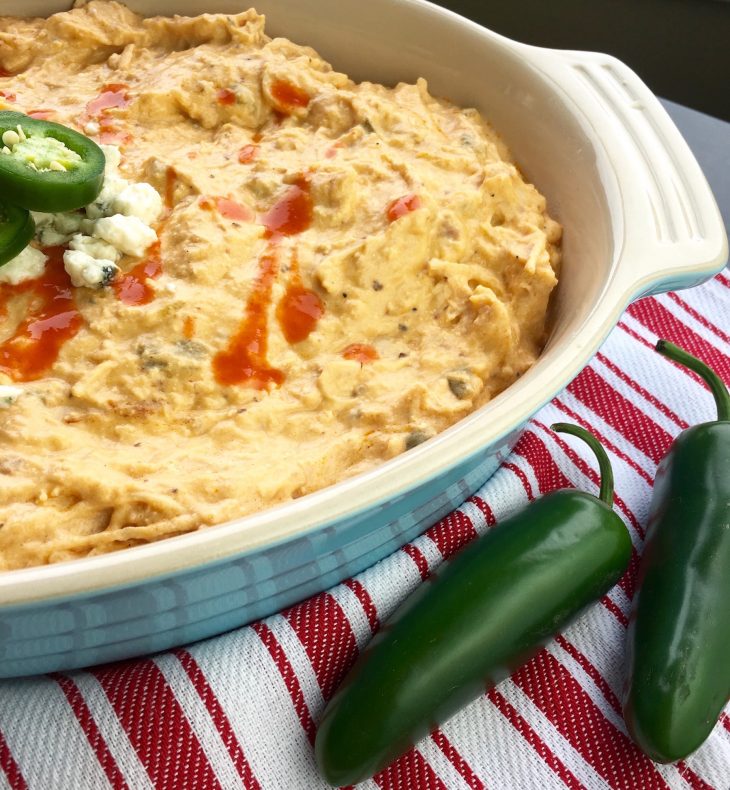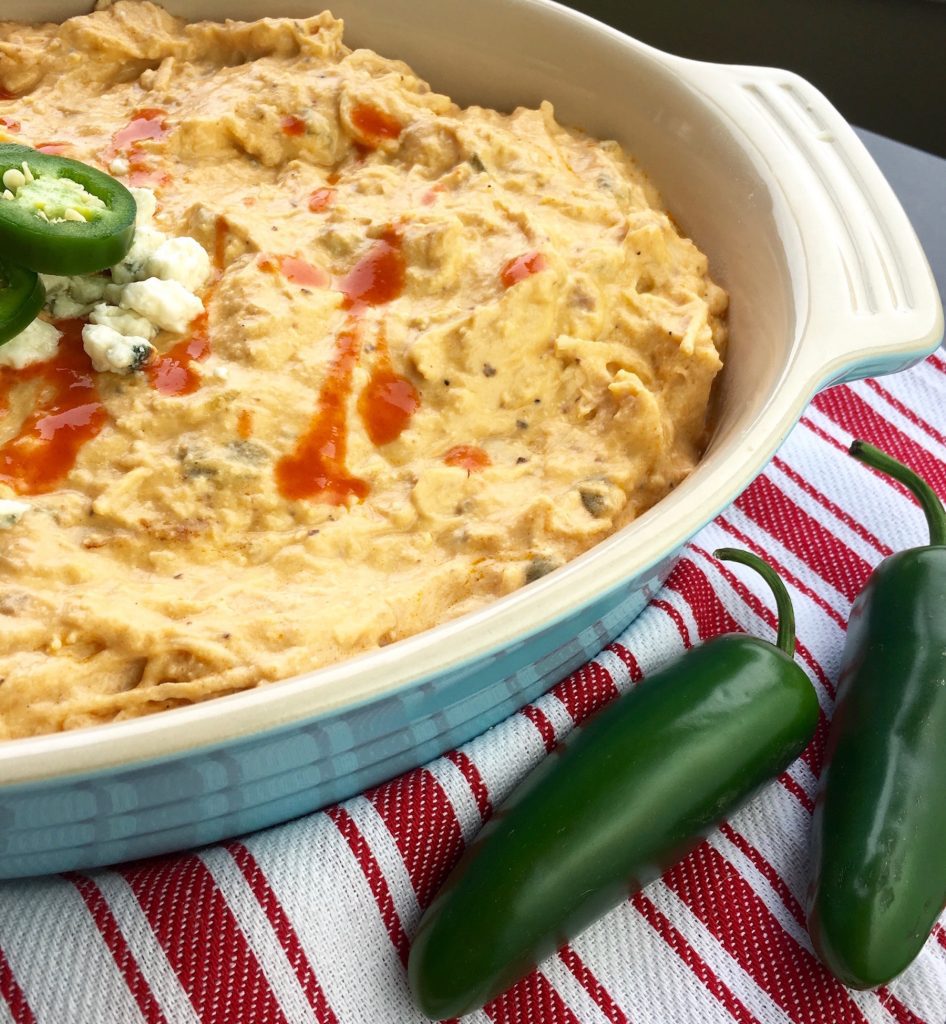 Spicy Buffalo Chicken Dip
This spicy buffalo chicken dip recipe is a favorite in our house for parties and get-togethers with friends.
Everyone loves the extra kick of spice, and it's so easy to make. You can definitely reduce the spice if you prefer, but we love to kick it up a notch or two.
To make it even easier, you can mix this up using shredded rotisserie chicken!
Spicy Buffalo Chicken Dip Ingredients
2 lbs. boneless, skinless chicken breasts
Salt and black pepper, to taste
½ c. chicken broth
3 stalks celery, very finely chopped
2 8-oz. packages cream cheese
¾ c. Frank's hot sauce
1 small jalapeno pepper, finely minced
6 oz. crumbled blue cheese, divided
1 c. Mozzarella cheese, finely shredded
3 green onions, tops sliced (optional)
1 small jalapeno, sliced (optional)
*Tip: You may need to add additional chicken broth before serving to achieve desired consistency.
MORE CROWD PLEASING APPETIZERS HERE
Spicy Buffalo Chicken Dip Directions
Season chicken breasts with salt and black pepper, to taste. Add chicken breasts, broth, celery, cream cheese, hot sauce, jalapeno pepper, and 4 oz. crumbled blue cheese to the crock of a 5 or 6-quart slow cooker. Cover and cook on high for 3-4 hours or 6-7 hours on low.
30 minutes before serving, remove lid and shred chicken using two forks. Add shredded Mozzarella cheese and stir to combine. Add cover and continue cooking until cheese is completely melted.
Remove lid and garnish dip with remaining blue cheese, sliced green onions, or jalapeno, if desired. Keep warm and serve with celery stalks and carrot sticks.
Prep time: 10 minutes
Cook time: 3-7 hours
Serves: 6-8
Make our spicy buffalo chicken dip with your favorite hot sauce and enjoy this at every party you host!
More Dip Recipes: