This hearty, chunky meat sauce takes a little while to come together, but it is so worth the extra effort. This recipe makes a large amount of sauce, so be sure to use a 6-quart or larger Dutch oven or pot when making it.
This sauce can be enjoyed immediately after cooking, but it tastes even better a day or two later when the flavors have had a chance to mingle. This recipe also freezes up nicely for later use.
Save yourself some time by crumbling up the beef and sausage with your fingers prior to browning. This will give you more consistently sized chunks of meat and is much easier than trying to break up the meat while it is browning.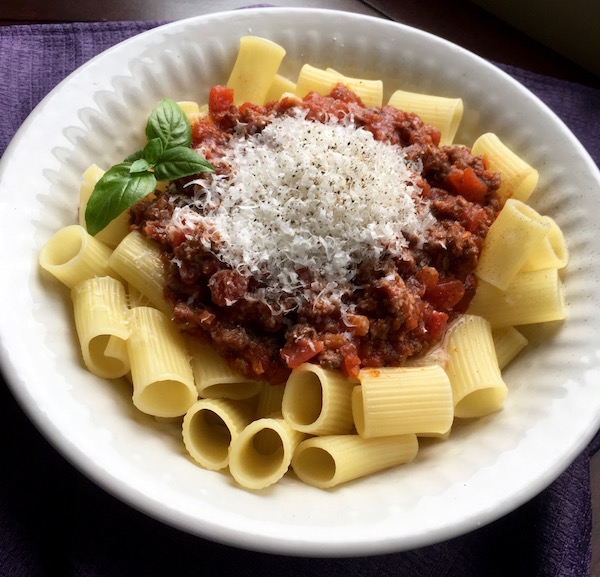 One-Pot Chunky Italian Meat Sauce Recipe Ingredients:
3 T. olive oil
2 medium yellow onion, finely chopped
3 cloves garlic, peeled and finely minced
2 c. white mushrooms, cleaned and roughly chopped
2 stalks celery, cleaned and finely chopped
1 large carrot, peeled and finely chopped
2 c. dry red wine, divided
1 ¼ pound ground beef, 85% lean
1 pound bulk sweet pork sausage
1 pound bulk spicy pork sausage
2 (28 oz) cans tomato puree
1 (28 oz) can petite-cut tomatoes, undrained
2 (6 oz) cans tomato paste
1 T. oregano, dried
2 t. thyme, dried
2 t. rosemary, dried
2 T. sugar
3-4" Parmesan rind
2 bay leaves
salt and pepper, to taste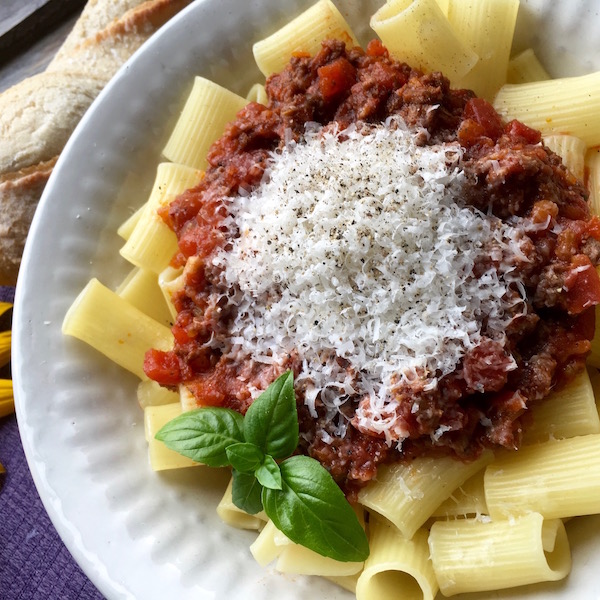 One-Pot Chunky Italian Meat Sauce Recipe Directions:
In a large (6 Qt) Dutch oven, heat olive oil over medium heat. Add onion, garlic and mushrooms to pan and cook until onions become soft and mushrooms begin to release liquids, about 4 or 5 minutes. Add celery, carrots and ½ cup wine and continue cooking for 3-4 minutes.
Add crumbled beef and pork to pot and cook over medium heat until no longer pink inside. Remove from heat and carefully drain excess fat from pan.
Return to burner and add tomato puree, petite-cut tomatoes, tomato paste, and remaining red wine to Dutch oven, along with oregano, thyme, rosemary, and sugar. Stir to combine.
Drop in bay leaves and Parmesan rind and give a quick stir. Cover and simmer on low heat for 3-4 hours, stirring occasionally.
If sauce is too thick, add a little water to achieve the desired consistency. If it is too thin, continue cooking until it reaches the thickness you prefer.
Remove bay leaves and Parmesan rind. Season with salt and pepper, to taste.
Serve immediately with your favorite cooked pasta and some cheesy garlic bread. Refrigerate or freeze unused portion within 2 hours.
Pin To Pinterest: