I have been looking forward to giving this squash rustic pie a try for a while. I love butternut squash and thought this would be absolutely divine.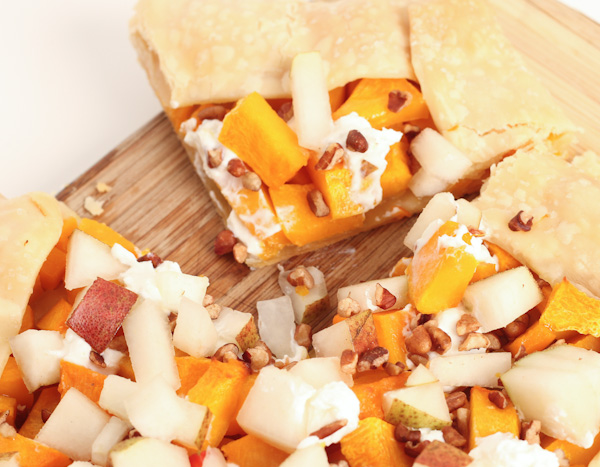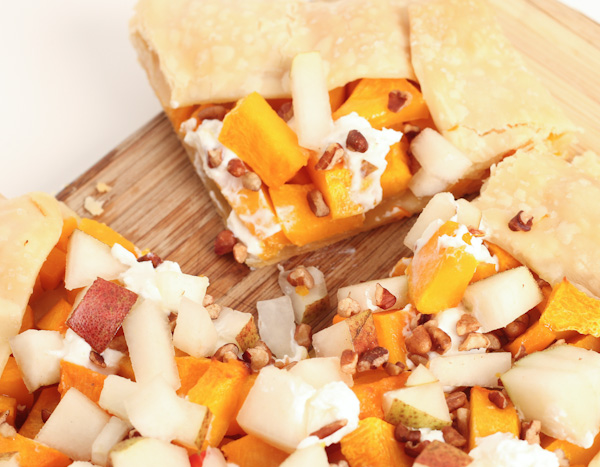 This recipe was inspired by one I read at Cinnamon Spice And Everything Nice. I didn't have all the ingredients that were required for the original recipe so I improvised and made my own version.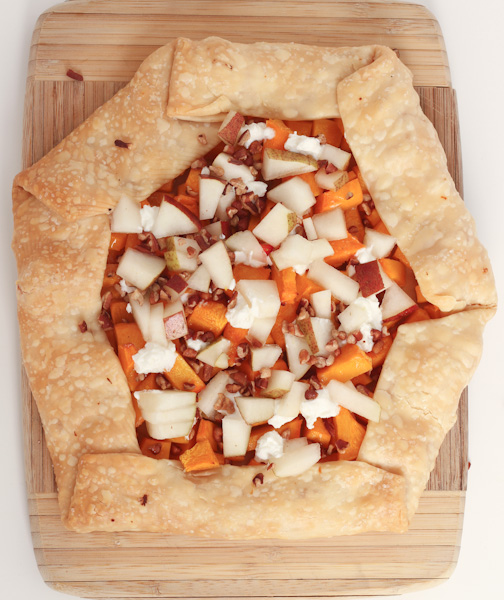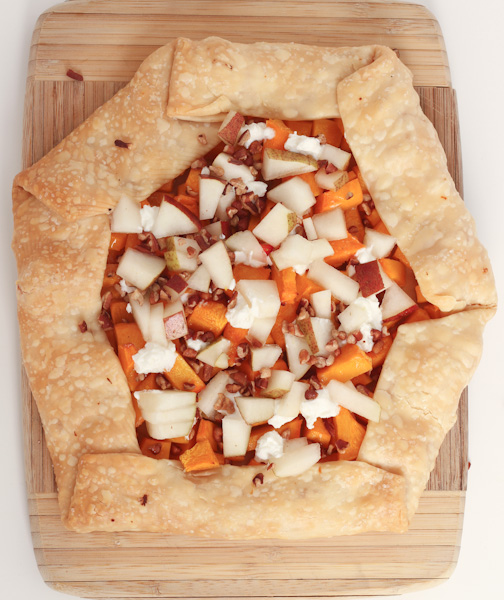 I really, really thought I had dried cherries in the house which is what I wanted to use on top of my pie, but no amount of digging through the pantry yielded those tasty treats.
Instead I chopped up half of a pear and topped the pie with that.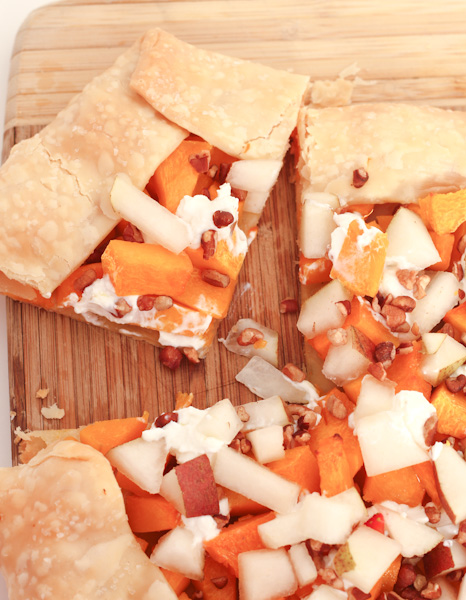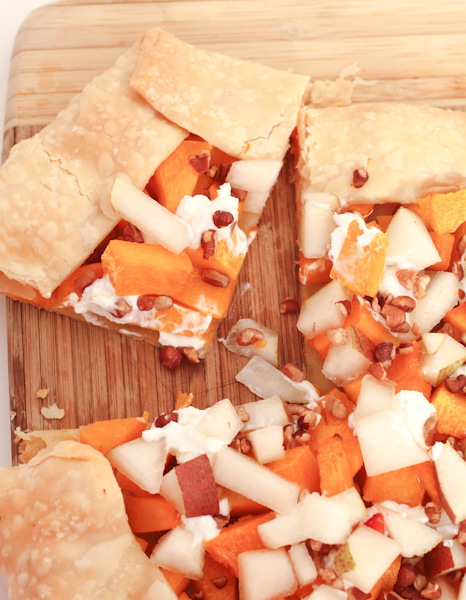 The addition of goat cheese and toasted pecans was very tasty on this pie.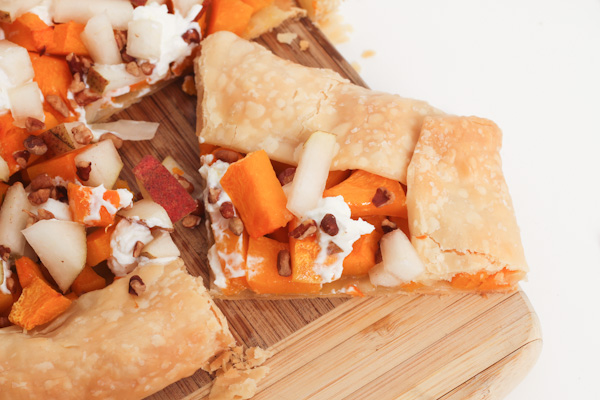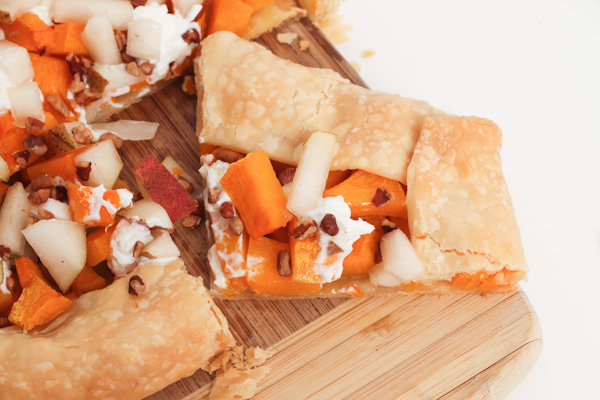 Oh, and I'm not ashamed to admit that I purchased a Pillsbury pie crust to make this recipe. It is so much easier and faster to use a pre-made pie crust instead of making it from scratch.
Yes, pie crust from scratch is nice, but I've kind of admitted defeat when it comes to making great pie crust. My grandmother and mom can rock out pie crust, me, not so much.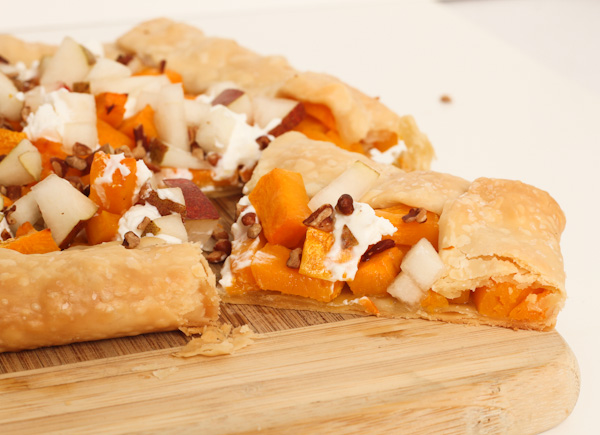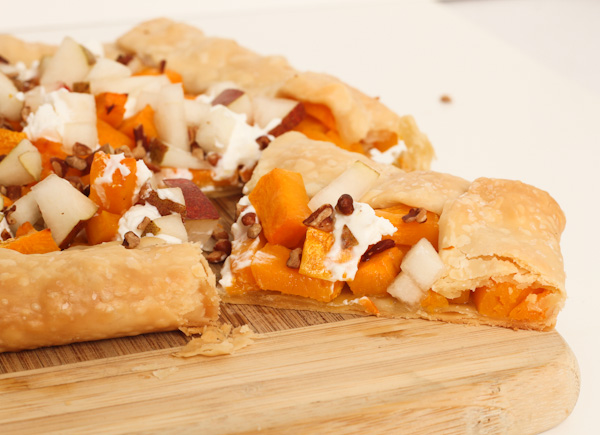 Butternut Squash & Goat Cheese Rustic Pie Ingredients
1 pie crust
1/3 cup olive oil
3 cloves garlic, thinly sliced
coarse salt and pepper
3-4 cups cooked butternut squash, cubed, bite-sized pieces
Goat cheese, up to 4 ounces
1/4 cup chopped and toasted pecans
1/2 of pear, chopped OR 2 tablespoons of dried cherries or dried cranberries
Butternut Squash & Goat Cheese Rustic Pie Directions
Preheat oven to 375 degrees.

Press the pie crust out a bit so that you end up with a 10-12 inch circle. Place it on a baking sheet lined with parchment paper.
Place the olive oil and garlic in a small saucepan and simmer for 5 minutes. Season with a bit of salt and pepper. Do not let the garlic brown, turn down if that starts to happen. This will create a tasty garlic flavored olive oil. Yum!
Spread the squash over the crust. Leave at least a 1″ border. Fold the edges of the dough over the filling, overlapping of pie crust will occur. (See photos)
Pour half of the olive oil over the squash. Using a pastry brush, brush the crust edges with oil as well.
Bake approximately 30 minutes until the pie is golden on the edges. Remove from oven and top with goat cheese, toasted pecans and dried fruit or pears.
If you like, bake an additional 5-10 minutes to heat cheese and fruit. Drizzle with the rest of the garlic oil.
Serve immediately.
NOTE: In step 7, drizzle with balsamic vinegar instead of the remaining olive oil for a delicious twist on this dish.
More recipes you might enjoy!
5 Ingredient Goat Cheese & Fig Bites
Lactose-Free Bacon and Goat Cheese Quiche
Arugula, Portabella & Feta Frittata
Bacon, Goat Cheese & Basil Stuffed Chicken
PIN BUTTERNUT SQUASH & GOAT CHEESE RUSTIC PIE TO PINTEREST