You guys!!!! I've lost almost FIFTY POUNDS on Weight Watchers. I joined January 11, 2018 and although it has been a slow process it's been steady and I should hit the 50-pound mark by the end of the year. One of the things I love about Weight Watchers is that I can still eat the things I love as long as I count the points.
Entertaining friends is one of my favorite things to do and I love cooking for them. Now I cook for them with points in mind which leads me to these 5 easy appetizer recipes under 5 Weight Watchers Freestyle points.
Baked Caprese Salad – 3-5 Weight Watcher Freestyle points
These are the highest point item because of the mozzarella, but if you have some wiggle room in your points these are completely worth indulging in.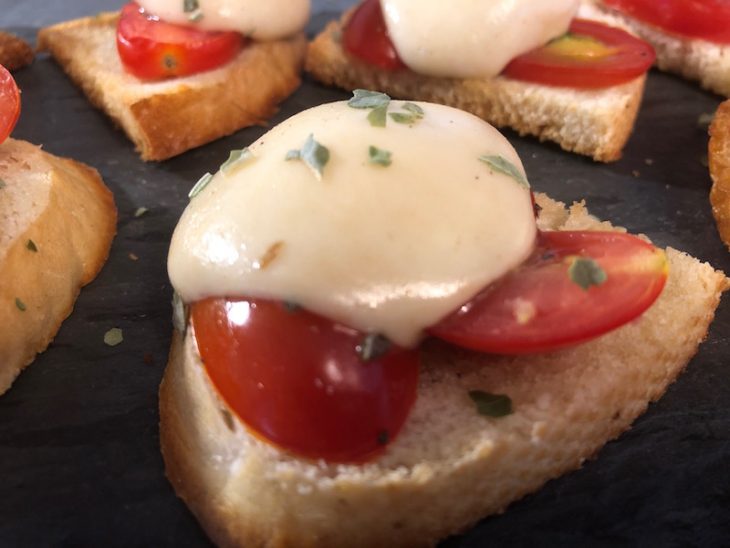 I use Crave Brothers Farmstead Classics marinated mozzarella balls for this recipe and it did not disappoint. Now, you could cut the mozzarella ball in half when you make these and then they are only 3 points each!
Simple Crave Brothers Cheese Board – 1-4 Weight Watcher Freestyle  points
Grab a Crave Brothers Cheese Sampler box and put this board together in no time at all.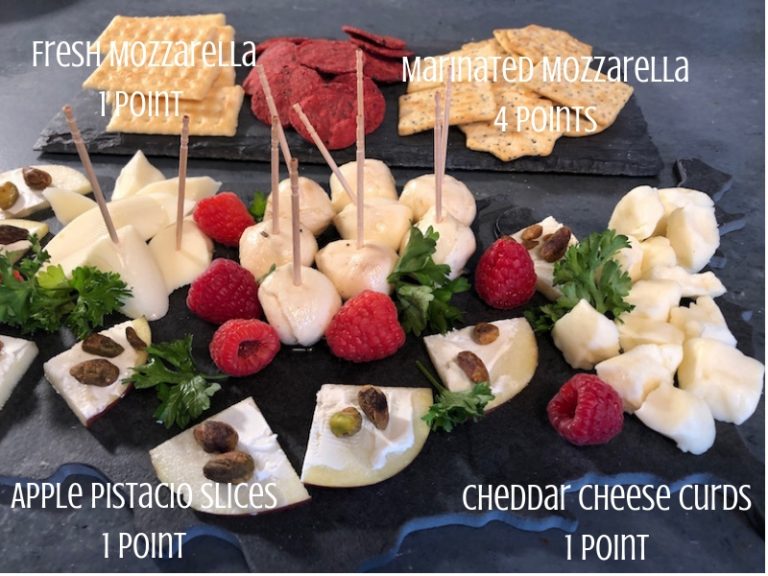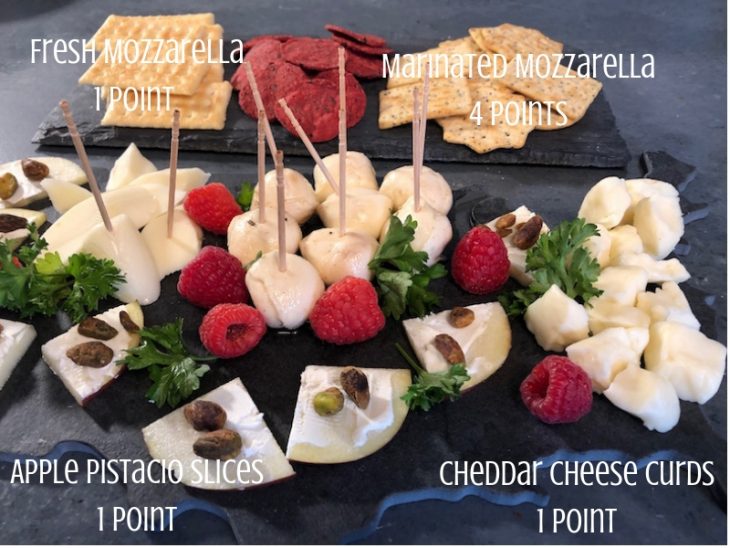 Simply cut the mozzarella rope into 1/4 ounce bite-size pieces, add cheddar cheese curds and marinated mozzarella balls. On thin apple slices spread a 1/2 teaspoon of mascarpone cheese and top with 2-3 pistachio nuts. Note: I use pistachios but walnuts or pecans would be great as well, adjust points accordingly. 2-3 pistachio nuts register as 0 points on the Weight Watchers app.
Bruschetta Bites – 1 Weight Watcher Freestyle point
Use a 1/2 slice of 3/4-1″ slice of French Bread, brush a bit of olive oil or marinade from mozzarella balls onto bread, top with 1 tablespoon bruschetta topping (recipe below). Bake at 350 for 5 minutes or until heated through.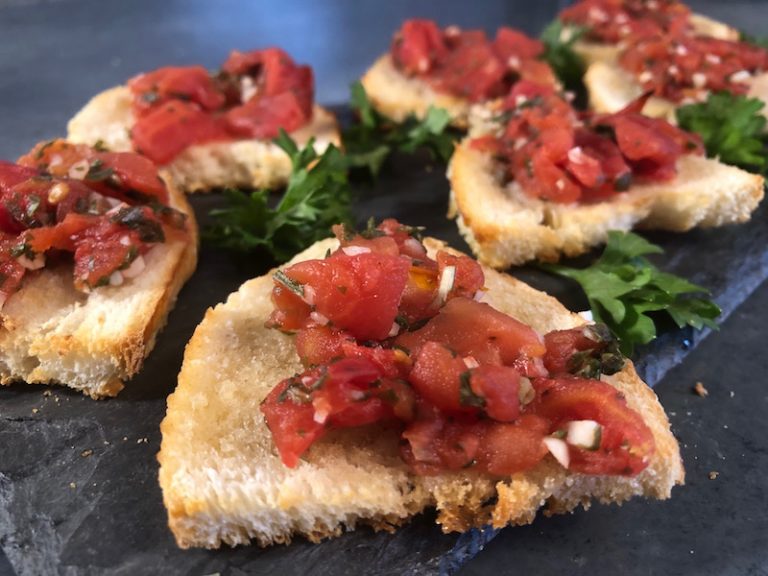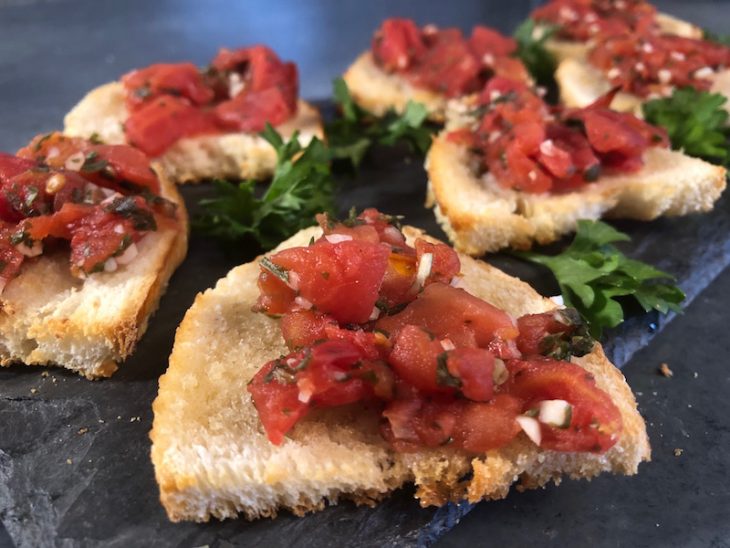 Bruschetta Topping
1 can of diced tomatoes, drained
2-3 cloves of garlic, minced
1 tablespoon of dried basil
Combine in medium bowl, cover and refrigerate up to overnight.
Bacon Fig Bites – 1 Weight Watchers Freestyle point
I love these soooo much!! Simply toast a Bays English Muffin, spread each 1/2 with fig jam, top with goat cheese and crisp bacon pieces. Cut each half into quarters and you're done. The complete Bacon and Fig Bites recipe is here.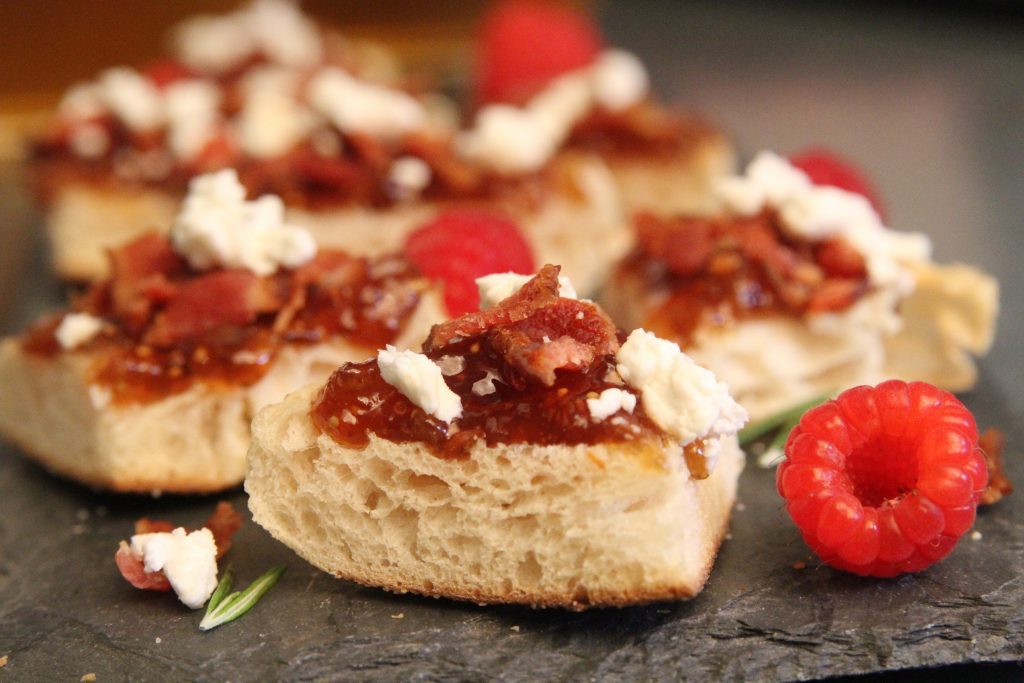 So much goodness in each and every bite. If you love salty & sweet snacks this is the one for you.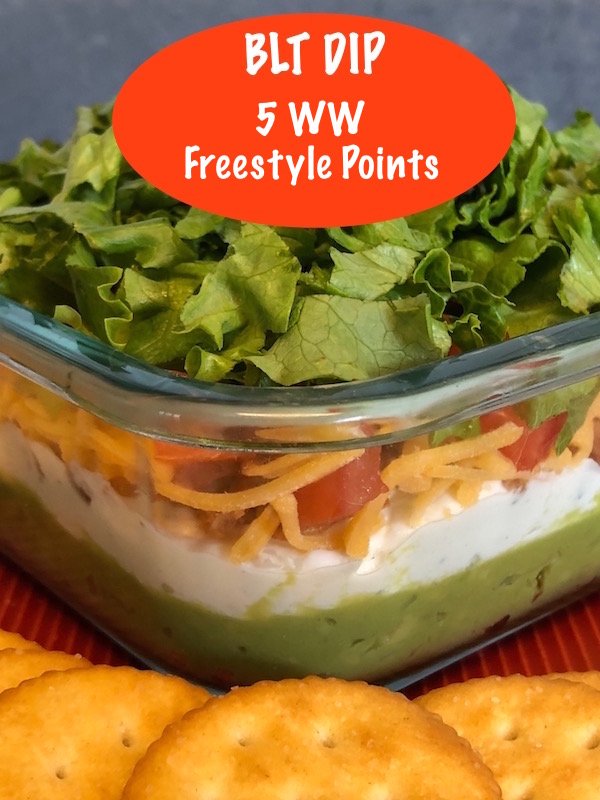 BLT Dip – 5 Weight Watchers Freestyle Points
This dip feels sinful without breaking your Weight Watchers point balance. 5 points per hearty serving and you cure your dip craving while staying on track. You can find the entire BLT dip recipe here. Be sure to scroll to the bottom and read my Notes for Weight Watchers readers towards the bottom.
Pin 5 Easy Appetizer Recipes – 5 Weight Watchers Points Or Less to Pinterest