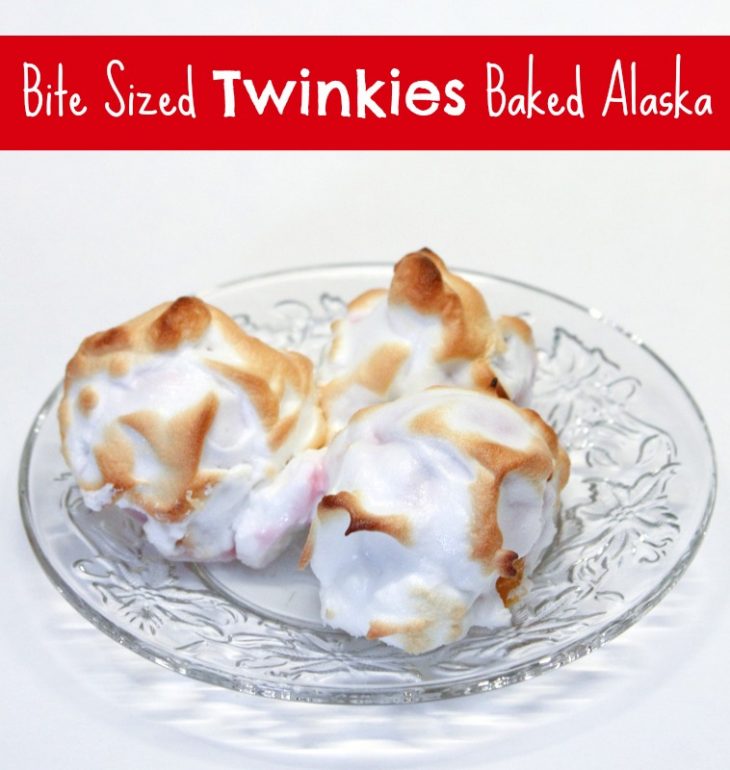 I wrote this recipe while participating in a campaign for Mom Central Consulting on behalf of Twinkies. I received samples (lucky day right there!!!) and a promotional item to thank me for participating.
To celebrate their comeback Twinkies is publishing a comeback edition of The Twinkie Cookbook. The best part?? They are asking fans for recipe submissions using one of America's most iconic snack cakes. You are going to want to grab a box of Twinkies and get creative in the  kitchen. They are looking for sweet treats, savory treats, frozen treats or anything else you can dream up and create in the kitchen using Twinkies. Think beyond the standard strawberry trifle recipe and submit your creation to hostesscakes.com for a chance to be featured in the Comeback Edition of The Twinkies Cookbook. I created bite sized Twinkies Baked Alaska and have my fingers crossed that it will be accepted.
After a LOT of debate and a couple of recipe failures I finally found success with Bite Sized Twinkies Baked Alaska. I like the bite sized dessert because, in my opinion, it's the perfect sized dessert after dinner. Not too much so that I'm sleepy from the sugar, but just the right amount to stop any sweet cravings.
I've never made Baked Alaska before and I was a little hesitant to give it a try. However, it ended up being a lot easier than anticipated. Prep time took about 10-15 minutes, then I tossed the treats in the freezer for about 2 1/2 hours (overnight is better), and then baked them for about 2 minutes. Not many desserts look this good with so little effort!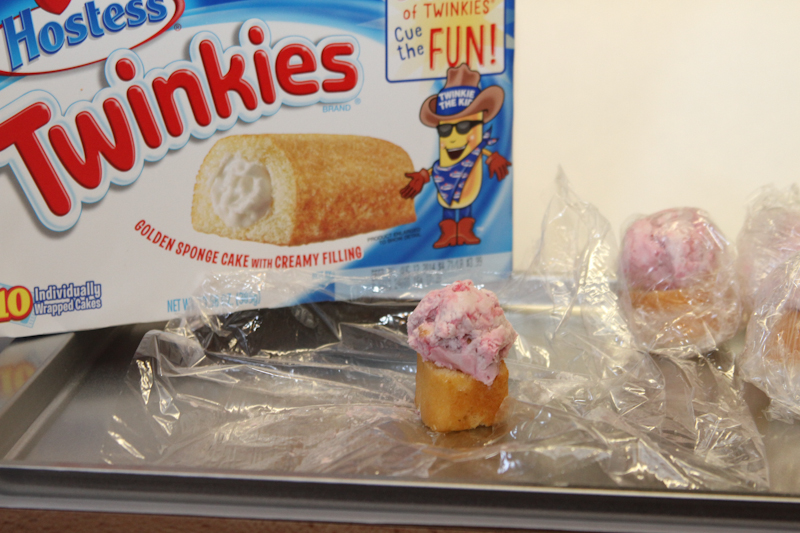 Step 1 & 2: Cut the round ends of the Twinkie to create a flat surface. Cut Twinkies into 4 equal parts.  Top each slice with a generous scoop of ice cream, about 2 tablespoons, and wrap tightly in plastic wrap. Toss in the freezer and go about your day.  (Note: Use any flavor of ice cream. I used a Berry Summer Crunch that was a delicious compliment to the Twinkies.)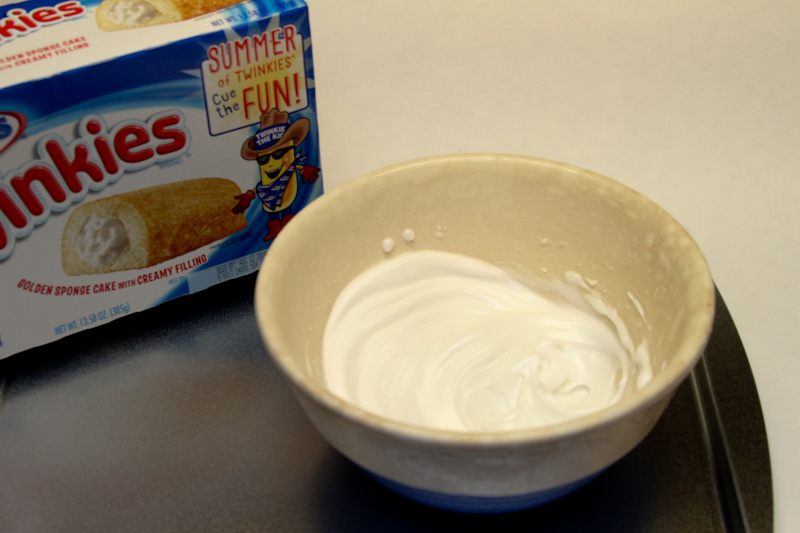 Step 3: When you are ready to bake the treats whip up the meringue.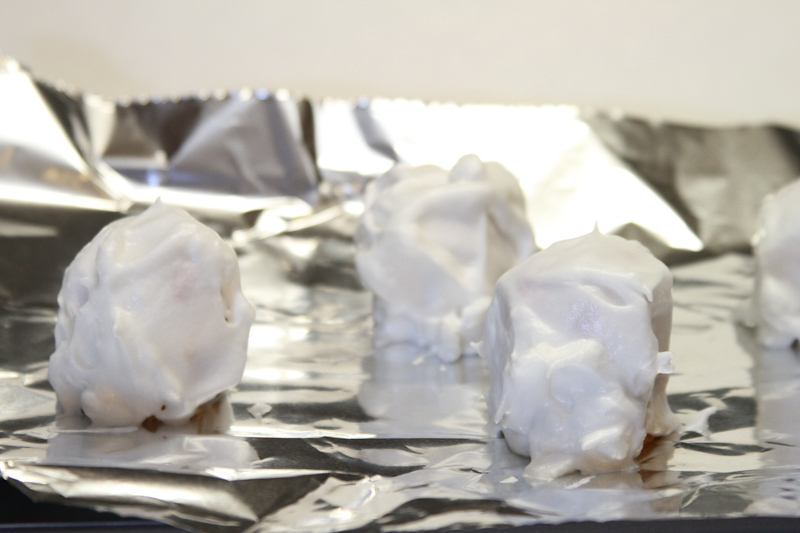 Step 3 con't: Coat each bite in a generous amount of meringue. The meringue should completely cover the bite except for the bottom. This seals the ice cream inside the treat and keeps it from melting.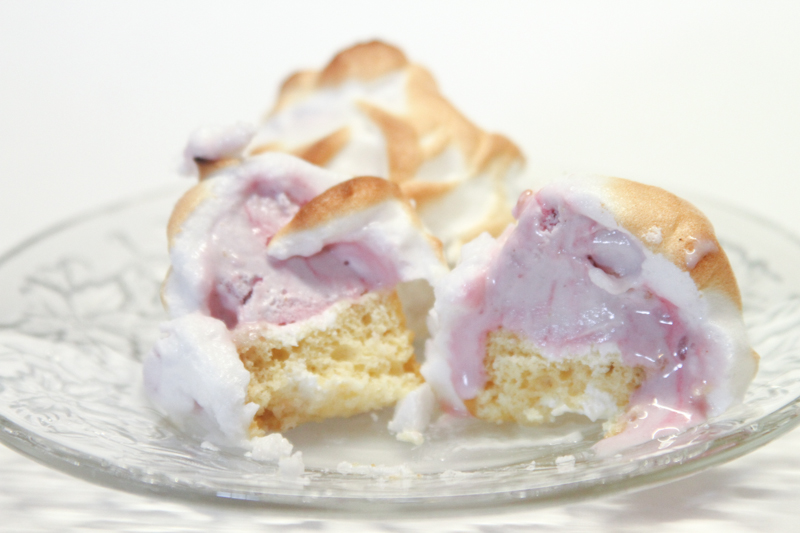 Step 4 & 5: Bake in a 500 degree oven for 1-2 minutes and serve immediately.  (This bite started to melt because I was taking so long to photograph the treat…..) I love how pretty the meringue toasted and how fun these treats are to serve. The family LOVED them!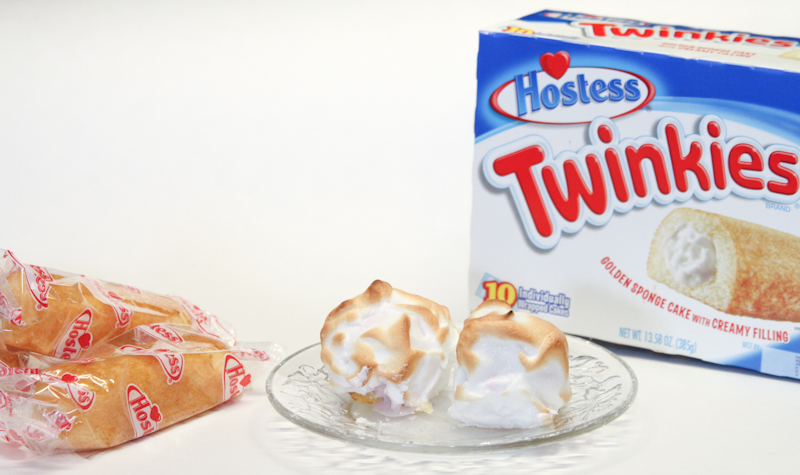 Bite-Sized Twinkies Baked Alaska Recipe
2 Twinkies
1 cup ice cream, flavor of choice
2 egg whites, room temperature
2 tablespoons sugar
pinch of cream of tartar
Cut off the rounded ends of the Twinkie.
Then cut each Twinkie into 4 equal parts. Place each slice of Twinkie, cut side down, of small piece of plastic wrap.
Place 2 tablespoons of ice cream on top of each slice of Twinkie. Wrap each slice up tightly in plastic wrap and place in freezer. Freeze for a minimum of 2 hours or overnight.
Remove Twinkie bites from freezer.
Place bites on a foil covered cookie sheet, Twinkie side down. Using a knife cover each Twinkie and ice cream bite generously with a stiff meringue* (see recipe below).
Bake in oven at 500 degrees for 2 minutes or until meringue starts to brown.
Serve immediately.
*Chill a medium-sized metal bowl in the freezer for 30 minutes. Remove bowl from freezer. Place egg white in bowl and, using a hand mixer, begin to whisk egg. Slowly add sugar and cream of tartar. Continue whisking until stiff peaks form on the egg white.