Whether you have a last minute party to attend, or you are craving a snack these easy appetizer recipes are perfect.
Snacking on tasty veggies and cheese appetizers is a great way to spend a weekend with the family, and since we love fun new foods and adventures in the kitchen, we came up with a few easy appetizer recipes everyone will love.
Easy Appetizer Recipes For Green Peppers, Cheese, & Asparagus
We love onion rings and thought that deep-fried green peppers would be just as good. Em convinced me to give these a try.
She was positive they would taste great and she was right! It was our first of three easy appetizer recipes to share with you and while messy was super easy to make.
Deep frying is a bit of a messy endeavor, but totally worth it. I think part of the reason we liked them so much is that the family knows it will be months before it happens again.
Everything in moderation, right?
Since I had the oil going we decided we may as well try deep-frying a few other things. Em found cheese and asparagus in the fridge so that was battered and deep-fried as well. Yum!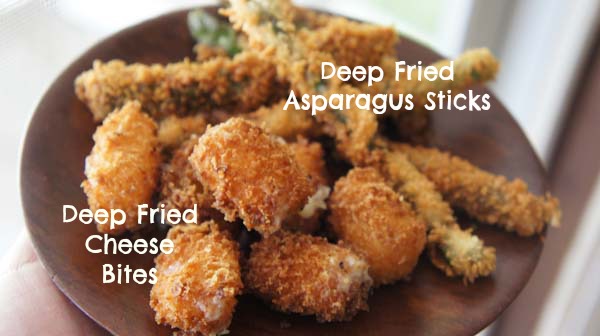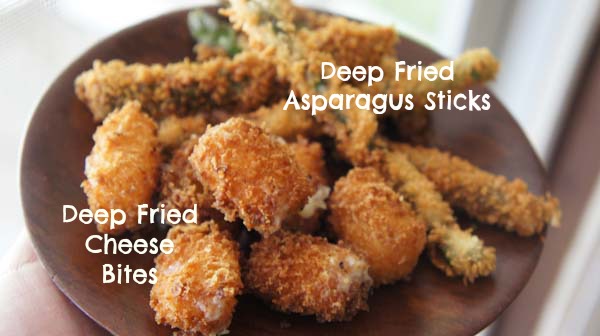 Slice the peppers into rings, cube your choice of cheese, and cut the asparagus into manageable sizes.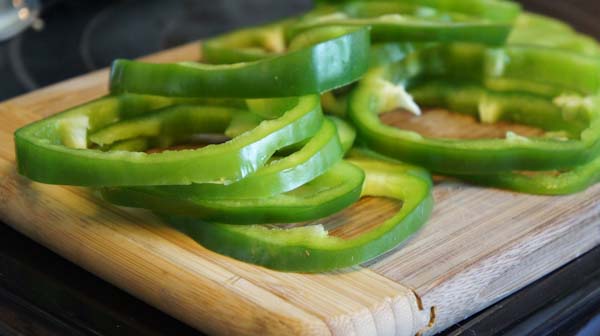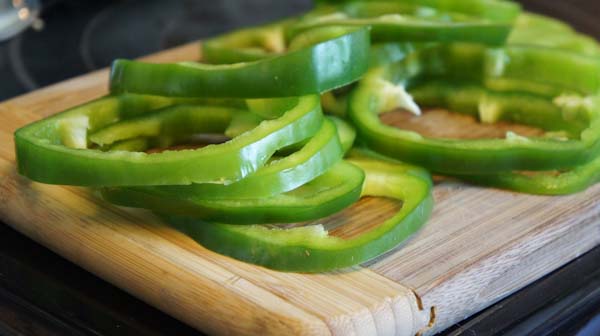 I dip the food in the wet wash and then place them on a cookie sheet for a couple of minutes to remove excess batter.
This is the beginning of the best easy appetizer recipes you'll find.
Anything dipped in a wet wash then crunch coating is sure to be delicious!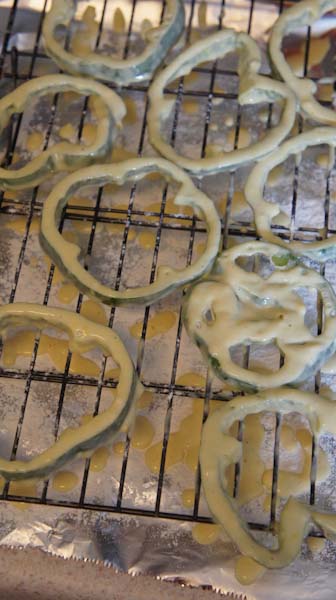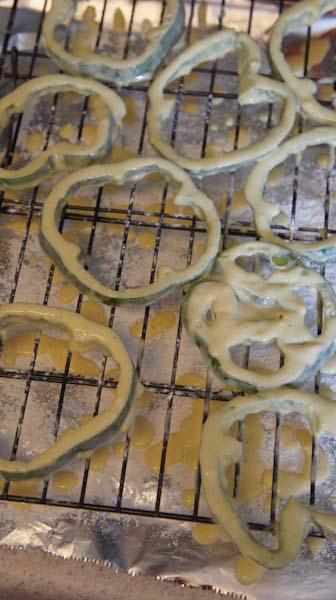 DEEP FRIED GREEN PEPPERS INGREDIENTS
1 pepper, any color, cut into 1/4-inch rings
Cheese cubes
Asparagus stalks
1 1/4 cups all-purpose flour
1 teaspoon baking powder
1 teaspoon salt
1 egg, scrambled
1 cup milk, or as needed
3/4 cup panko crumbs
seasoned salt to taste
1-quart oil for frying, or as needed
DEEP FRIED GREEN PEPPERS DIRECTIONS
Place flour into a shallow bowl.
Toss peppers, cheese cubes, and asparagus stalks in flour and then set aside.
Add baking powder, salt, egg, and milk into the flour, mix well.
In another shallow dish place panko crumbs.
Heat oil in a large saucepan. You want the oil to be hot, but not too hot, otherwise, you'll burn the coating and not cook the inside.
Dip the flour coated food into the wet mixture.
Place them on a cooling rack so they drip off the extra wet batter.
Then dip into the panko crumbs, coat well, and place in hot oil.
Cook for 3-4 minutes or until a nice golden color is achieved. Repeat.
Food will be very hot right after cooking. Let cool for a minute or two before eating.
DEEP FRIED ((INSERT TREAT OF CHOICE HERE) DIRECTIONS
You can follow the same directions and ingredients with almost any vegetable or cheese.
We used asparagus and cheddar, but you could do this with onion rings, mushrooms, squash, pepper jack, jalepenos and really any yummy vegetable.
Make one of these delicious easy appetizer recipes to serve alongside your favorite grilled chicken, steak, or even burgers. Add a bowl of marinara, Ranch dip, or even Blue cheese dressing to the mix and you have a wonderful sampler platter everyone will enjoy!
More tasty recipes:
Pin Easy Appetizer Recipes to Pinterest