I took this creamy chicken florentine recipe up a notch by using Philadelphia Cooking Cream in Savory Garlic. Unfortunately the cooking creams are no longer available, BUT I've altered the recipe to include the ingredients to create your own cooking cream.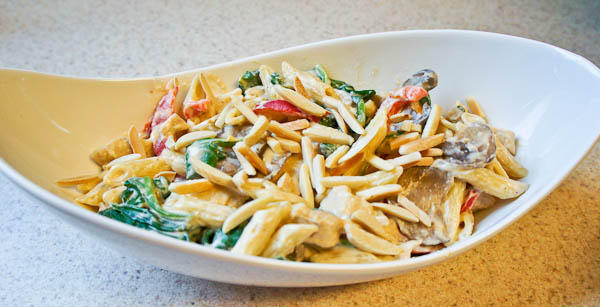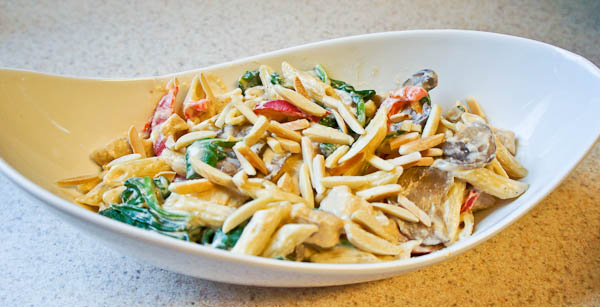 This recipe turned out much better than I anticipated.
When I first opened the Savory Garlic cooking cream it smelled overwhelmingly of garlic and I questioned how it would taste when I cooked with it. Since the cooking cream is no longer available you can control how much or how little garlic you have in the recipe.
I'm including a 1/2 teaspoon in the recipe, but you can add more if you'd like. Honestly, we like garlic so I tend to be a little heavy handed with the garlic powder.
The recipe I was using for inspiration did not include wine & mushrooms. I haven't tried cooking mushrooms down in wine before and thought it might be very tasty in this recipe. Turns out I was right.
One of the best things about this recipe is that it is chuck full of all kinds of delicious goodness plus from start to finish it only took me 25 minutes.
I adore recipes that are quick and easy to make and this one does not disappoint.
Perfect for families on the go. This is definitely a recipe I will be making again.
Easy Creamy Chicken Florentine Recipe
INGREDIENTS
8 oz baby bella mushrooms, sliced
1/4 cup white wine
1 lb boneless skinless chicken breasts, cut into bite-size pieces
1/2 cup halved red pepper strips
1 tub (10 oz) Philadelphia Cream Cheese
2 tbsp milk
1/2 tsp garlic powder
3 oz baby spinach leaves
2 cups hot cooked penne pasta
2 tablespoons toasted slivered almonds
Directions
Spray large nonstick skillet with cooking spray.
Saute mushrooms on medium heat for 10 minutes stirring frequently.
Add wine, cook until most of the wine has been cooked down.
Add chicken and peppers and cook for 6-8 minutes or until chicken is done.
In a small bowl combine cream cheese, milk and garlic powder. Then add mixture into pan. Cook and stir for 3 minutes
Stir in spinach and pasta; top with toasted almonds
Pin Easy Chicken Florentine to Pinterest