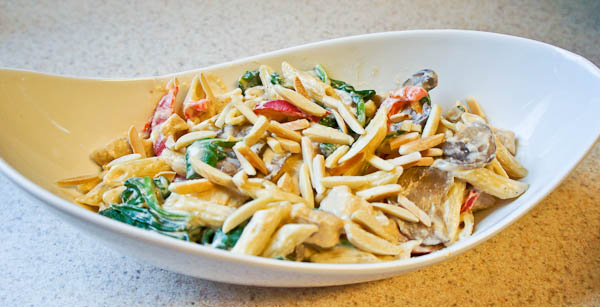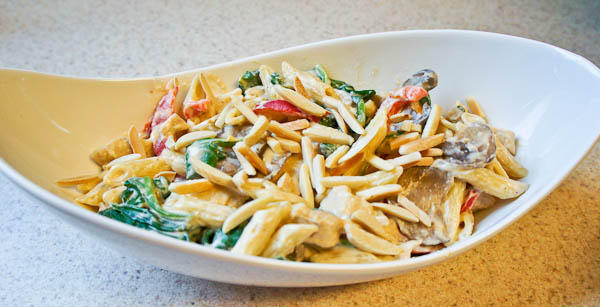 I recently had the opportunity to try Philadelphia Cooking Cream in Savory Garlic. I decided to recreate the Creamy Chicken Florentine recipe found on the Kraft website.
It turned out much better than I anticipated. When I first opened the Savory Garlic cooking cream it smelled overwhelmingly of garlic and I questioned how it would taste when I cooked with it. The original Kraft recipe does not include wine & mushrooms. I haven't tried cooking mushrooms down in wine before and thought it might be very tasty in this recipe. Turns out I was right. The wine helped cut down the overwhelming garlic taste and blended incredibly well with all the other flavors.
One of the best things about this recipe is that it is chuck full of all kinds of yummy goodness plus from start to finish it only took me 25 minutes. Perfect for families on the go. This is definitely a recipe I will be making again.
Easy Creamy Chicken Florentine Recipe
8 oz baby bella mushrooms, sliced
1/4 cup white wine
1 lb boneless skinless chicken breasts, cut into bite-size pieces
1/2 cup halved red pepper strips
1 tub (10 oz) Philadelphia Savory Garlic Cooking Creme
3 oz baby spinach leaves
2 cups hot cooked penne pasta
2 tablespoons toasted slivered almonds
Spray large nonstick skillet with cooking spray. Saute mushrooms on medium heat for 10 minutes stirring frequently. Add wine, cook until most of the wine has been cooked down.
Add chicken and peppers and cook for 5 to 6 minutes or until chicken is done.
Add cooking creme; cook and stir 3 minutes
Stir in spinach and pasta; top with toasted almonds
Here's a quick video I made about this dish. Please be kind as this is only the 2nd video I have ever made. Plus, I'm on the finishing end of a cold and I sound all stuffed up 🙁 My apologies, I dont' usually sound so rough (at least I hope I don't).
In addition to the Savory Garlic. The cooking cream is available in the following flavors:
italian cheese & herb
savory garlic
savory lemon & herb
creamy pesto
original
santa fe blend
tomato & basil
Thank you again to Kraft Foods for sponsoring this blog post. I was selected as one of 20 bloggers by Technorati Media and Clever Girls Collective to participate in the Kraft Foods PHILADELPHIA Cooking Creme signature recipes campaign. While I have been compensated for my time and received the product, my opinions and experiences are my own.