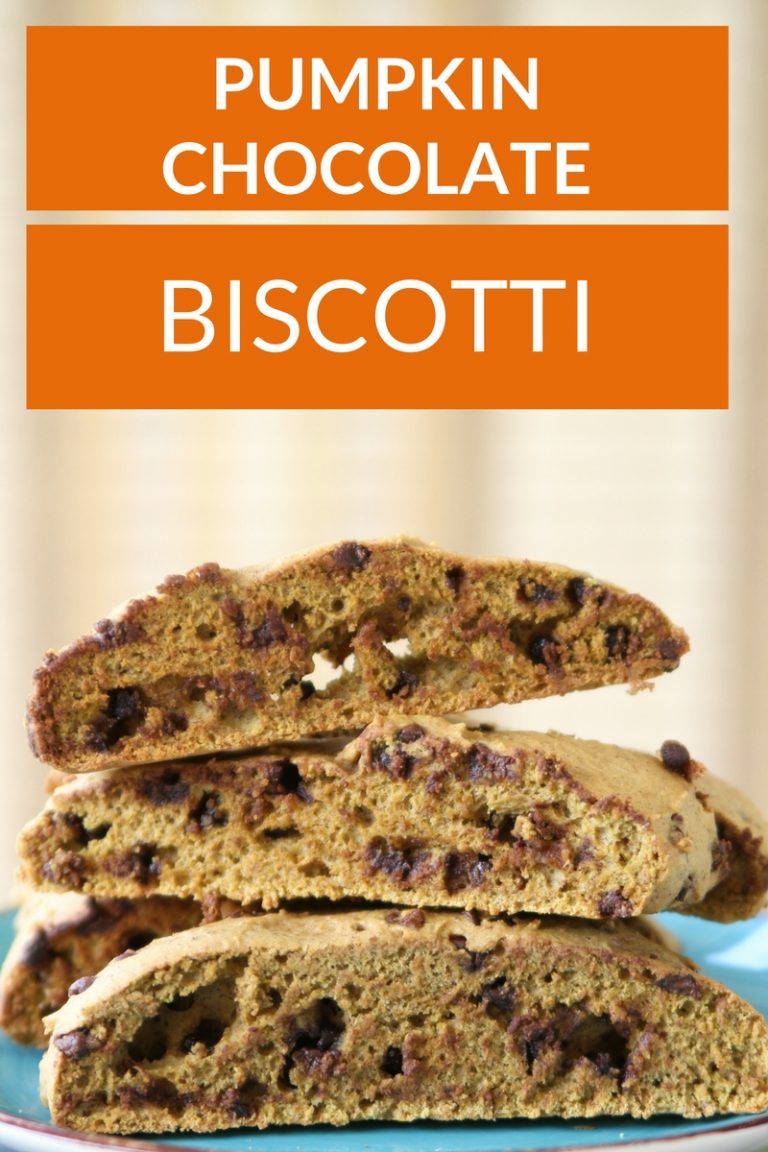 In the fall everywhere you go weather its a coffee shop, restaurant or grocery store it seems like everyone is adding pumpkin spice to their products.  If you love pumpkin spice then this is your favorite time of year. I am not usually a fan of everything pumpkin, but I know several people who are, so I created a very tasty pumpkin chocolate biscotti recipe for the holiday season to give out as gifts or to have around the house through out the year. The one great thing with the pumpkin chocolate biscotti is that you can freeze it and just take a few out as needed.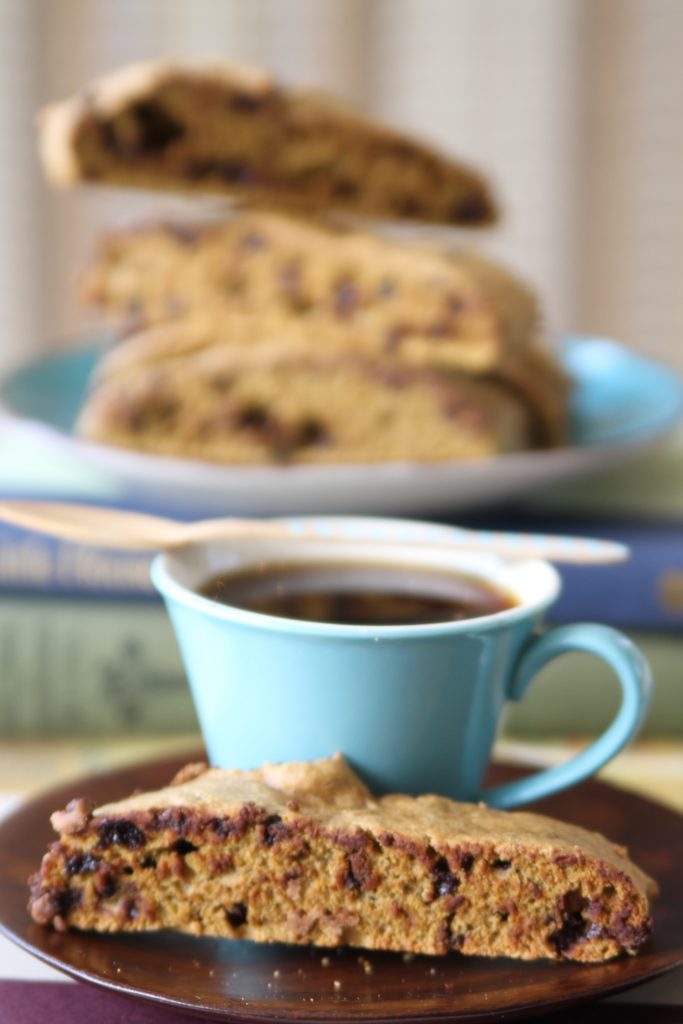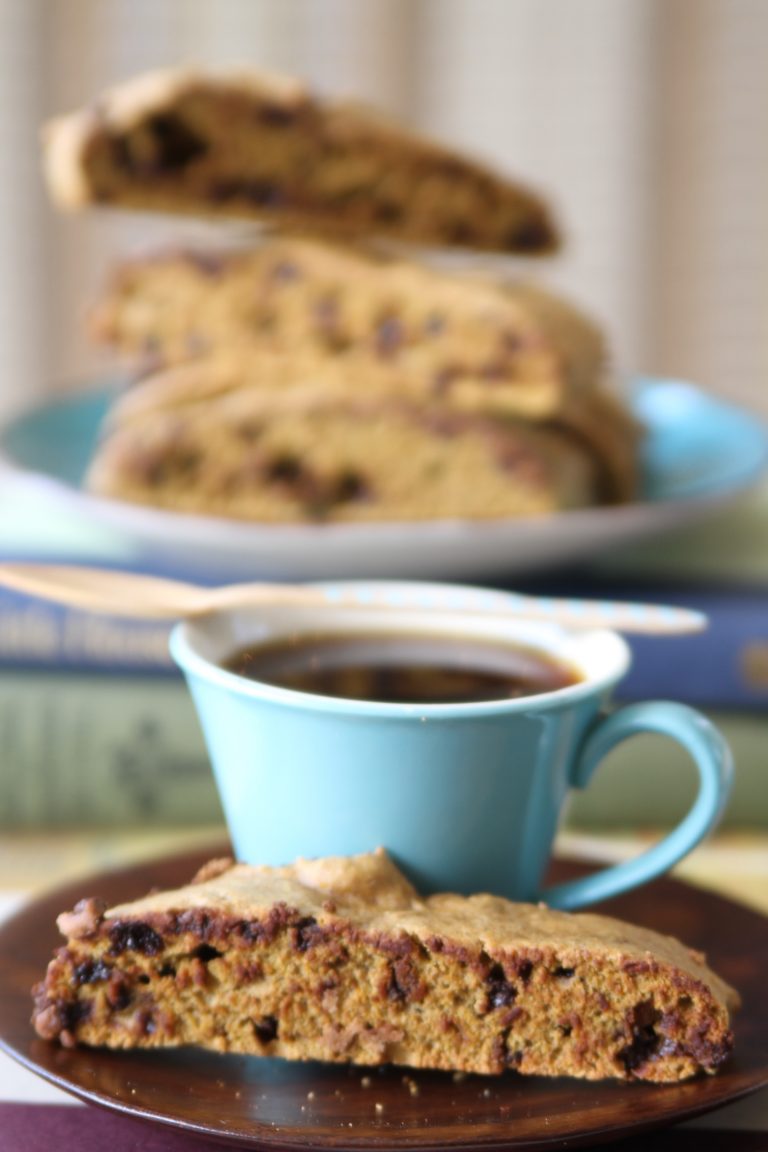 Pumpkin Chocolate Biscotti
Author:
Ingredients
2 1/4 cups of unbleached flour
1 1/2 teaspoons of baking powder
1/4 teaspoon of salt
1 tablespoon of Pumpkin Pie Spice
1/2 cup of sugar
1/4 cup of packed brown sugar
1 stick of unsalted butter, softened
1 teaspoon of vanilla
2 large eggs
1 1/4 cup of can pumpkin
10oz of Mini Chocolate Chip Morsels
Instructions
In a medium bowl mix together dry ingredients (flour, baking powder,salt and pumpkin pie spice). In mixer add butter,sugar, and brown sugar and cream together until smooth.
Add vanilla to the butter mixture before adding each egg one at a time. Once eggs are completely mixed into the butter mixture add the pumpkin to the mixture.
Then slowly add 1/2 of the flour mixture to bowl and once it is completely mixed remove from mixer stand and fold in the rest of the flour and morsels. Be careful to not over mix the batter as the biscotti will be dry and tough.
After chips and flour are mixed in divide batter in half and place onto 2 greased or sprayed cookies sheets. Then form each half of the batter into 2 12inch by 3inch by 1 1/4 inch logs and bake for approximately 30-40 minutes or until lightly golden brown and a knife stuck into the center of the log comes our clean. Be sure not to over bake as you will cut and bake them again.
Allow the biscotti to cool for 30 minutes and then move to a wooden cutting board that is larger than your biscotti log. Once log has been transferred to cutting board use a serrated knife to cut log into 1/2 slices. After sliced you should have approximately 24 pieces of biscotti.
Take each of the pieces and arrange them cut side down on a baking sheet and return to over for another 15minutes or until biscotti is a golden brown. Remove from over and transfer to a cooling rack to cool and harden. Very important wait until biscotti has cooled completely before storing in an airtight container as biscotti will soften.
If you don't have pumpkin pie spice in your cabinet to make this Pumpkin Chocolate Biscotti don't waste a trip to the store you can easily make it with the spices you most likely have in your cabinet.