What goes better with fall than apples? Of course, using those apples to make pie is the best part of fall. I decided to try to make an easy apple rustic pie and I loved how easy it went together.
This is something that could be made up fairly quickly if you need a dessert at the last minute.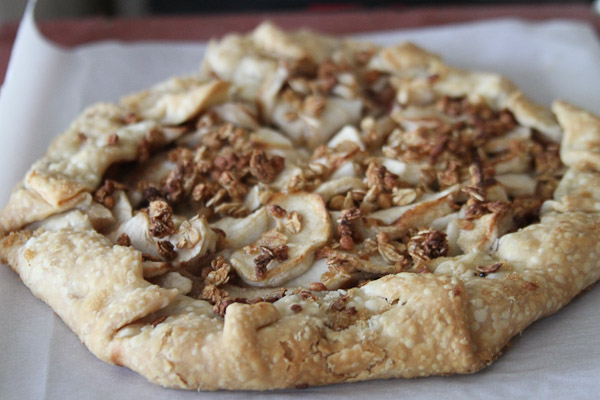 A couple of years ago I took a cooking class and the first thing the chef told us was that he wasn't handing out any recipes. I was stunned that I was at a cooking class and there wouldn't be any recipes.
He told us that a cook learns best through hands-on experience and using their eyes and sense of taste to determine what works best.
Over the years I've spent some time trying to perfect this method of cooking and have had some successes and some failures.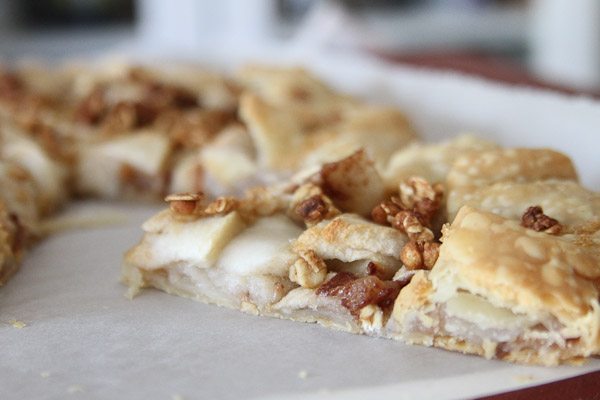 Apple rustic pie is a great recipe to start trying this method on.
Toss the peeled and sliced apples with some sugar and cinnamon (about a 4 to 1 ratio), place on pie crust and you've pretty much made your first rustic apple pie.
Easy 5 Ingredient Apple Rustic Pie Recipe
Easy Apple Rustic Pie Ingredients:
1 Sara Lee Pie Crust
Apples, peeled & sliced
Sugar, cinnamon
Granola
Easy Apple Rustic Pie Directions:
Unroll the pie crust on a lightly floured surface then roll out crust to make it slightly larger. Place crust on a parchment-lined baking sheet.
Toss apples with sugar and cinnamon.
Top crust with sliced apples, but do not go all the way to the edge. Pile on as many apples as possible without having apples sliding off the pie crust. They will bake down a bit.
Fold the edge of the crust in about 1″. Top with granola (or skip the granola…its up to you) and bake at 350 degrees until done (apples are tender).
Start at 20 minutes and check every couple minutes or so until crust is done and apples are soft.
Find More Apple Recipes Here:
Apple Cheesecake
Easy Apple Crisp
Easy Salted Caramel Apple Dip With Cream Cheese Recipe
S'Mores Caramel Apple Recipe
How To Make Baked Cinnamon Apples Recipe
Slow Cooker Apple Cinnamon Oats Recipe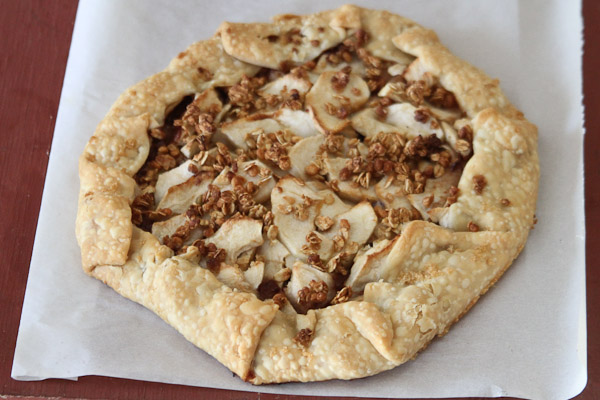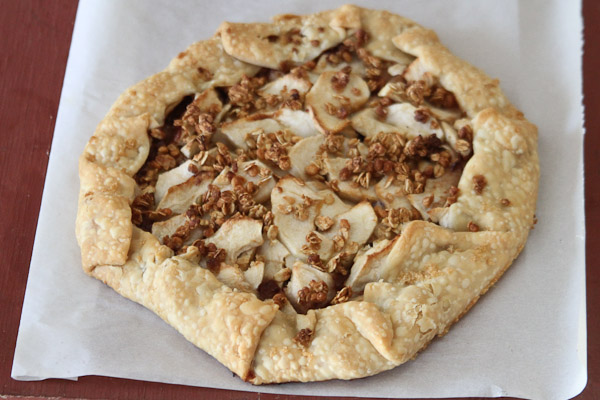 Pin Recipe To Pinterest: