I love trying new products and creating recipes, like these mini banana cream pies, using new-to-me ingredients.
We have been cooking/mixing with a lot of soy and lactose-free milk. Recently, I was challenged to create a recipe using Blue Diamond Almond Breeze.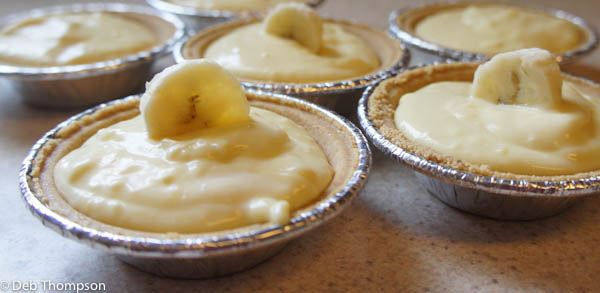 Almond Breeze is available in Original, Vanilla, and Chocolate as well as a variety of unsweetened flavors.
I purchased the Vanilla because I knew I wanted to make something sweet, however, Almond Breeze can replace cows milk in just about any recipe.
I want to try the original the next time I make Alfredo sauce and see how it turns out. I bet I could make a lactose free mac and cheese as well…hmmm….so many possibilities.
Side note, I did make a Lactose Free Mac & Cheese, but it doesn't use almond milk. However, if you need a dairy free option I highly recommend checking out the recipe.
I have been using it in my morning coffee and Em has been blending it up in her daily smoothie. It has a good source of calcium, vitamins D&E and is gluten-free.
Almond Breeze is also dairy, soy, egg & peanut butter free. Oh, plus it's vegan!
Hello…..this is pretty much the perfect milk. I found my Almond Breeze in the dairy department of my store, but it can also be purchased off the shelf since there is are shelf stable varieties.
Mini Banana Cream Pies Recipe
Ingredients
1-5.1oz box of vanilla pudding
2 1/2 cups of Vanilla Almond Breeze
1 banana, thinly sliced
6 mini graham cracker pie crusts
Directions
According to the vanilla pudding package directions mix vanilla pudding replacing the milk with Vanilla Almond Breeze.
Place a layer of thinly sliced bananas in the bottom of each mini graham cracker pie crust.
Top with a healthy dollop or two of the pudding mixture.
Refrigerate at least an hour.
Before serving add a banana slice to the top of the pie.
Note: Make sure you have 5 other people to share these with because they are SO good you won't be able to resist a second.
Pin To Pinterest