Usually I reserve apple recipes for the fall, but this one looked too tempting so I had to try it right away.
It has the perfect combination of crust, cheesecake, apples, and streusel topping. For some extra deliciousness you can drizzle the cheesecake with caramel.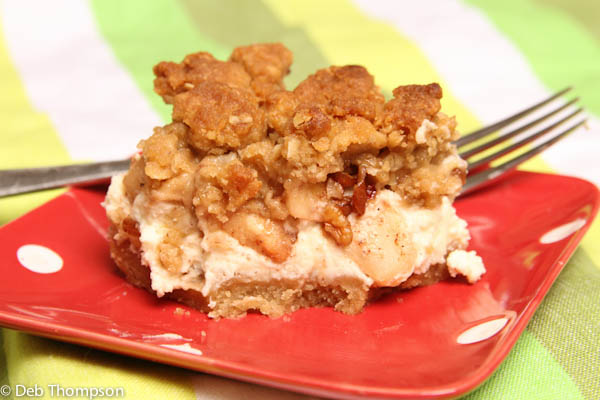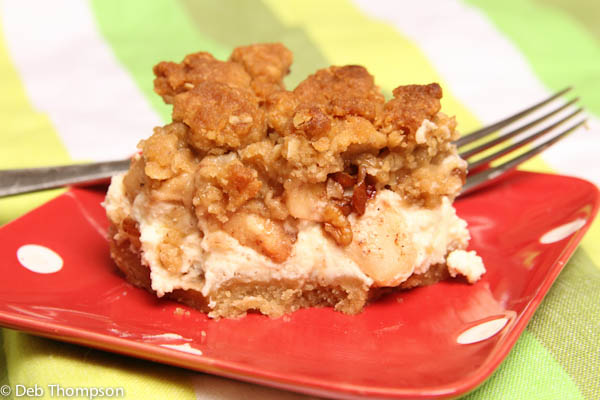 It takes a while to make this recipe, but it is worth every minute.
The hardest part is waiting for it too cool down completely before digging into it.
Apple Cheesecake Recipe
APPLE CHEESECAKE INGREDIENTS
Crust:
2 cups flour
1/2 cup firmly packed brown sugar
2 sticks butter, softened
Filling:
12-ounces cream cheese, softened
3/8 cup sugar
1 large egg
1 teaspoons vanilla extract
Apples:
3 apples, peeled, cored and finely chopped (I use whatever is on the counter)
1/4 cup chopped walnuts
1/2 teaspoon ground cinnamon
1/4 teaspoon ground nutmeg
2 tablespoons of sugar
Streusel Topping:
1 cup firmly packed brown sugar
1 cup all-purpose flour
1/2 cup quick cooking oats
1 stick butter, softened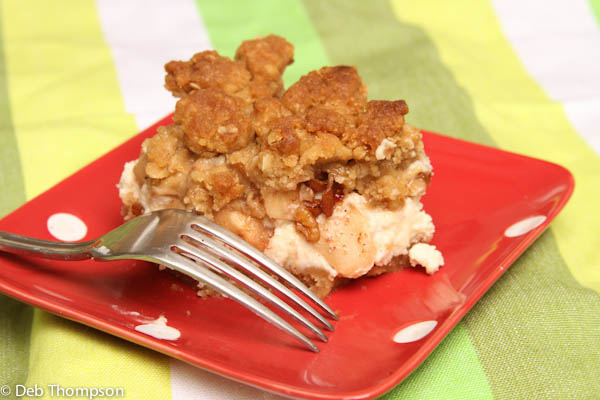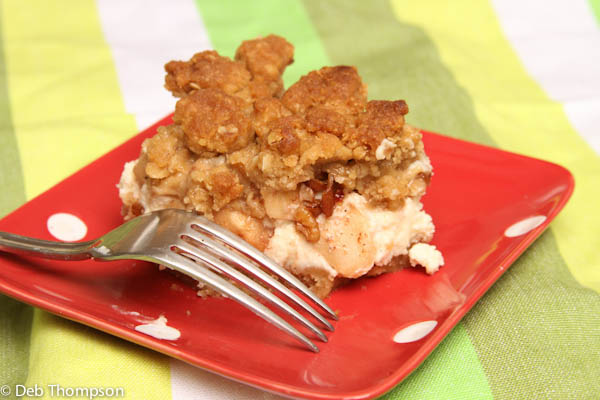 APPLE CHEESECAKE DIRECTIONS
Preheat oven to 350 degrees.

In a bowl combine the flour and brown sugar for the crust, using a pastry cutter, cut in the butter until there is a good crumble mixture.
Line a 8×8 baking dish with aluminum foil. Then press mixture into the bottom of the pan. Bake at 350 degrees for 15 minutes or until its a light golden brown.
Using a mixer blend cream cheese and sugar until smooth. Then add egg and vanilla and blend until combined. Pour over warm crust.
In a bowl, mix together apples, walnuts, cinnamon, nutmeg and sugar. Pour over cream cheese mixture and sprinkle with streusel topping.
Streusel Directions–mix brown sugar, oats and flour. Use clean hands to mix in the butter to create a good crumble mixture.
Bake at 350 degrees for 20-30 minutes until filling is set.
Cool completely before digging in.
Really, try to refrain yourself from digging in right away.
It will be tempting. It will smell so good that you will want to give it a taste.
Don't do it.
It taste best AFTER its completely cooled (yes, I tried both way, cooled down/cold is best–lol)
More Cheesecake Recipes:
I love how cheesecake can cure just about any craving from chocolate to fruity, cheesecake doesn't not disappoint.
Although this apple cheesecake may be one of my favorites, it takes a bit of time to make. When I'm in a hurry, I opt for the snickers cheesecake or the cheesecake cupcakes.
Conversation Hearts Cheesecake
Pin this apple cheesecake recipe to pinterest