Here's another entry, this time for Vegetarian Lentil Chili, from our very own site chef, Dylan.
Welcome back everyone, hope you're all still hanging in there.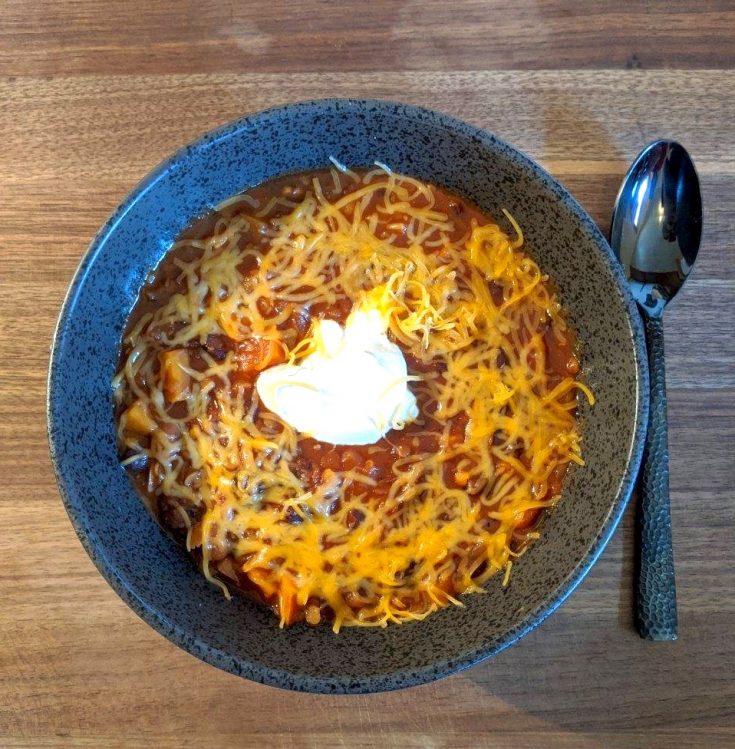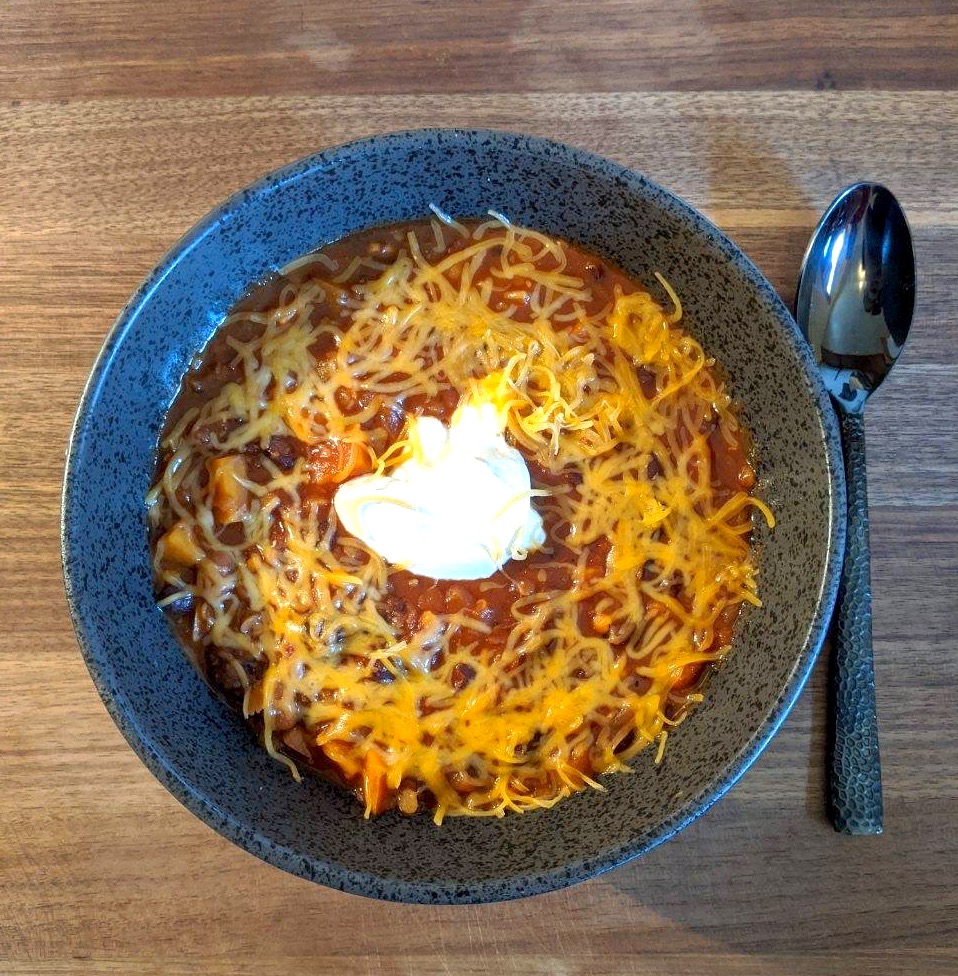 Here in Michigan, we are into our two-week extension to our stay home order, so there's that.
On the plus side, I guess that means there's more time for Netflix, or video games…or Netflix…or video games.
I live in a very small apartment with no yard….don't judge me. So if like me you're maybe getting a little tired of one, or both, of those things let's get back to cleaning out our pantry.
Chili is a great meal that's easy to throw together with pantry staples, fills you up, and makes great leftovers.
It's also one of the most efficient ways to use up those canned beans that have been taking up space in the cupboard, as well as any random vegetables you have laying around.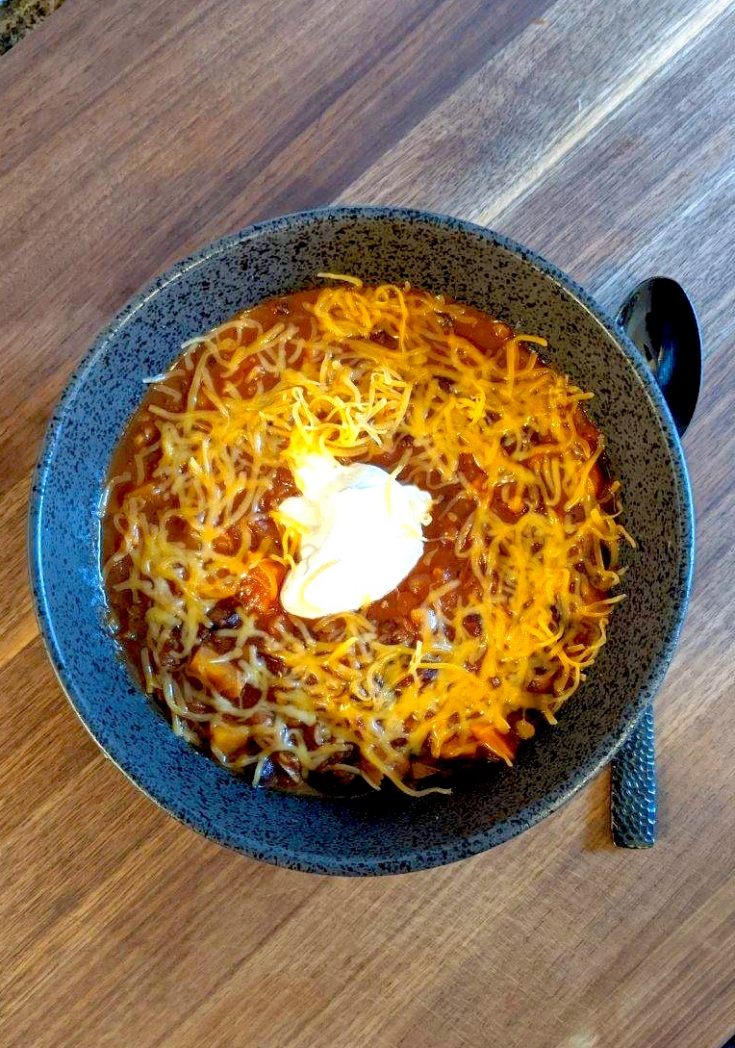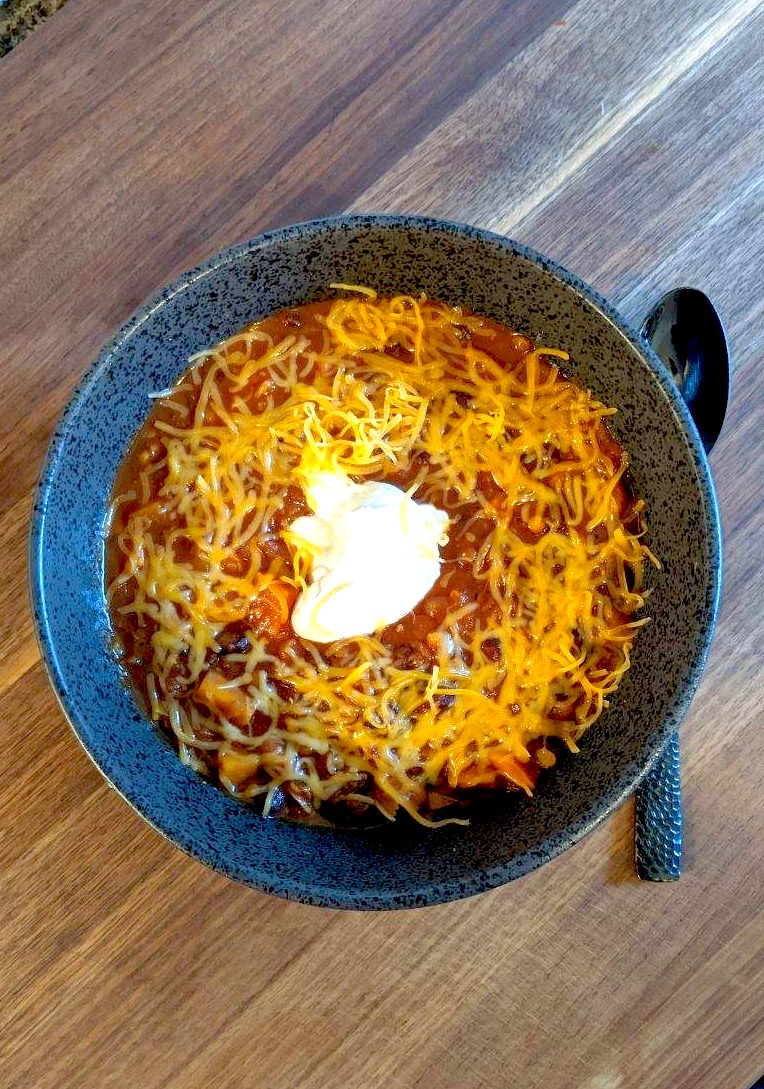 Sweet potatoes and squash work especially well for this.
Now I know there is a lot of very heated debate on what actually constitutes a chili and it simmers down to two things…to bean or not to bean.
Personally I'm perfectly fine with beans in my chili. The chili I've had all my life had beans in it.
It's what I know so it's what we're doing. If you're one of the beans aren't chili haters just go ahead and call this a bean stew and keep going.
At the restaurant I work at I've helped win a few local chili cook-offs.
I know a thing or two about soups, it's kinda my forte; or so I'm told.
And at the end of the day chili is just a soup, the same building block rules apply.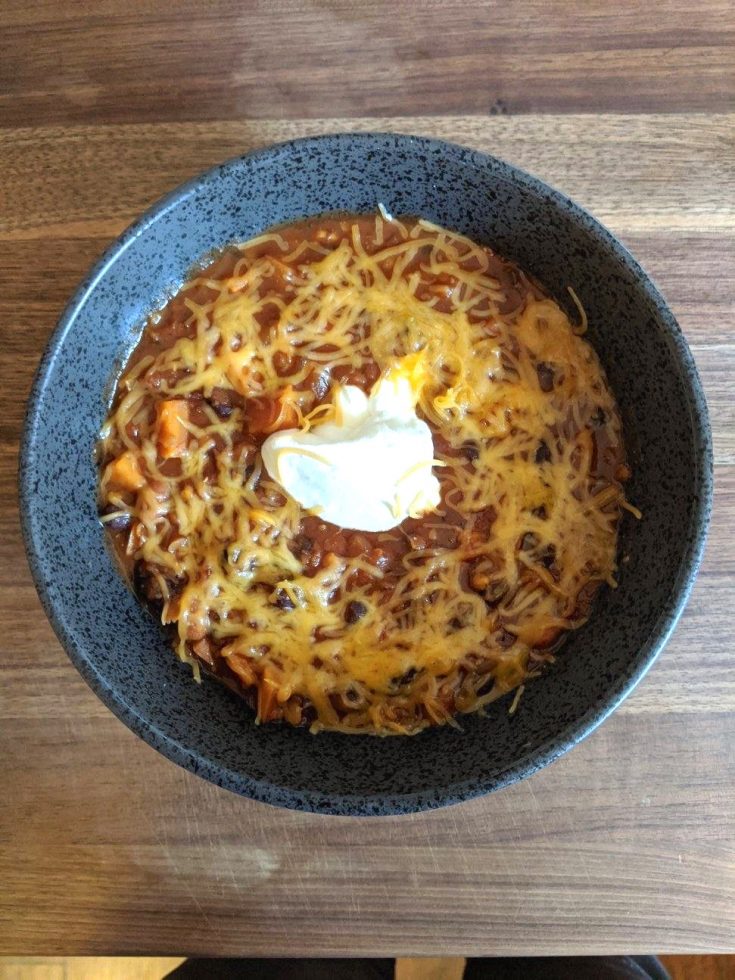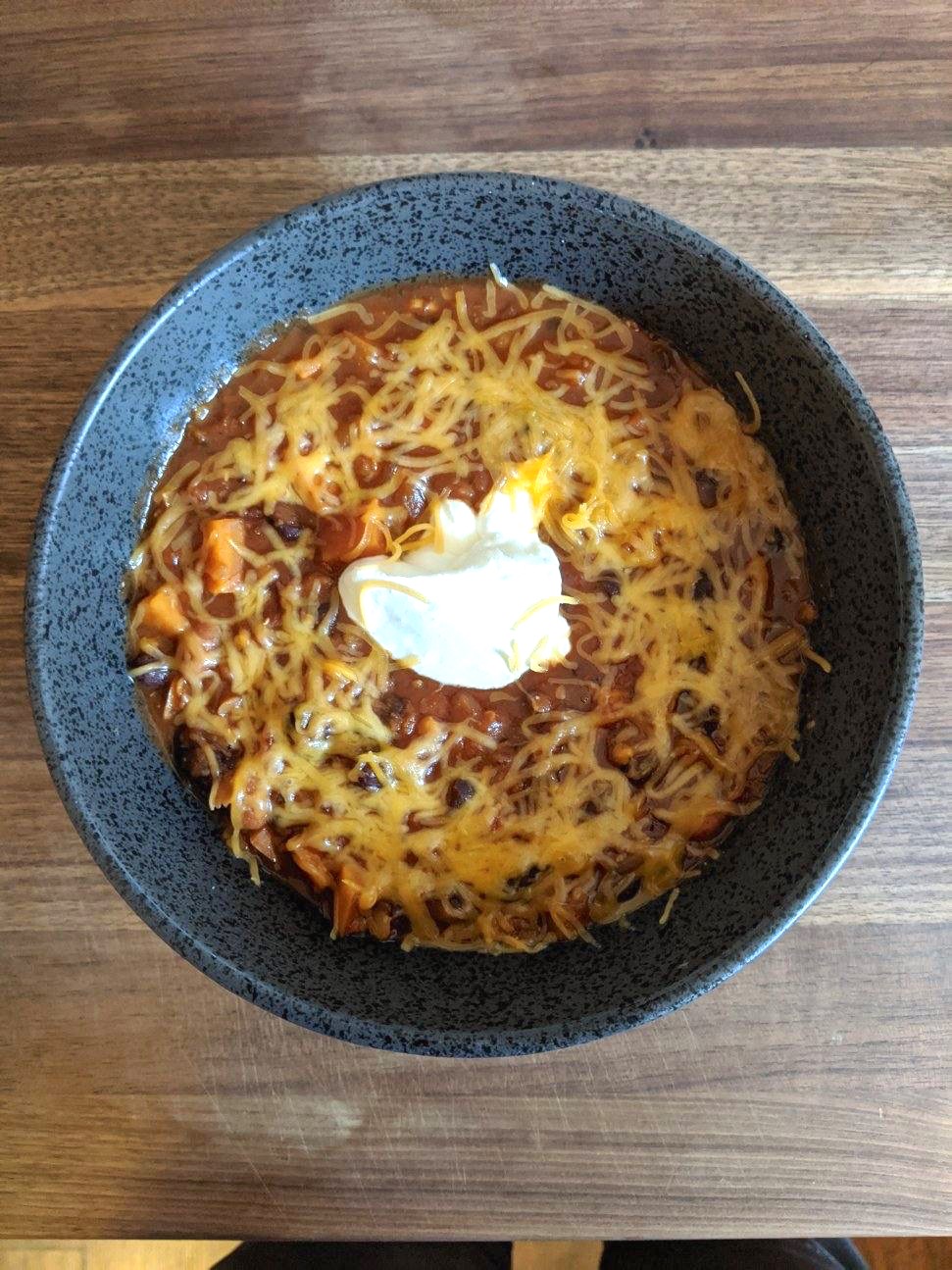 The most important part of soup making is building layers (read flavor). Sure you could just dump everything in a pot, heat it up, and call it good but if you take a little extra thyme to respect the process you will end up with a much more flavorful end product.
As with the last few recipes, there is a lot of wiggle room in the process.
I used what I had on hand and utilized some leftovers from the other recipes in this series (as well as some other cooking I've been doing).
You do not need to use the exact same things I did but the process remains the same.
Vegetarian Lentil Chili Recipe from the Pantry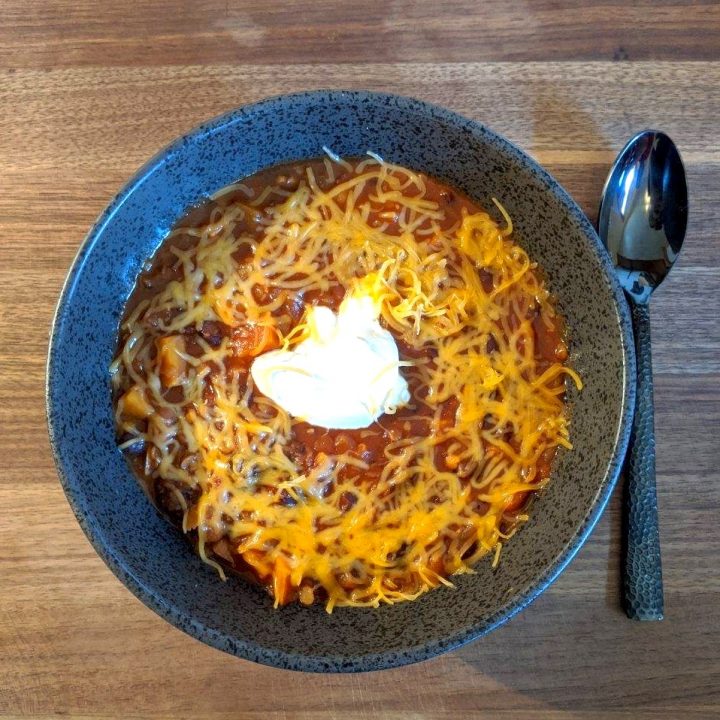 Ingredients
2-3 small onions, sliced
8-10 cloves of garlic, minced
4-5 Adobo peppers, rough chopped
1 Tbsp Tomato paste
1 Tbsp Smoked Paprika
1 Tbsp Ground Mustard
2-3 Tbsp Ground Cumin
2 Tbsp Ground Coriander
½ Leftover Jar of tomato sauce
2 cans Black beans, drained
1 can Kidney beans, drained
1 large can of Tomato something (crushed, diced, whole peeled, whatever)
1 large Sweet potato, peeled, diced
1 roughly 8oz leftover bottle of Southern-style meat marinade (equally suitable replacement would be a lesser amount of quality vinegar).
1 Cup Red lentils
4+ Cups vegetable stock
3-4oz Dark Chocolate, chopped
Salt* + Pepper to taste
Instructions
On a medium-high heat saute your onions until they begin to turn translucent. Add your garlic and saute for another 30 seconds.
Add adobo peppers and spices and saute until toasted and fragrant, roughly 30 seconds more.
Deglaze with liquid of choice. (red wine, stock, water, tequila, marinade, apple cider vinegar, etc)
Add tomato paste and allow to toast for 15-30 seconds.
Add canned tomato product, tomato sauce, and stock. Stir thoroughly. This will initial look like a lot of liquid but don't worry. Some will cook off and lentils absorb A LOT of liquid (4:1 liquid to lentils is the general rule).
Bring to a boil, add sweet potatoes, and reduce to a simmer. Allow to simmer for about 10 minutes.
Add your lentils and stir. These will take roughly 30 minutes to full cook. Stir frequently or the lentils will settle to the bottom and burn. At about the 20 minute mark is where I like to begin tasting the lentils for doneness.
After 20 minutes add in your beans, marinade, and chocolate. We are adding the beans at this point to avoid overcooking them too much.
Let everything simmer in this stage until the lentils are fully cooked and you are ready to eat. Alternatively you can allow it to simmer for another 30 minutes or so to allow the flavors to develop further.
From here you can top it with whatever garnishes you like or have on hand: Sour cream, shredded cheese, diced onions, pickled onions, pickled peppers, diced peppers, etc…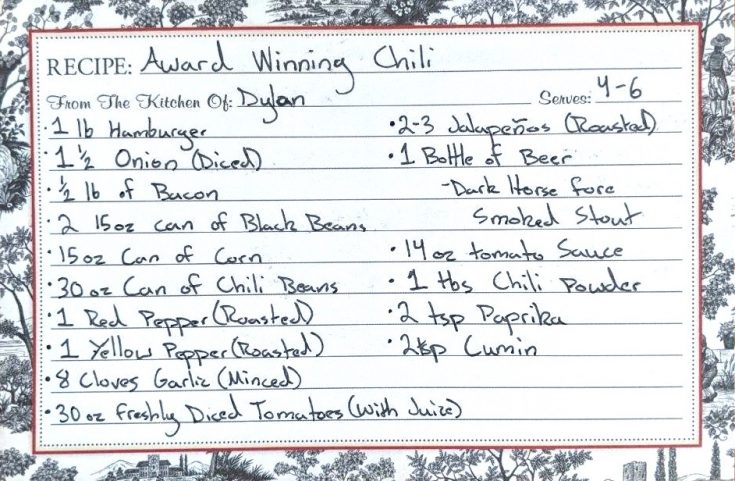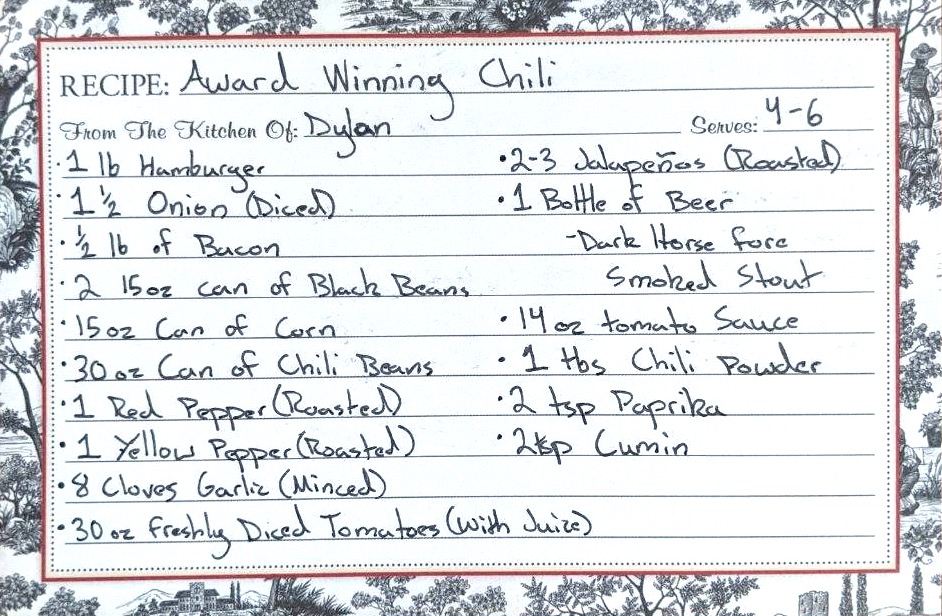 P.S. – As an added bonus here is the rough recipe I wrote for our first Chili Cook-Off winning chili. And before you ask, yes I labeled the recipe Award Winning Chili. It's called being humble.
Until next time.
Pin Vegetarian Lentil Chili to Pinterest