Big thanks to my awesome son, Dylan Thompson, for bringing us this delicious Fajita Tacos from a Pandemic Pantry recipe. He'll be sharing more recipes over the next couple weeks so be sure to visit often.
Hello all. For those of you that may be in quarantine, state lockdown, or self-imposed shut-in, I hope you're hanging in there. I know we're certainly trying to.
For myself, and the rest of those in Michigan, we are at the one week mark for government-mandated lockdown.
The restaurant I am a chef at had to close its doors until this all blows over about 4 days before that.
My fiance's college, and place of work, had to shut their doors about a week prior to that.
Like most people right now, we are going a little stir crazy and running a little short on funds.
This means that like many others we are trying to make the most out of the groceries we have in the house in addition to limiting store runs as much as possible.
We're digging deep into the depths of our cupboards, finding those old and forgotten canned goods, and seeing what we can whip up.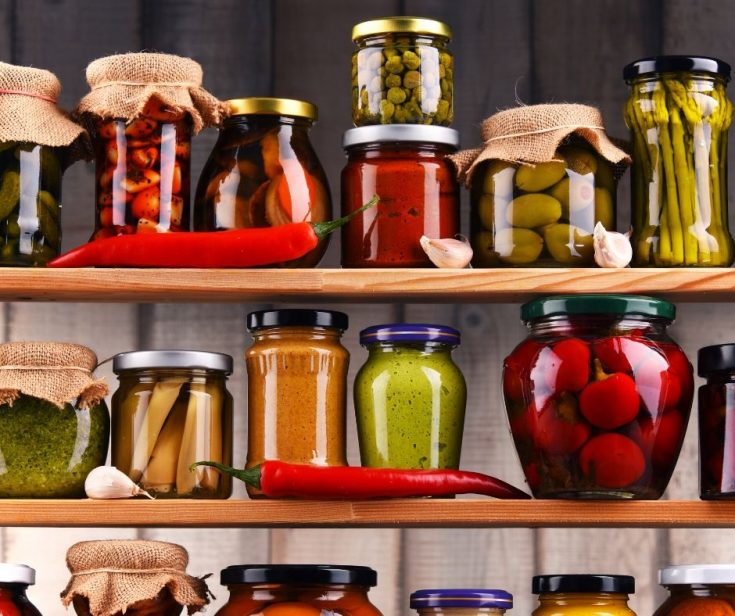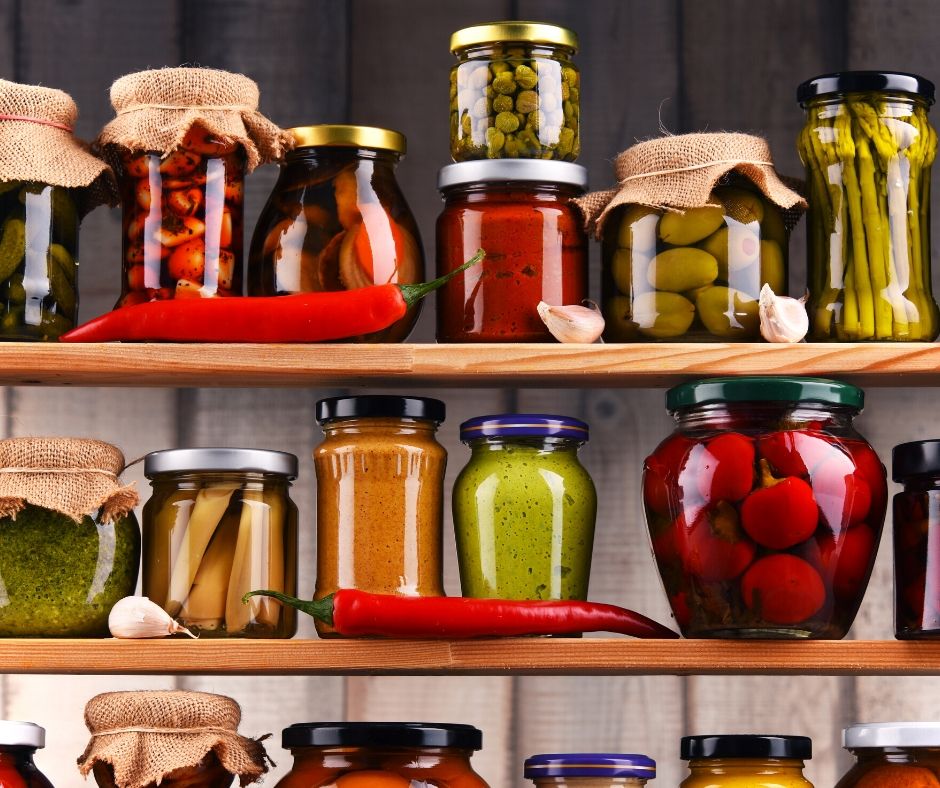 With all that said and my background as a chef, I was hoping I might be able to help or inspire others to do the same or get the most use out of what you have on hand.
As a chef, I very rarely measure ingredients unless I'm writing a recipe for the restaurant or baking, don't mess with baking…like seriously, always measure.
So as a result, these pantry recipe ideas will all be a little loosey-goosey and will hopefully encourage you to experiment and play around a little bit (assuming this isn't something you already do).
Because really, what else do most of us have going on right now?
I would also like to stress that this isn't about making the most absolutely breathtaking #foodporn Instagram worthy dish of our lives, or recreating the most ingredient/labor-intensive dish we can find in the closest cookbook, it's about working with what we've already got.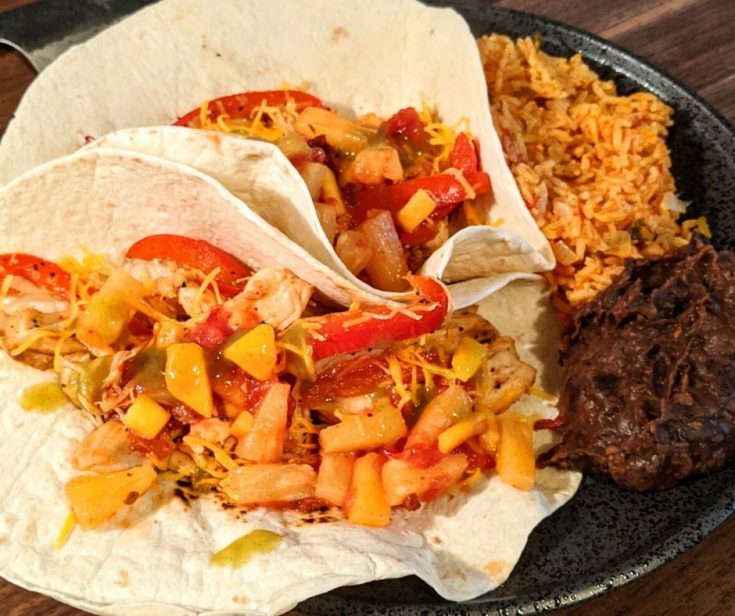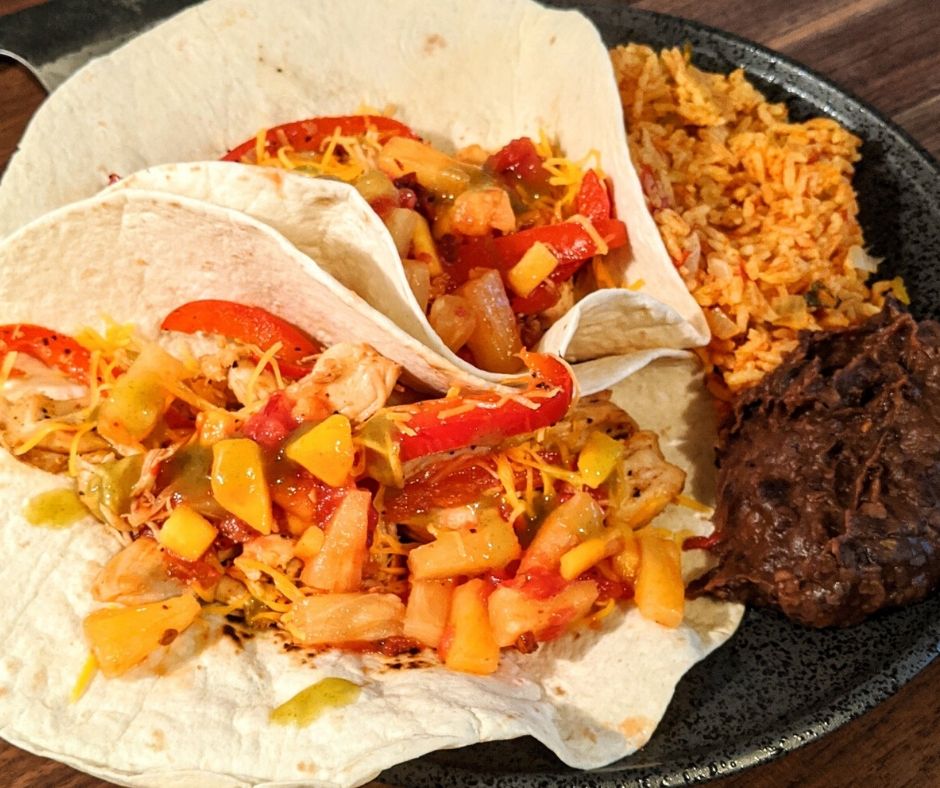 To kick things off we will start with Fajita Style Tacos with Spanish rice and "Refried Beans".
*I do need to preface this just real quick here. In addition to using that year old can of who knows, we shouldn't be afraid to utilize our leftovers.
This is one of the biggest take-aways I can give you from the restaurant industry. Everything gets turned into something, nothing should ever be thrown away!!
These tacos start by using the leftover chicken from a roast chicken and vegetable dinner my fiance and I made the night before.
The leftover vegetables got chopped up and used on omelets for breakfast and the leftover chicken is getting used here and in the next recipe.
Fajita Mx Ingredients
Leftover Chicken, shredded (use your best judgment to gauge what you need per person)
1 Onion, sliced
1 bell pepper, sliced
1 tsp Smoked Paprika
Couple good shakes of a Pre-made southern spice mix*
Salt to taste
Pepper to taste
*I believe I used Tex-Mex Joy or something but really anything will work. Including taco seasoning, store-bought or homemade.
Mango Pineapple Salsa Ingredients
1 Can diced pineapples (reserve the juice, it's great for cocktails)
1 Canned adobo pepper, same rules as above
1 mango, diced
Juice of one lime
½ red onion, minced (if you have it, we did not)
Salt to taste
*we reserved a few tomatoes from the can from the Spanish rice recipe and added to this. You don't have to but I said why not.
Editor Note: You'll find the recipes for Spanish Rice and "Refried Beans" by clicking on the links. Be sure to click over to serve rice and beans with your fajita tacos.
While the rice is cooking, assemble the
Mango Pineapple SALSA Directions
1) Mix everything together in a bowl. Feel free to chop any of the items to whatever size you desire.
2) Adjust seasonings to your liking and set aside.
*I left the pineapple in the dice size from the can and had wished that I had chopped them smaller after the fact
After the salsa is finished start the "refried beans".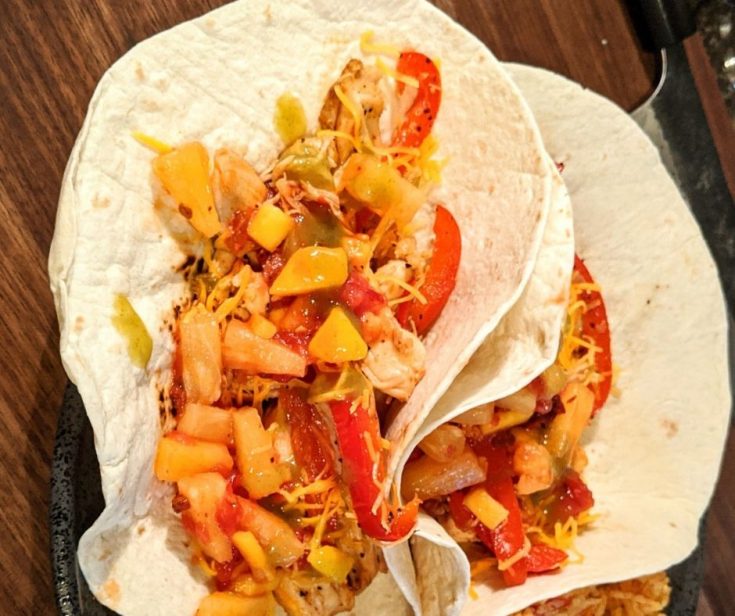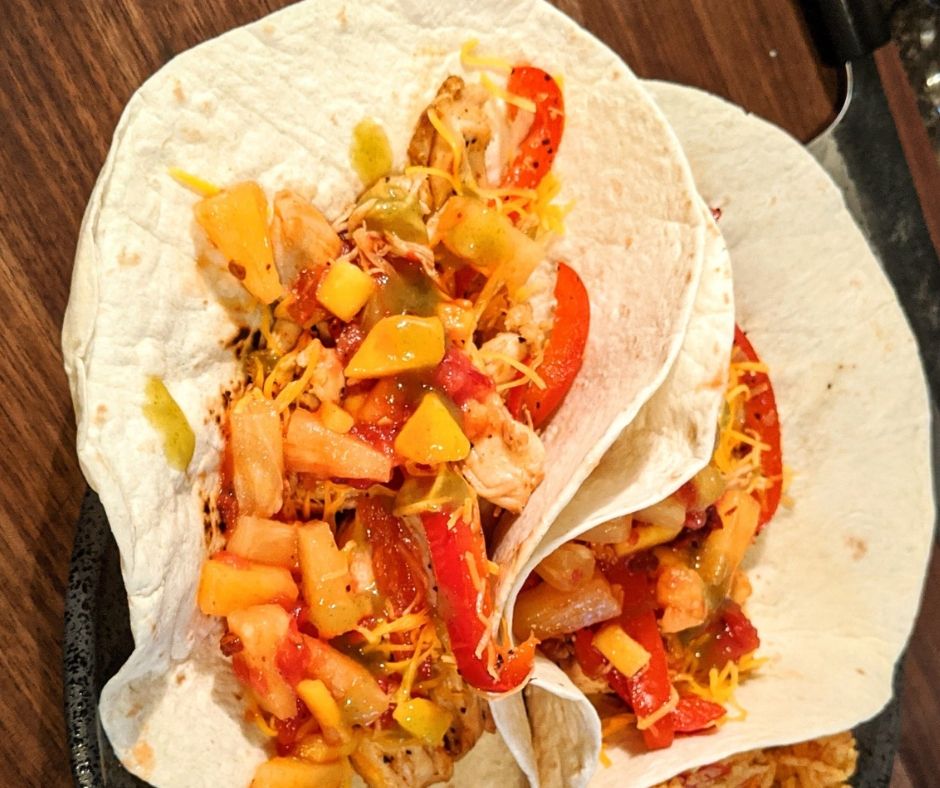 Last but not least…
the FAJITA MIX Directions
1) In a large saute pan heat between 1-2 Tbs of neutral oil of choice (do not use olive oil, it is more likely to burn).
Once the pan is good and hot add your shredded chicken. Give it one quick toss and then allow it to set undisturbed for a few. We want the chicken to develop a nice sear here and that won't happen if you keep moving it around.
2) Once your sear has developed, add your sliced bell peppers and give a little toss. Once again allow these to set undisturbed for a minute or so.
3) Add your spices, let these toast for about 30 seconds or so then add just a splash of water to deglaze. At this point keep moving things around until all the water has evaporated and you're good to go.
From here you are all set to start building your plates. Layer up your tacos with the fajitas, salsa, and whatever the hell else you might have laying around. Cheese, sour cream, lettuce…whatever you want. You got this.
Dare To Be Different
-Feel free to add more veggies to the fajita mix. Add more peppers, add onions, add garlic, whatever you have that you think will fit.
-If you have stuff for more traditional taco fillings, by all means have at it.
-If you have canned refried beans or feel like making them from scratch, more power to you.
-If you don't have pineapples and mangos laying around see what you do have.
Any salsa will work and I'm sure it will taste delicious. That's what I happened to have. If you have an extra can of black beans and corn laying around you could make black bean corn salsa (hint hint).
The point I'm trying to stress here, again, is just having fun with it. Get creative, get whacky, try something unorthodox. And most importantly hang in there.
Catch ya next time for Fried Spanish Rice (you guessed it, using these leftovers. So, um…maybe save some leftovers)
Pin Fajita Tacos to Pinterest