I love how this ground turkey stroganoff recipe came out! It's super silky and creamy and velvety. I could honestly eat this a couple of times a week. Plus, its a great addition to these other Weight Watchers Turkey Recipes.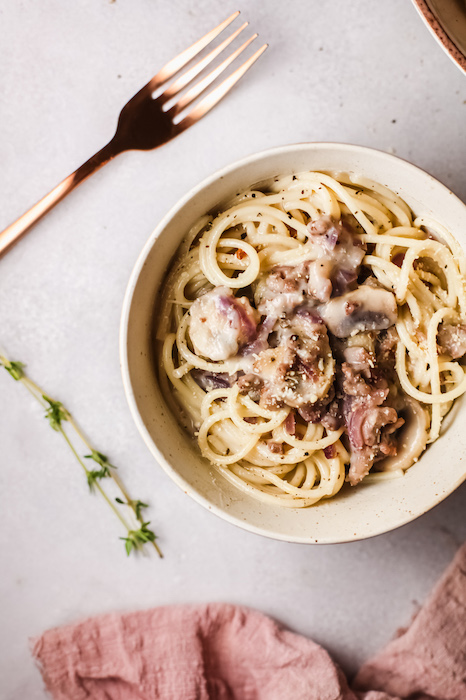 The secret to making it WW friendly is amping up the mushrooms. That way every bite gets one. Mushrooms are zero points so it's a great way to feel like you are eating a lot of pasta without a lot of points.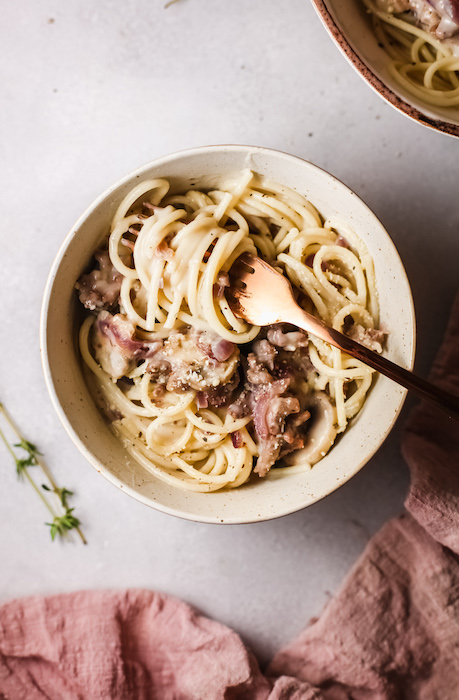 I made the sauce with fat free half and half and it's honestly the best. You won't even notice this is fat-free.
Usually, ground turkey stroganoff is served over pasta and that is my favorite way to enjoy it, but it does come with higher points.
If you use zucchini spirals, which we love, you can reduce your points by half.
Which, let's be honest, some days we are a bit short on points by the end of the day. The difference between 4 points and 8 points is a lot!
Ground Turkey Stroganoff Recipe
Serves: 2
WW Blue Points w/ Pasta: 8
WW Blue Points w/ Zucchini Spirals: 4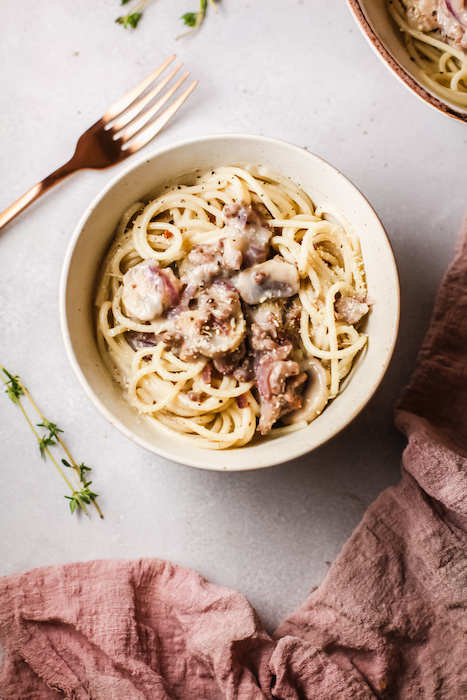 Ground Turkey Stroganoff Ingredients
1 Tbsp olive oil
1 Onion, chopped
1 Garlic clove, minced
2 ½ Cups mushrooms, sliced
½ Pound extra lean ground turkey
2 Tbsp flour
¾ Cup fat free half and half
1 Tbsp mustard
4 Ounces pasta, measured uncooked and cooked according to package directions OR save a lot of points by using Zucchini Spirals.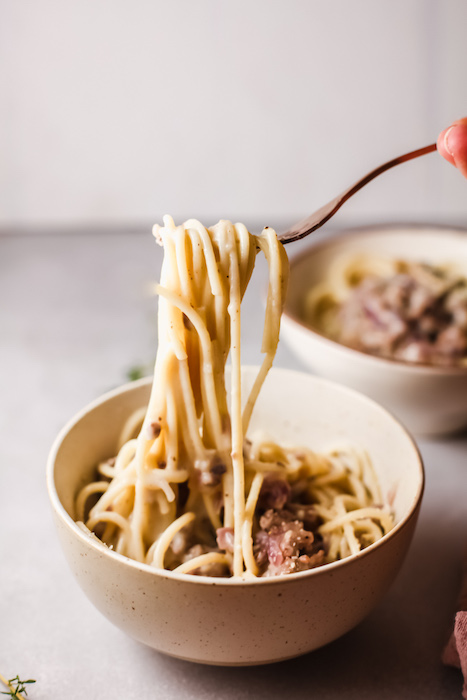 Ground Turkey Stroganoff Directions
Heat olive oil in a saucepan over medium heat. Add onions and cook until transparent. Add garlic and cook for 1 more minute or until fragrant.
Add mushrooms and cook, untouched, for 2 minutes, flip and cook for 3 more minutes. Add the ground turkey and cook, stirring until browned and done, around 5 minutes.
Sprinkle with flour and mix. Add the fat free half and half and mustard and cook until thickened.
Add the cooked pasta and toss to combine and coat well in the sauce.
Pin Ground Turkey Stroganoff to Pinterest