Chef Dylan has been walking us through the EVERYDAY cookbook with Alton Brown. He shares what makes the recipe great, what he changes, and tips for the everyday cook.
"The best cakes are cakes that can arguably be served as breakfast." – Alton Brown (AB). It's hard to summarize it any better than that so I'm not even going to try.
Given that we were in the middle of a pandemic when I started cooking through this book I had to make a small adjustment with this blueberry pound cake recipe.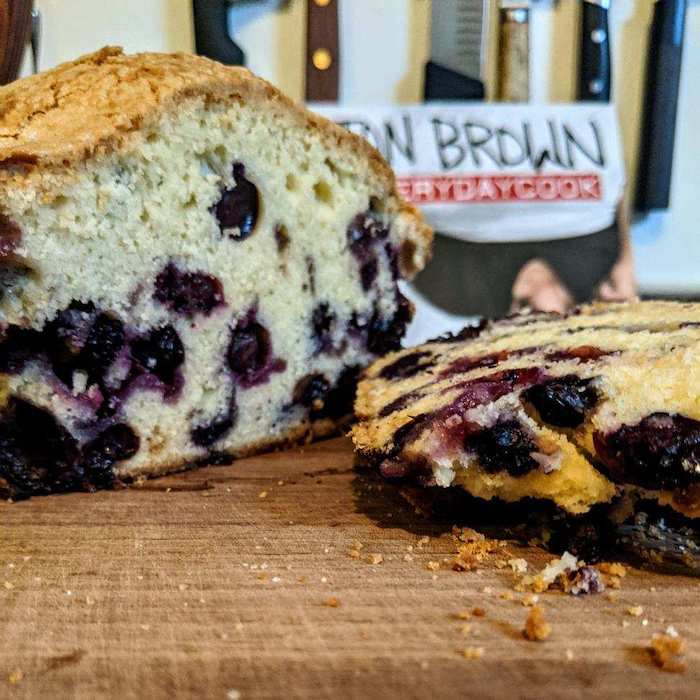 What To Use Instead of a Bundt Pan?
The book calls to use a bundt pan which I do not own as I honestly don't enjoy baking that much and never saw the need to get one.
In its place, I decided to try it with a typical 9×5 bread pan. While this did work I can see how the bundt would be more preferable.
My advice is if you are in the same boat as me only fill your bread pan halfway. I filled mine the typical 3/4ths and had minor issues with it setting in the middle, even with adjusted cooking times.
Blueberry Pound Cake Surprise
The thing that surprised me most about this recipe was how balanced it was.
Not too sweet, not too savory.
This may sound like a strange thing to be shocked by but the base of this cake was equal parts flour to sugar.
I was expecting nothing other than aching teeth going into the taste test.
However, it is AB so I should have known better than to doubt.
In addition to the present balance, there was a very nice texture, very light and airy.
Not to the point you would expect from say a sponge cake, because well it's not one, but very nice none-the-less.
With that almost fluffy texture, the cake also developed a very pleasant crust, which I would contribute to the call to dust the pan with sugar, which offered a very satisfying contrast to the airy insides.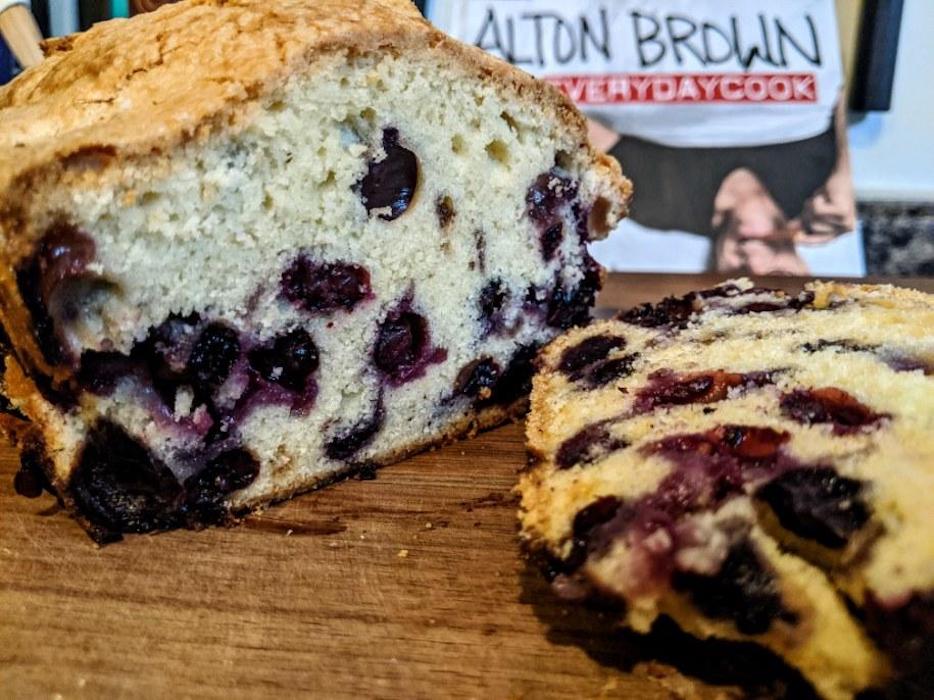 Is Blueberry Pound Cake Hard to Make?
This recipe comes together quick and easy.
It won't dirty much more than your stand mixer and you'll be off doing anything else waiting for the oven to finish it off in no time at all.
This cake would make a great accompaniment to any breakfast you'd be comfortable serving a sweetbread with.
Who am I kidding just eat the cake for breakfast as we did and save yourself the extra work. No one needs to know.
Trust me I'm not going to tell anyone, that would require talking to people.
Follow Along As I Cook The EVERDAYCOOK Book by Alton Brown
Grab a copy of the EVERYDAYCOOK by Alton Brown and follow along as I cook the book and have access to the complete recipes.
Pin Blueberry Pound Cake to Pinterest