This easy, yet elegant, side dish can elevate a basic weeknight meal into something truly extraordinary. This eye-catching creation features rich, beautiful jewel tones that add a vibrant pop of color, along with plenty of great flavors. This is a great way to enjoy the fresh veggies you picked up at the farmers market.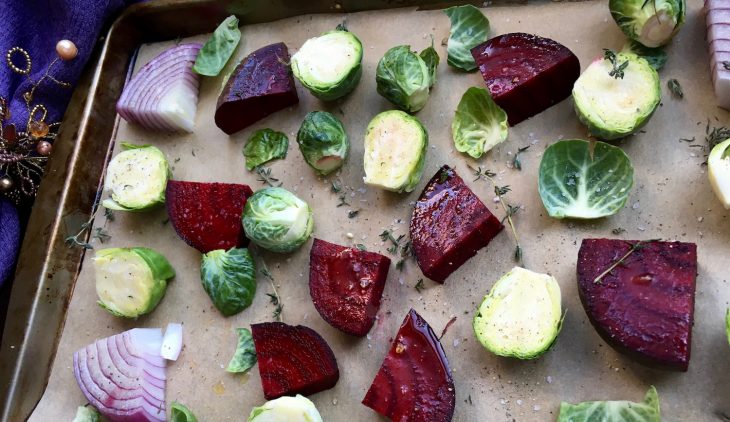 Roasted Red Beets & Brussels Sprouts Recipe Ingredients
3 large red beets, cleaned, peeled, and cut into uniformly thick slices
1 pound fresh Brussels sprouts, ends removed and cut in half (Look for smaller Brussels sprouts that are all about the same size. This will ensure the sprouts cook evenly).
2 T. olive oil, divided
1 T. garlic powder, divided
1 red onion, outer skin removed and cut into uniformly thick slices and then quartered
6 sprigs fresh thyme
1 T. pink Himalayan sea salt
1 t. fresh cracked black pepper
Tip: Those that love bacon with their Brussel sprouts don't fear. Simply add chopped raw bacon to the pan of veggies and roast according to the directions. The bacon will add another layer of flavor to this dish and, for me, makes it even more delicious!

Roasted Red Beets & Brussels Sprouts Recipe Directions
Preheat oven to 400 degrees.
Add sliced red beets and Brussels sprouts and toss with 2 tablespoons olive oil and 2 teaspoons garlic powder.
Arrange beets and Brussels sprouts on a rimmed baking sheet lined with parchment paper in a single layer. Add red onion quarters and brush with remaining olive oil and sprinkle with 1 teaspoon garlic powder.
Add fresh thyme sprigs to baking sheet. Sprinkle vegetables with pink Himalayan sea salt, and fresh-cracked black pepper. Bake in pre-heated oven for 25 minutes or until Brussels sprouts are golden brown and other vegetables are tender.
Remove from oven and cool slightly before serving.
This is a tasty dish that we enjoy any time of year look for the smaller Brussels sprouts because they are a bit more tender
Point Calculation Note: WW has changed their program since these were calculated. Please calculate points according to your program.