An Asian Pear Mojito reminds me of my time traveling through Southeast Asia. The flavor of the soju mixed sweet asian pears is the perfect combination of flavors that makes this the perfect cocktail no matter what the time of year.
So a typical mojito is made with rum, limes, mint, sugar and soda water by replacing the rum with soju and adding asian pears to your muddling along with the limes, mint, tonic and simple syrup.
What is Soju?
First and foremost it is Korea's most popular alcoholic beverage. Soju can be traced back to the 13th century during the Yuan dynasty. Traditional and high-quality soju is distilled from rice.
However during the rice shortages in Korea from 1965 – 1999 the use of rice was banned, so other grains were sought out such as barley or wheat. With ever cheaper versions being made from sweet potatoes, potatoes or tapioca.
Although, the better quality Soju's are still made with rice today. Soju is very similar to vodka and typically has an alcohol content of 10 -25% and do to is clean smooth taste it goes great with most any dish including spicy ones.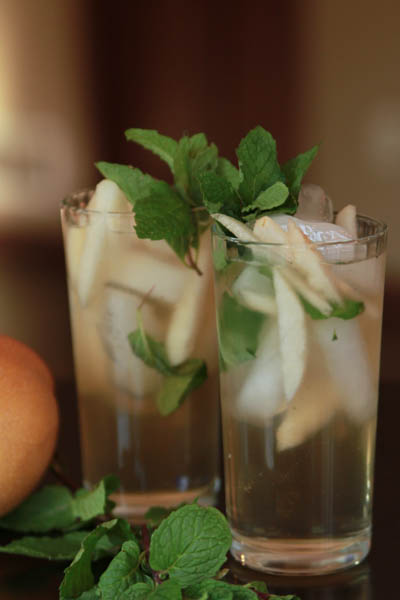 Asian Pear Mojito Recipe
2oz of Soju
10 – 15 Mojito Mint Leaves
1/2 Lime cut into 4-5 segments
1 Asian pear peeled and sliced
1/2 cup of tonic
2 tablespoons of simple syrup
Ice
Asian Pear Mojito Directions
To your collins glass add 8 – 10 add mint leaves (save the rest for garnish,) 2 lime segments and 1/2 of the Asian pear then using your muddler muddle all the ingredients together.
Once completely muddle add Soju, ice, simple syrup, then garnish with pear, lime and mint leaves and finish with tonic water.
If you'd like your asian pear mojito sweeter you can add another tablespoon of simple syrup.
What does it mean to Muddle?
This is a technique used to release flavors from solid ingredients, such as fruit and herbs. If ingredients are not properly muddled it can leave your drink tasting bitter or unpleasant.
Several sites offer muddlers but I found a great selection of muddles at Amazon.com. But you can also save yourself some money by using a tool you might already have in the kitchen.
Some of my favorites to use is a wooden spoon or a french rolling pin (the one without handles). Make sure you choose a tool that does not tear up the ingredients.
Another tool you need to have when muddling is a good glass. You want to make sure that your glass does not break or chip when muddling ingredients.
Place your ingredients in the bottom of the glass and using your tool press and twist, it is important that you do not bash your fruit and herbs as you want the to release their oils and juice.
***Pin Asian Pear Mojito Cocktail To Pinterest***