As mentioned in a previous post my son Dylan, who is a fantastic chef, is currently out of work due to the pandemic shutdown. Since he has time he's kindly been writing up recipes to share with us.
Like most of us, he's digging through the pantry trying to find what's for dinner. In this edition of the Pandemic Pantry, he's created refried beans from cans and such from the pantry.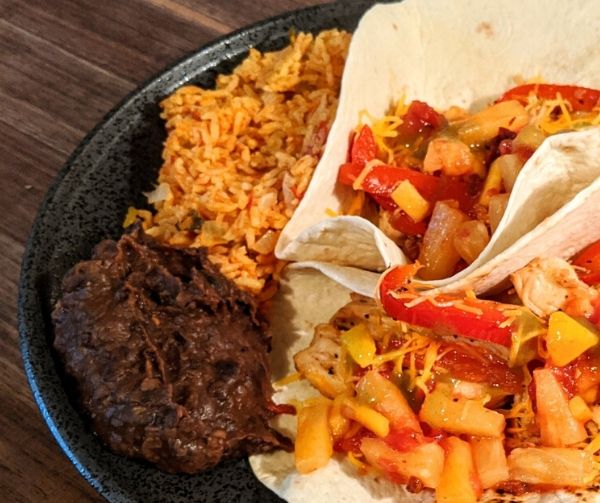 This and the Spanish rice recipes are a great side dish for:
Fajita Tacos
Spicy Black Bean Taco Wraps (use refried beans instead of black beans…it's all about being flexible right now)
Black Bean Burritos
Ground Turkey Burrito Bowl
This recipe is so easy to make you'll wonder why you haven't been making refried beans from "scratch" all along. Of course, if you do have a can of refried beans use those for any of the above recipes as well.
"Refried Beans" Ingredients
1 Can baked beans
1 Can Black Beans, drained
1 Canned adobo pepper, same rules as above
2 tsp cumin
1 tsp Coriander
Salt
"Refried Beans" Directions
1) Combine both beans and spices in a small saucepot.
2) Heat thoroughly and allow them to simmer until they are fully mashable. Realistically this won't take very long but the longer they are allowed to simmer the more the flavors will have time to combine and develop.
3) Using a potato masher, or the back of a wooden spoon smash the beans to your desired consistency.
If they seem too runny at this point just allow them to cook down a little bit further.
Easy, right? This is good for so many other recipes. Really, any recipe that calls for refried beans can use this recipe.
During this pandemic we all have to get a bit creative in the kitchen and as Dylan notes in another post make sure you don't waste any food. All leftovers can be used to create another meal. Toss nothing unless it has expired.
Continue to follow along as we create more pandemic pantry recipes!
Pin to Pinterest