This is a great time to dig through the pantry and use up the things you find in the back. You know, that bag of rice that's been in there for ages or the can of green chilies you bought and never used.
This Spanish Rice recipe helps you put things to use instead of tossing them out.
Plus this is a complimentary recipe for our Fajita Tacos recipe that you're going to want to make.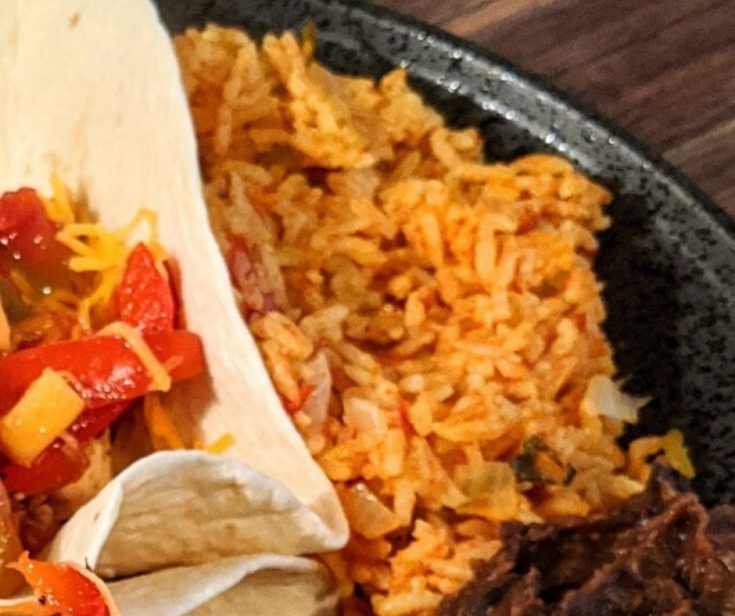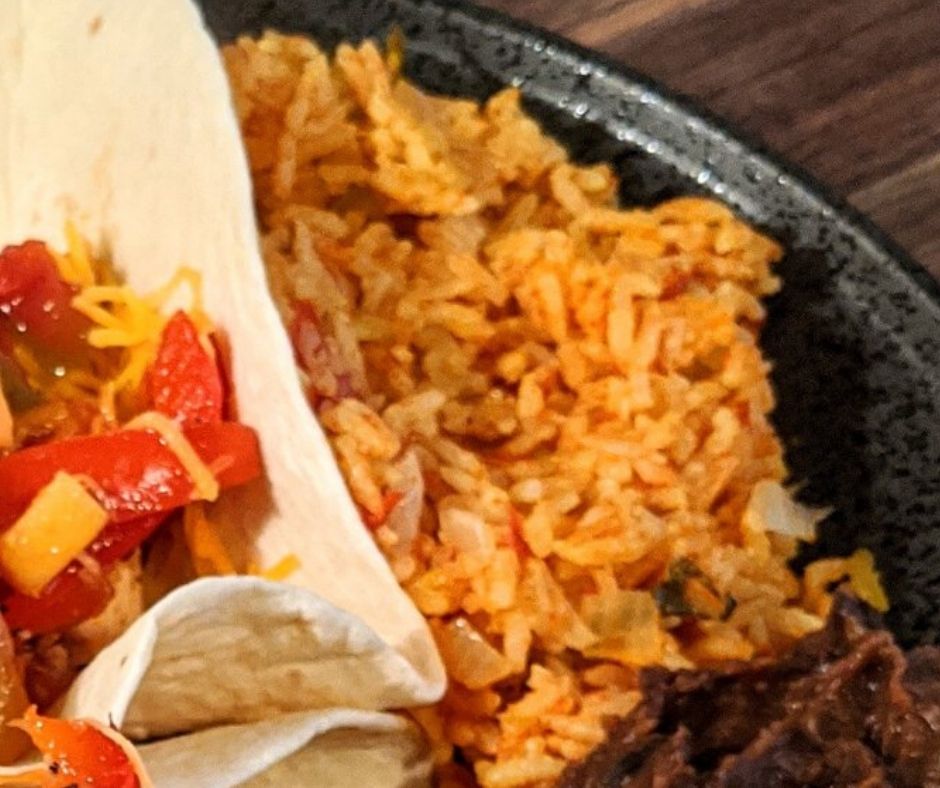 Spanish Rice Ingredients
2 Cups long grain white rice
1 Can peeled tomatoes, chooped, reserve liquid*
1 Small Can green chilies, reserve liquid
1 Small White Onion, diced**
3 Cloves garlic, minced
1 Canned adobo pepper (These bad boys can get HOT, feel free to add more at your own discretion)
1 bay leaf
2 Tsp Smoked paprika
2 Tsp Cumin
1 Tsp coriander
1 Tsp tumeric
Salt (you should salt this similar to pasta water)
Water (this number will very based on a few factors we'll go over later)
*You can really use any kind of canned tomato here. They will all pretty much serve the same roll.
**You can also sub a red onion if you prefer but will want to use less.
Spanish Rice Directions
I did my rice in my instant pot. I will be honest and say that it's a relatively new purchase and I'm trying to still figure out the ins and outs as well as get a feel for how it cooks.
The bottom of my rice ended up burning a little but 90% of it was still edible and it did not affect the final flavor.
Instant Pot/Rice Maker Directions
1)Rinse your rice off in a fine mesh strainer and add everything to the pot.
2)Determine the liquid to rice ratio required by your machine. Mine was 1:1.
3)Measure the reserved liquid from the tomatoes and chilies. Add enough water to reach the 1:1 then dump into your machine and stir.
4)Seal the Lid and hit the white rice button.
Spanish Rice Stove Top Directions
*When doing stove top rice the ratio I was taught was 1:1.5 rice to liquid
*Be sure to do your sauteing in whatever vessel you intend on cooking the rice in.
1)Measure your reserved liquid and add enough water to reach 1.5x the amount of rice, in the case of 2 cups of rice that would be 3 cups liquid.
2)Saute your onions until soft but not fully translucent, add the garlic and saute for about another minute, add spices and bay leaf then saute for another 30 seconds. Add canned items and just a splash of the reserved liquid, this will help deglaze the pan.
3)Add all of your liquid and bring to a boil.
4)Once boiling add your rice and stir. Bring the water back to a boil, stir one last time, reduce to a very low simmer and put a lid on it.
5)Let this simmer for 15 minutes. Do not remove the lid
6)After 15 minutes turn the heat back on high for 10-15 seconds then kill the heat. Leaving the lid on but the pot on a back burner and don't even think about touching it for another 10 minutes.
7)Remove lid, fluff rice, adjust salt and pepper if necessary, and enjoy.
Pin To Pinterest