This easy yet delicious bacon and tomato mac and cheese with a crunchy Triscuit topping recipe takes a basic recipe up a notch.
While this recipe calls for bacon it's easy enough to make it vegetarian by simply omitting that ingredient. Because we all have busy lives and no time for scrolling through a decade worth of history, lets jump right into it (well, glance at these additional recipe options first, but the recipe is immediately after!)
If you're looking for more twists on mac & cheese be sure to check out these recipes:
Slow Cooker Mac and Cheese Recipe
Easy Mac and Cheese When You Need A Quick Meal
Buffalo Chicken Mac and Cheese
Lactose Free Macaroni and Cheese Recipe
Fried Mac & Cheese with Bacon Recipe – This is a great recipe for any leftover mac and cheese!
There are a number of other vegetarian recipes here but some of our other favorites include:
Vegan Sweet Potato & Chick Pea Hash
Vegetarian Bean Salad Bowl Recipe
Bacon & Tomato Mac & Cheese With Triscuit Topping Recipe
Mac & Cheese Ingredients
4-6 slices of bacon, cooked crisp and crumbled
1 small tomato, diced
6 ounces whole wheat medium shells pasta, cooked according to package directions
1 1/2 cups heavy whipping cream
6 ounces triple cheddar shredded cheese
Salt and pepper to taste
Handful of Fire Roasted Tomato Triscuits, crushed into crumbs*
Mac & Cheese Directions
1. Bring heavy whipping cream to boil; reduce heat to low and cook for 5 minutes until slight reduced. Slowly add cheese, mixing constantly to make sure all cheese melts.
2. In a casserole dish mix together pasta, bacon and tomato, mix well. Add cheese sauce mix until well combined.
3. Top mac and cheese with crushed Triscuits and bake at 350 degrees for 20-25 minutes until it's bubbly and topping is golden brown.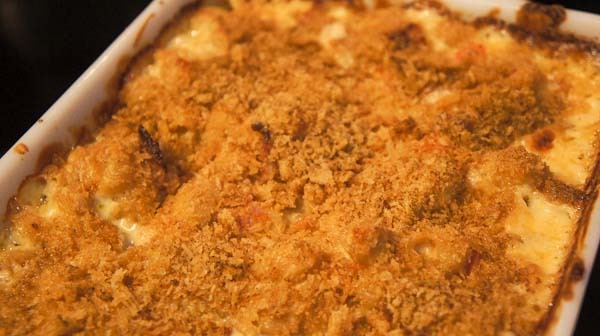 * To crush Triscuits place them in a Ziploc type sandwich bag and use a rolling-pin with a back and forth motion to create fine crumbs.
We all loved the mac and cheese with the Triscuit topping. The extra flavorful crunch really added a nice new dimension to this meal.
This is a sponsored conversation written by me on behalf of Triscuit.  The opinions and text are all mine.
Pin Triscut Recipe To Pinterest