All adventurers are welcome as the hexes of CATAN lie before you. The promise of abundant resources, development cards, and victory points are close at hand. But all Catanians need a good meal before they can build strong settlements and grand cities.
With CATAN: The Official Cookbook, fans of Klaus Teuber's iconic game can now fuel up while road building and negotiating trades. From snack-worthy appetizers to feast level entrees, this full-color cookbook includes more than 75 fun and easy-to-make recipes inspired by the game.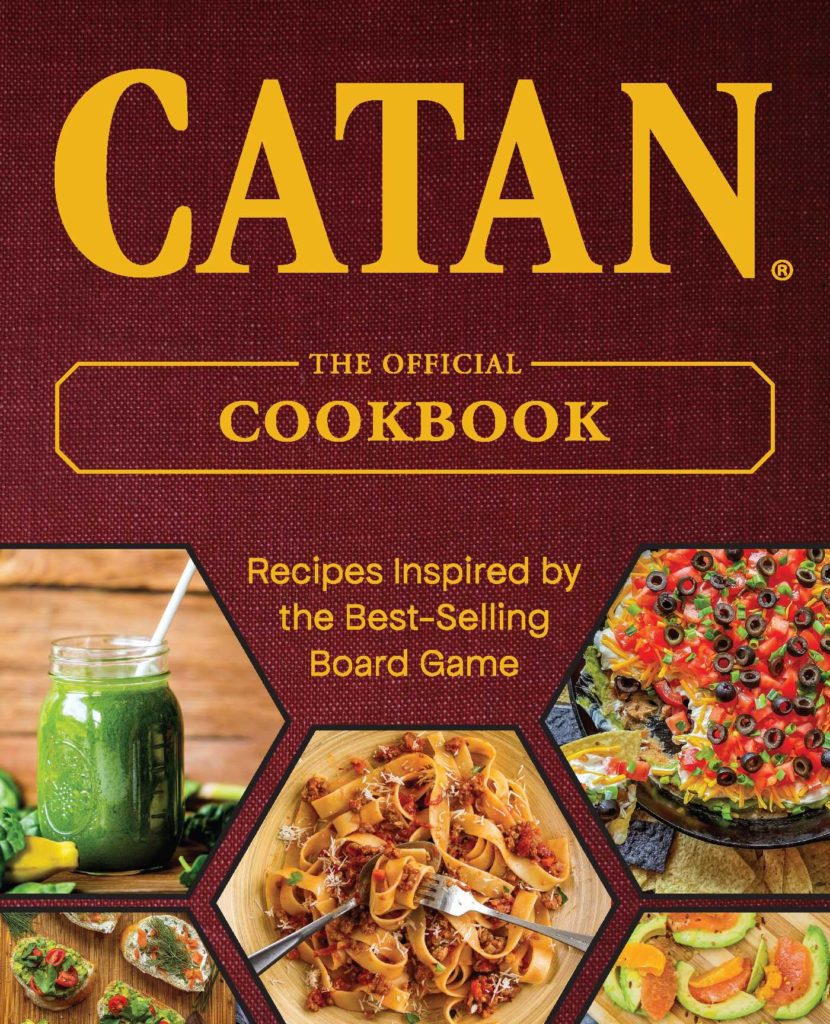 The selection of recipes in this book offers something for everyone, including vegetarian variations and meals for cooks of different skill levels.
Each recipe has a fun CATAN-themed spin, whether it's a punny reference to your favorite development card (Ear of Plenty Corn Dip, p. 17), a resource-inspired main dish (Chicken under a Brick, p. 91), or simply an easy gamenight snack you could imagine coming from the island of CATAN (Tavern Pretzel Bites and Beer Cheese, p. 41).
Recipes are organized into five sections.
Part I, Game (K)night Snacks, features bites, appetizers, and finger foods easy to make for a crowd.
Part II offers Food for the Road, with lighter breakfast and lunch fare that can be enjoyed during the day, whether you're building the longest road or making clever trades at work.
Part III, Adventurer's Feast, has heartier entrées and side dishes for a more formal dinner or over-the-top celebration.
Part IV, Hard-Won Desserts, includes delicious treats for late-night gaming.
Part V, Cheers for Victory, offers a selection of mostly alcoholic cocktails (and some mocktail variations) that complement a cozy night of gaming.
Start your building adventure with this recipe:
Credit Line: Excerpted from CATAN®: The Official Cookbook. Copyright © 2023 CATAN GmbH. CATAN, the CATAN logo, the "CATAN Sun," and the CATAN Brand Logo are trademark properties of CATAN GmbH (catan.com). Reprinted with permission from Ulysses Press and CATAN GmbH. New York, NY. All rights reserved.
Great Hall Rack of Lamb (p. 107) Recipe From The CATAN Cookbook
A sweet and savory meal fit for a king, the Great Hall Rack of Lamb is the perfect meal for a gathering of 4 to 6 players. The flavorful dish combines unique flavors you might not typically think of together (mint, golden raisins, yogurt) to create a decadent yet savory feast.
Pair with your favorite grown-up beverages and a veggie side of Stuffed Mushrooms with Fresh Island Herbs (page 46) for a zesty and complete feast. Queue up the trumpets on your party playlist when you present this majestic main dish.
Ingredients:
2 tablespoons minced fresh rosemary
¼ cup plus 1 tablespoon extra-virgin olive oil, divided
2 tablespoons minced garlic, divided
1 teaspoon sea salt, plus more to taste
1 teaspoon freshly ground pepper, plus more to taste
2 racks of lamb, frenched (about 2 pounds each)
½ cup whole-milk yogurt
2 tablespoons tahini
1 to 2 teaspoons lemon juice
pinch sumac (optional)
¼ cup golden raisins
2 tablespoons fresh mint leaves
Gluten-free, sugar-free
Instructions:
1. Combine the rosemary, ¼ cup of the olive oil, all but 1 teaspoon of the garlic, salt, and pepper in a small bowl. Coat the lamb racks in the mixture and place on a rimmed baking sheet. Allow to rest in the mixture for at least 30 minutes (up to 4 hours in the refrigerator).
2. Preheat the oven to 450°F. Roast for 15 minutes, then rotate the pan and roast for another 10 minutes for medium-rare. Allow the lamb to rest for 10 minutes before carving between the bones.
3. While the lamb cooks, whisk the yogurt, reserved 1 teaspoon of garlic, 1 tablespoon of olive oil, tahini, and lemon juice in a small bowl. Season with salt and pepper, adding more lemon juice if desired.
4. Serve the lamb on a large serving platter, garnished with sumac, raisins, and mint leaves, with the yogurt tahini sauce on the side.
Serves 4 to 6
Prep time 15 minutes, plus 40 minutes to rest
Cook time 25 minutes
More Fun Cookbooks To Check Out:
Unofficial Disney Parks Restaurant Cookbook (Being Published Soon)
The Unofficial Hocus Pocus cookbook for Kids
Coffee Magic for the Modern Witch (Being Published Soon)
Pin CATAN Cookbook To Pinterest