Traditional crepes are a popular French dish made with a combination of flour and eggs. This extremely versatile, gluten-free version omits the flour and yields delicious low-carb wraps you can enjoy with your favorite sweet or savory fillings.
Savory crepes, like these goat cheese & tomato crepes, are a great way to enjoy leftovers the next day.
Add grilled steak or roasted chicken, then add your favorite cheese and top with caramelized onions, sautéed mushrooms, and/or roasted veggies for a quick and delicious breakfast or lunch.
Prep time: 5 minutes
Cooking time: 20 minutes
Yields: 6 crepes
***Pin to One Freestyle Point Tomato & Feta Cheese Crepes to Pinterest***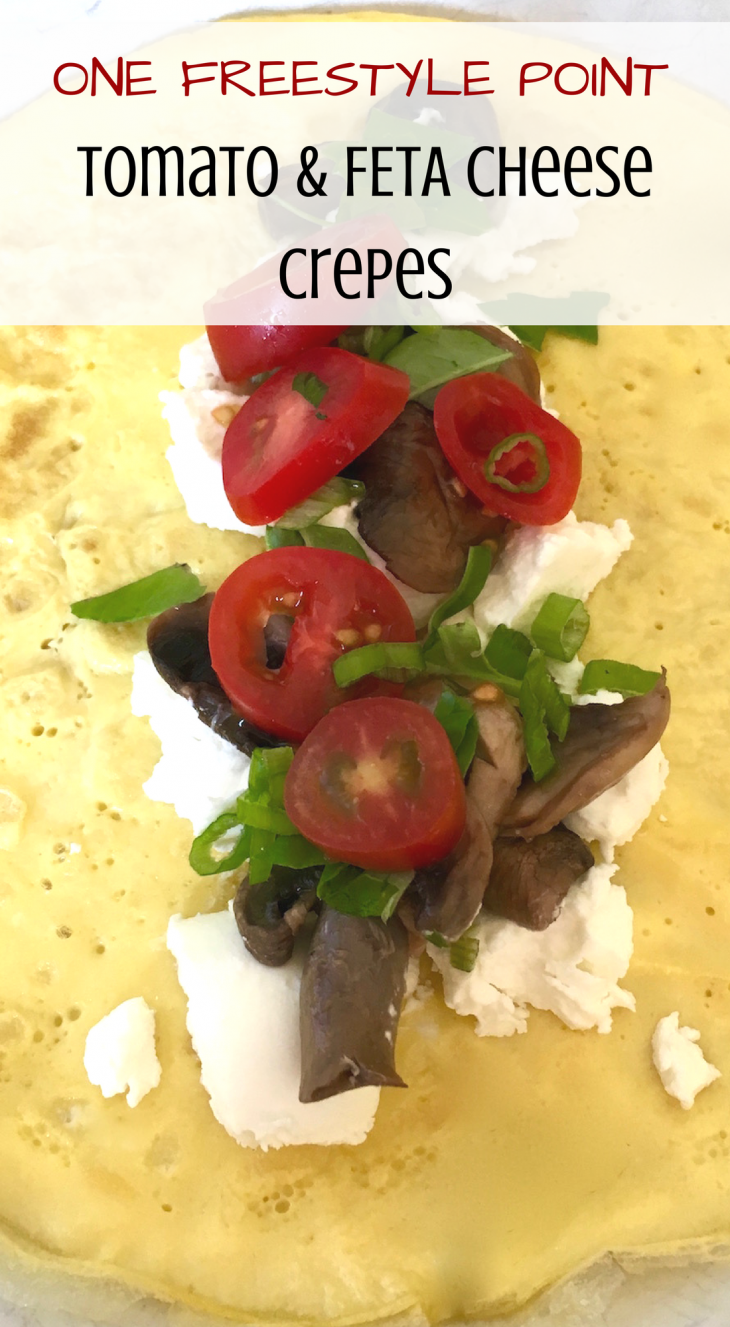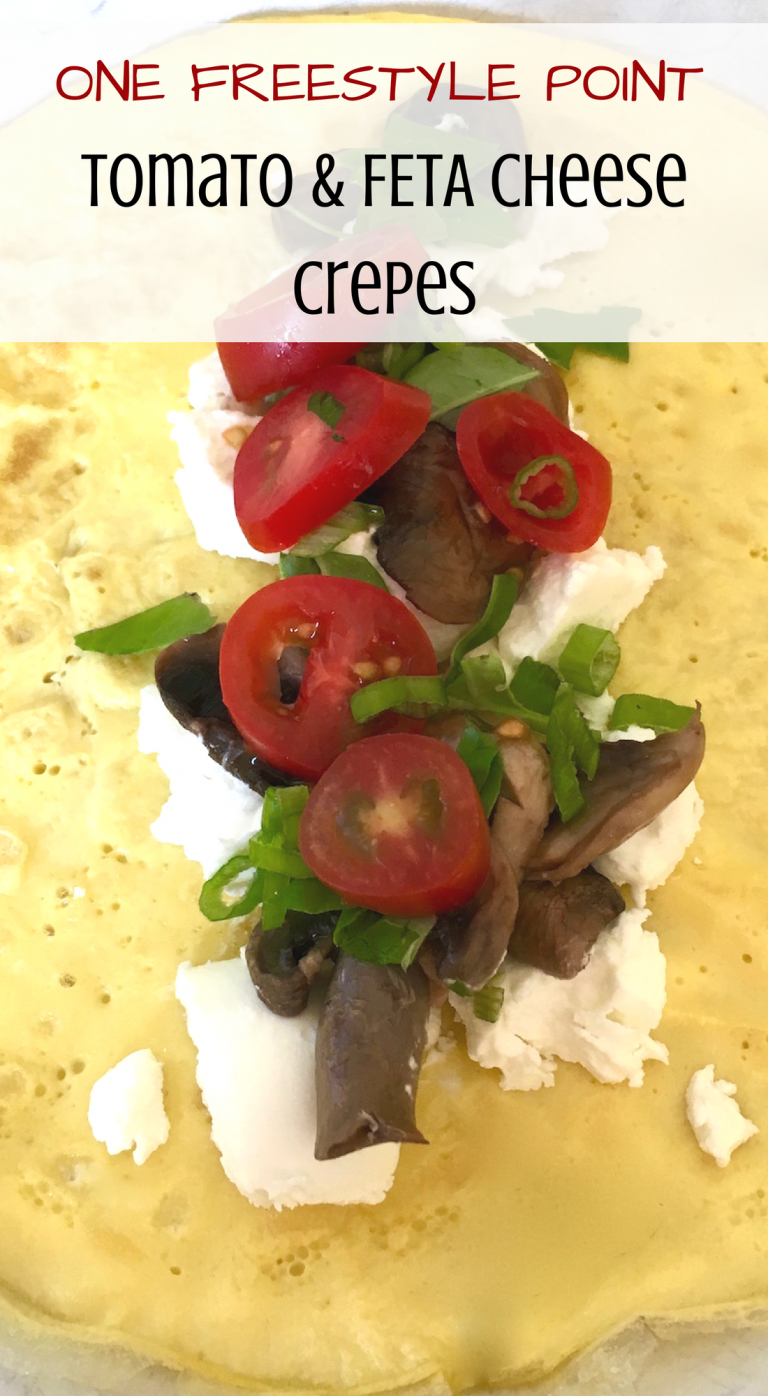 WEIGHT WATCHERS FREESTYLE POINT NOTE: Make this recipe ONE FREESTYLE point by changing out the goat cheese for fat-free feta, still delicious!
Goat Cheese & Tomato Crepes Batter Ingredients
6 large eggs
3 T. half and half, fat free
2 T. extra virgin olive oil
Non-stick cooking spray
Goat Cheese & Tomato Crepes Filling
6 oz. goat cheese | if using Weight Watchers Freestyle use fat-free goat cheese instead
12 grape tomatoes, sliced (grow your own with the help of ilovetomatoes.com)
6 oz. white mushrooms, sliced and sautéed
2 T. fresh basil, chopped
3 T. sliced green onion, green part only
Sea salt and black pepper, to taste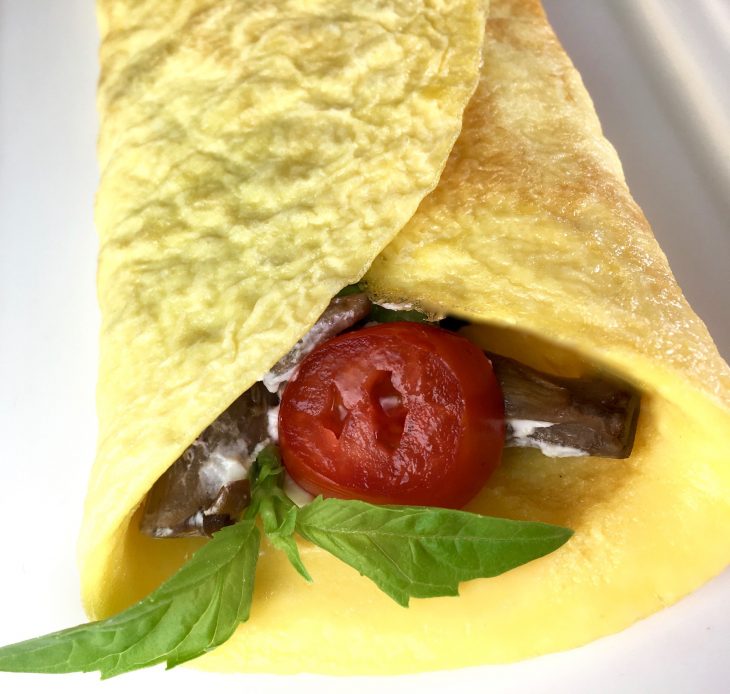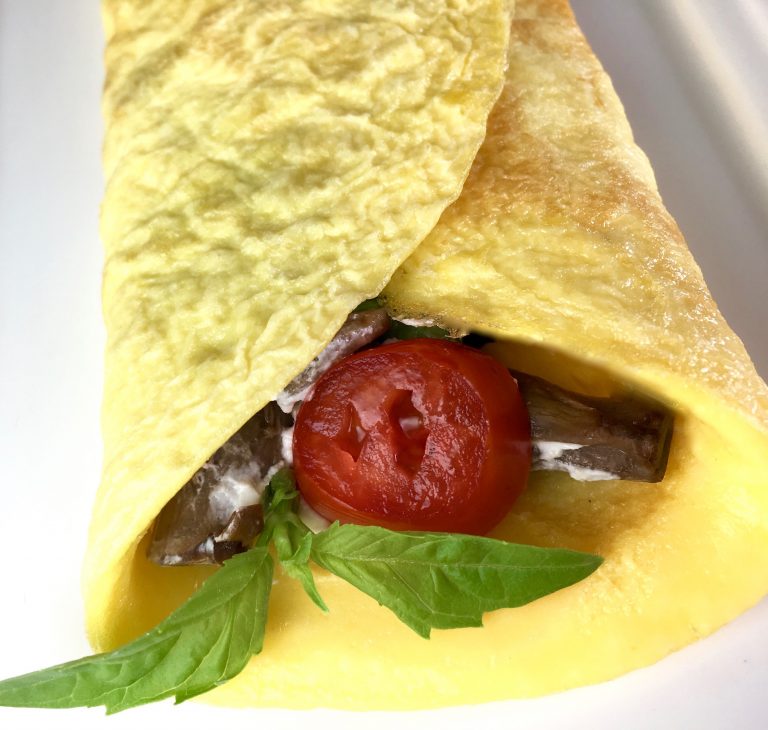 Goat Cheese & Tomato Crepes Directions
Combine eggs, half and half, and olive oil in a large bowl and whisk until smooth. If desired, season batter with savory or sweet ingredients as described above.
Lightly spray a 10" non-stick skillet with non-stick cooking spray and set over medium-low heat. (You may want to adjust heat up slightly to just below medium).
Pour ¼ cup of egg batter into preheated skillet and swirl pan to evenly coat the bottom with a thin layer. If any holes appear, add a little more batter to fill. Cover pan and cook until egg batter begins to set, approximately 2-3 minutes. Do not overcook.
Once set, gently loosen the edges with a silicon spatula and flip the crepe, being careful to not break or tear it in the process. Cook for one minute more and remove crepe from pan. Repeat with remaining batter.
Place desired filling ingredients in the center of each crepe and fold over both sides to cover. Serve immediately and enjoy!
***Pin Goat Cheese & Tomato Crepes to Pinterest***