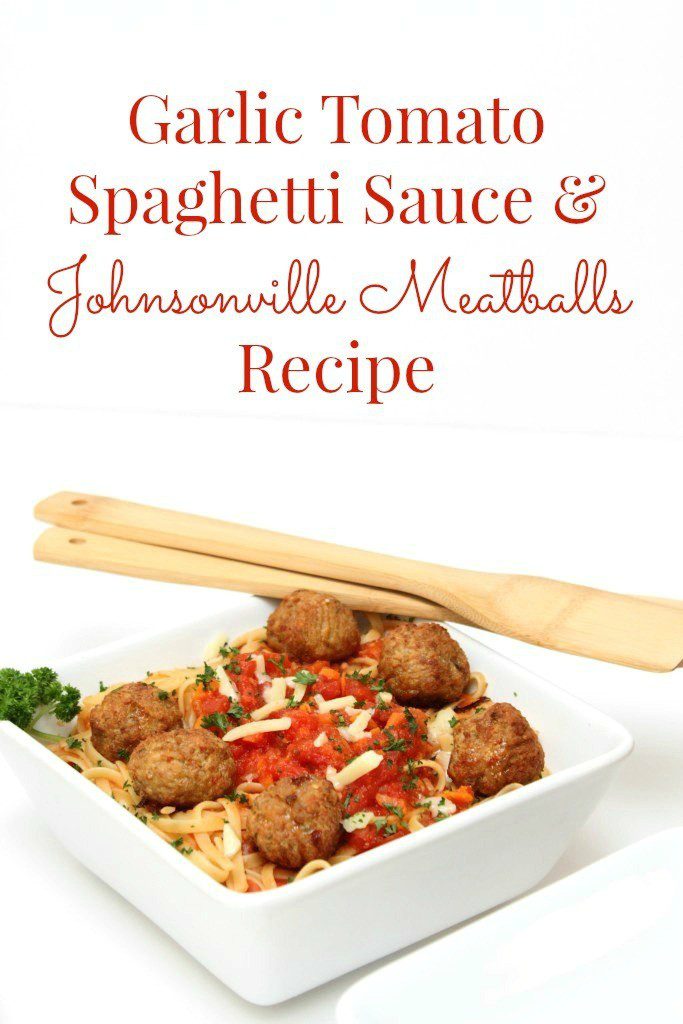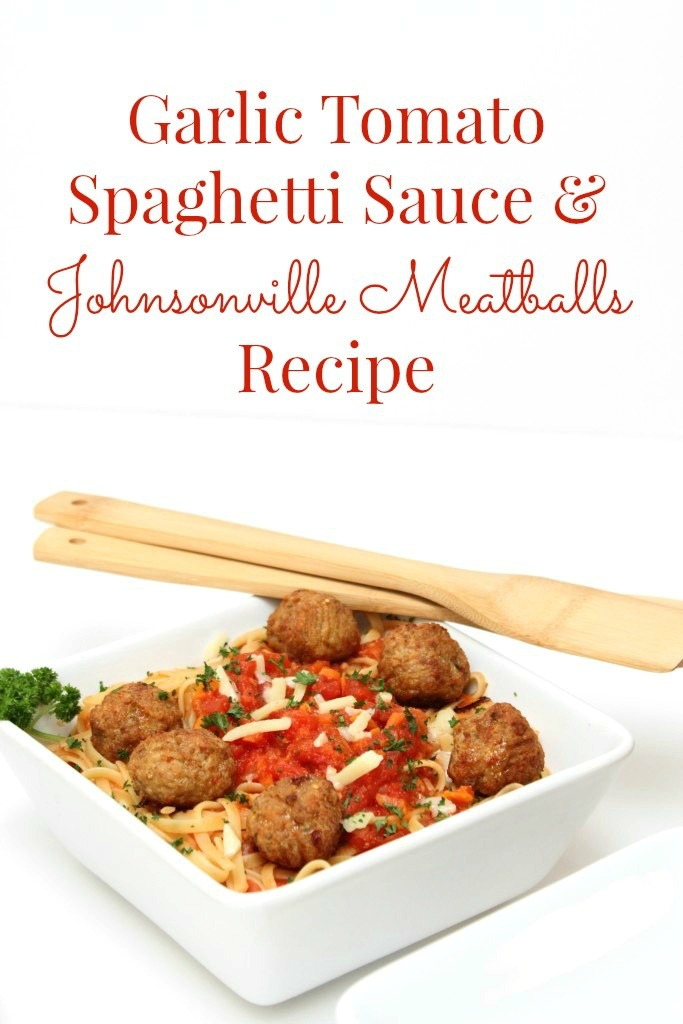 disclosure: I made this delicious and easy dinner using Johnsonville® Meatballs as part of a sponsored post for Socialstars.
Dinner time is pretty low key at our house. Most nights I throw something together and we fix our plates at the kitchen counter before sitting down to eat. We are definitely NOT the family that sits down to the tablecloth covered, decorated table who then passes dinner dishes to one another. Heck, some nights you'll find us eating off paper plates just for the ease of clean up. When I worked full-time outside the home while raising kids I learned a couple things that made dinner time much more enjoyable and relaxing for everyone.
1. The ability to create meals that are quick, easy and delicious. I've either mastered the delicious part or the kids just stopped complaining. Hopefully, they'll all agree that they enjoy eating dinner at home.
2. Learning to not sweat the small stuff (ie: eating at a plain table). I let go of decor and my ideas of what a "perfect" family dinner should look like years ago. Instead, I learned to enjoy our family dinner normal.
3. Embracing the cooking semi-homemade movement. Sometimes it's nice to open a package and have half the meal done. As long as it taste great I'm not opposed to cooking semi-homemade.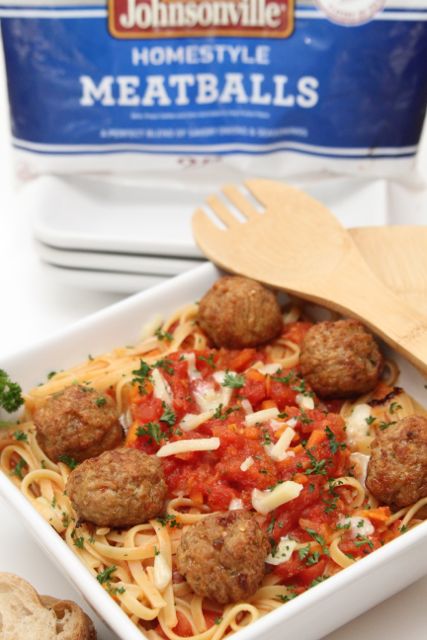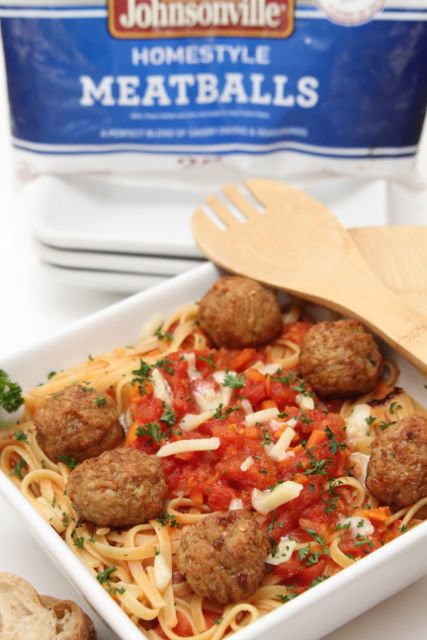 Thankfully, Johnsonville® Meatballs allows me to have a flavorful spaghetti and meatball recipe on the table in no time at all.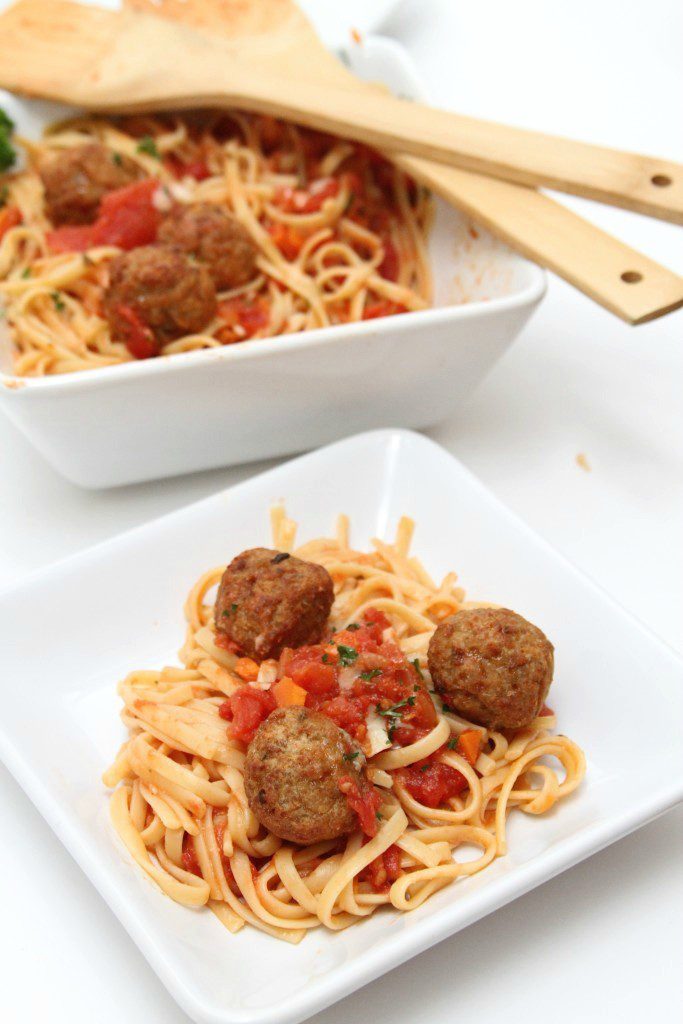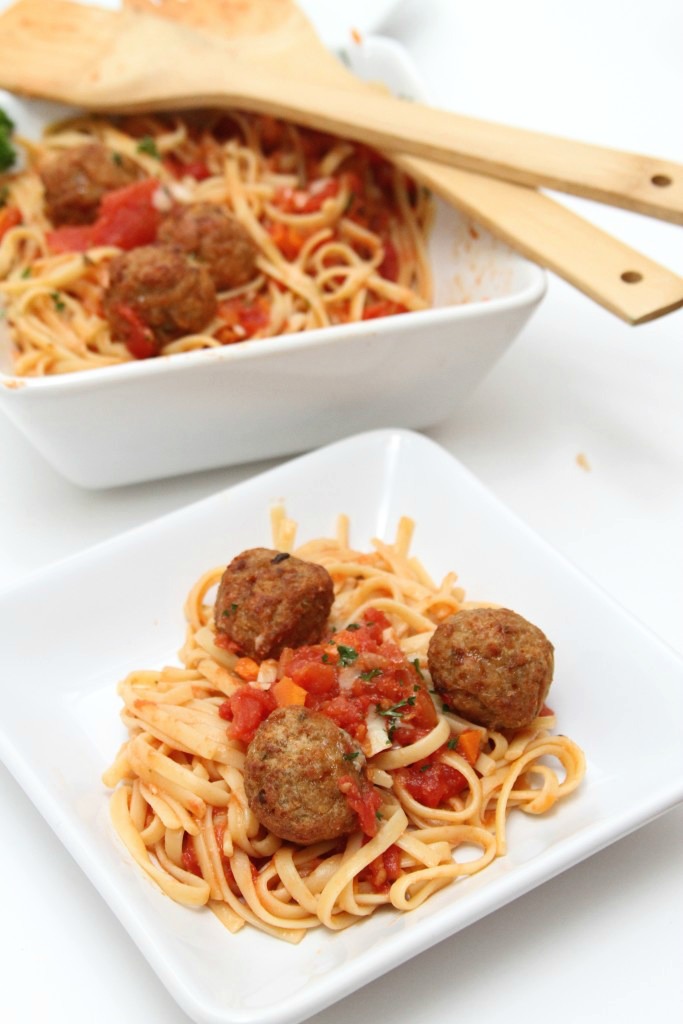 During the summer you can use fresh tomatoes for this recipe but during the winter I use canned diced tomatoes and add some finely diced onion, garlic, and carrots and sauté it all over medium heat. While I'm making the sauce I cook up the pasta. Remember to reserve some of the pasta water when draining the pasta. Use the pasta water to thin out the sauce, if needed.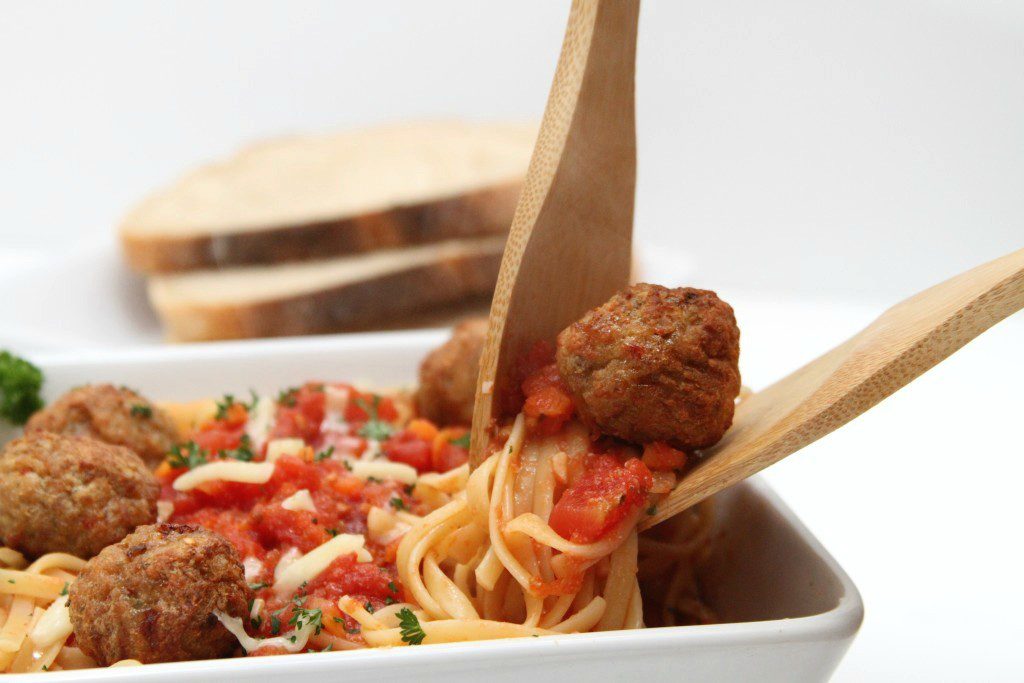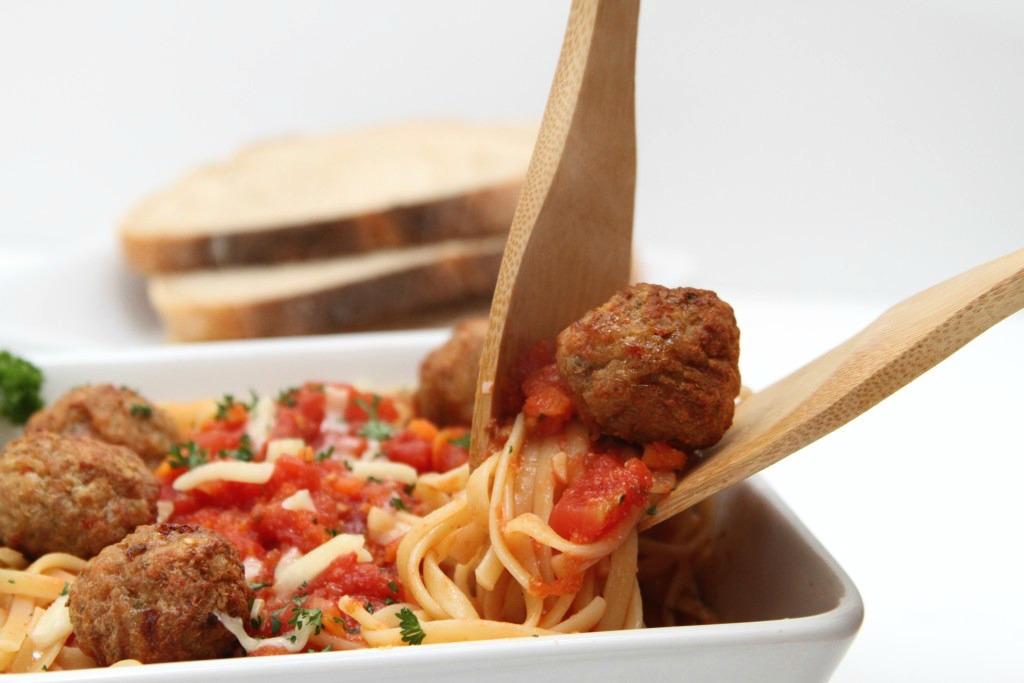 This is my favorite type of spaghetti and meatballs. I like having a light coating of veggies tossed with my pasta instead of a heavy tomato sauce that covers all the pasta. Serve with a nice sourdough bread and tossed salad for a delicious, easy meal.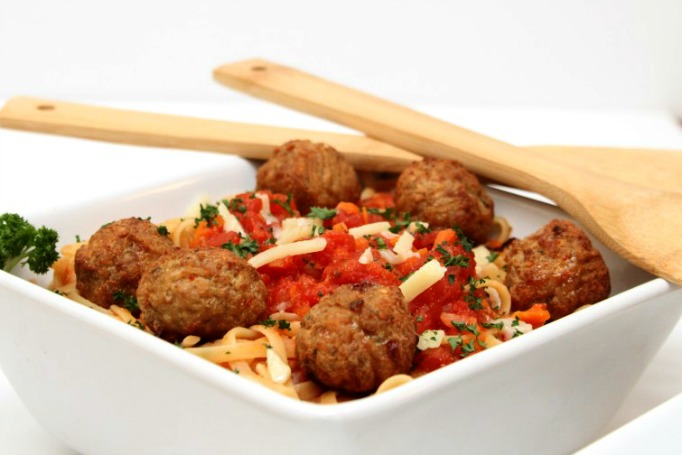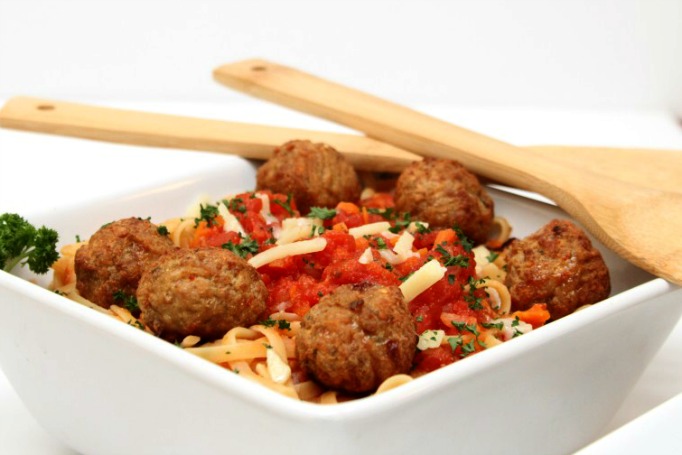 Garlic Tomato Spaghetti Sauce & Johnsonville® Meatballs Recipe
Author:
Prep time:
Cook time:
Total time:
Ingredients
8-10 Johnsonville® Meatballs
3 garlic cloves, minced
2-14.5 ounce cans of diced tomatoes with garlic, oregano, and basil
1/8 cup finely diced onion
1/4 cup finely diced carrot
1 tablespoon butter
4-6 ounces parmesan cheese
Spaghetti, 4 servings
Instructions
Preheat oven to 350 degrees. Place 8-10 Johnsonville® meatballs on a baking sheet and bake 30 minutes.
While meatballs are baking, place butter, onion and carrots in a medium sized skillet. Saute vegetables over medium heat until onion is translucent and carrot is tender. Add garlic. Cook for 1-2 more minutes. Add canned tomatoes including liquid. Simmer for 10-15 minutes.
Cook spaghetti according to package directions.
Toss the spaghetti and sauce together in the sauce pan. Pour mixture into a serving dish, top with shredded parmesan cheese and meatballs.