Are you ready for a very indulgent and delicious treat known as the Reese's Pieces Caramel Cookie Bars? Be sure, because once you've had one of these you'll be addicted and there will be no going back.
The caramel in the middle of these really makes them so freaking good.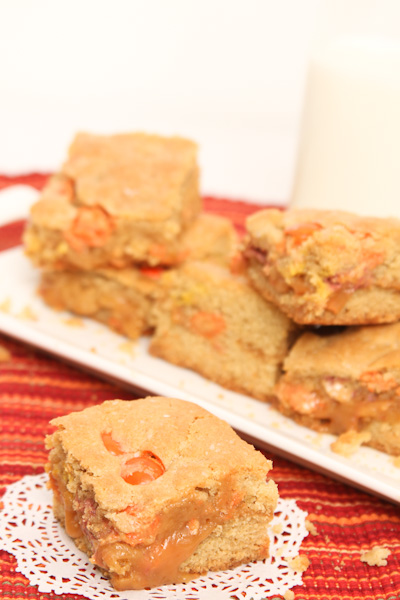 These are like the perfect cookie bar made even better with caramel and Reese's Pieces candies.
I know, just when you thought it couldn't get any better, right?
Please don't hate me for sharing these.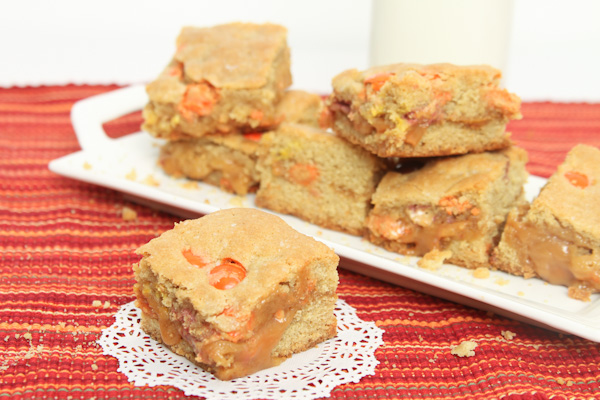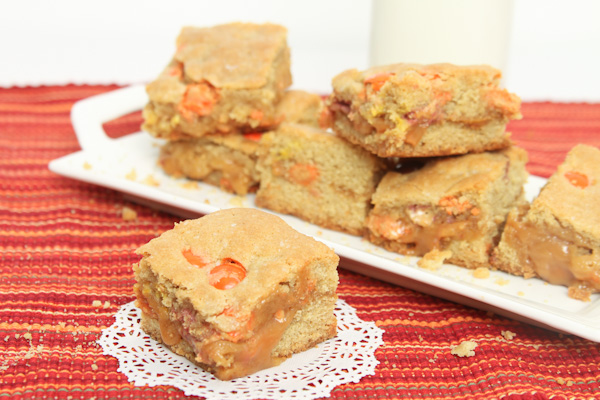 Do you see all that yummy goodness in there? Gracious, so good with a tasty combination for flavors.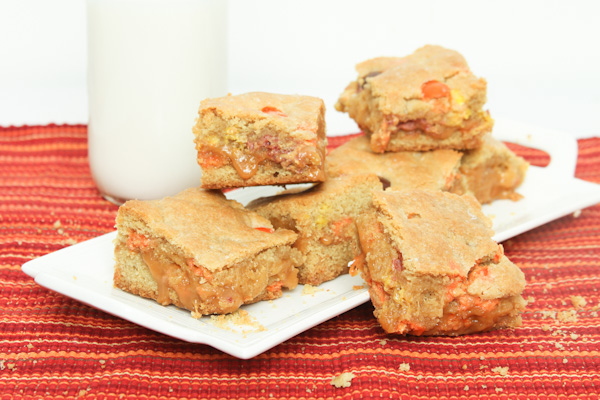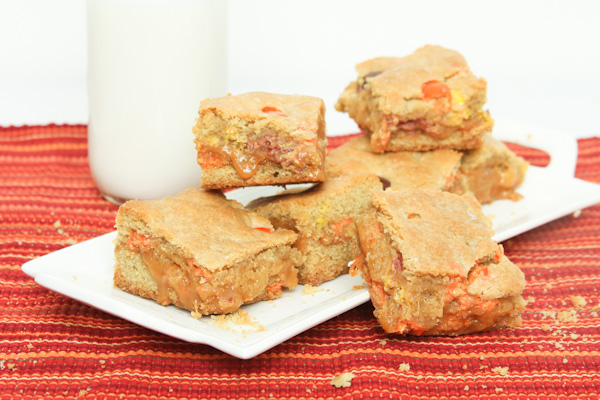 I made these in a 9×13 pan. It made about 15 cookie bars.
Which meant a couple was taste-tested and the rest were sent to Alan's work.
That is where most sweet treats end up. No sense keeping them in the house when Alan is the only one that will eat them and Em & I don't want them here taunting us.
Reese's Pieces Caramel Cookie Bars Recipe
Caramel Cookie Bars Ingredients
2 1/8 cups all-purpose flour
1/2 teaspoon salt
1/2 teaspoon baking soda
12 tablespoons butter, melted and cooled to room temperature
1/2 cup light brown sugar
1/4 cup granulated sugar
1 large egg
1 large egg yolk
2 teaspoons vanilla extract
4 ounces of reese's pieces (theater size box)
10 caramel candy squares, unwrapped
2 tablespoons heavy cream
Sea salt, for sprinkling over caramel and bars
Caramel Cookie Bars Instructions
Preheat oven to 325 degrees. Spray a 9×13 baking pan with cooking spray.
In bowl, mix together flour, salt, and baking soda.
In another bowl combine butter, brown sugar, granulated sugar, eggs, and vanilla.
Combine the flour with the wet ingredients just until combined. Mix in reese's pieces candy.
In a microwave dish combine caramel candy and heavy cream. Cook in 30 second intervals until melted. Will take about 1 minute.
Spread half the batter into the pan. Pour caramel over top and then spread the remaining batter on top.
Bake for 30 minutes or until the top is a light golden brown.
Cool on a wire rack.
Pin Caramel Cookie Bars To Pinterest