I was recently challenged to use Kraft Fresh Take in a meatless recipe. Not one to back down from a challenge I gladly accepted and immediately set to work making eggplant parmesan.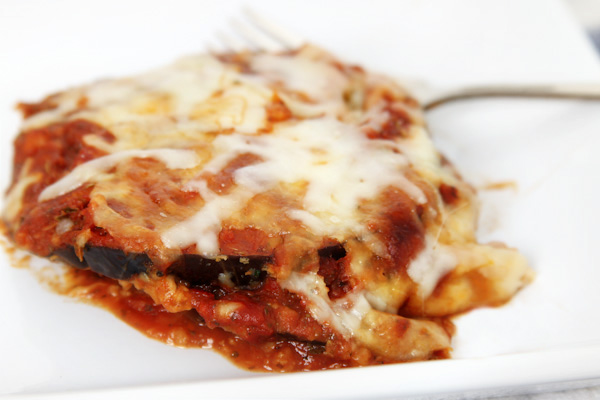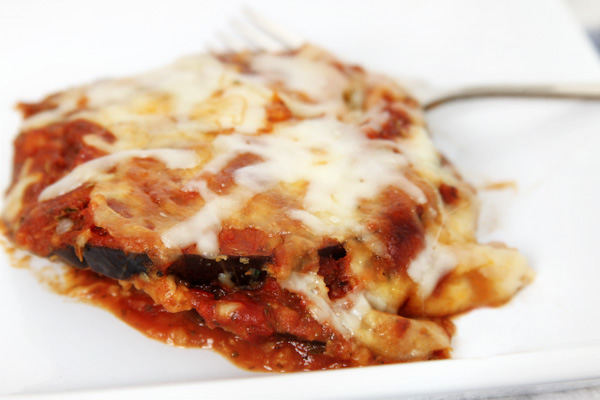 If you're not familiar with Kraft Fresh Take it's a cheese and breadcrumb mix that gives your recipe a crisp, tasty and cheesy dish with an all-in-one prep bag.
It's often used on chicken and fish, but I can see using it for a lot of different recipes. You can find it in stores in the shredded cheese section.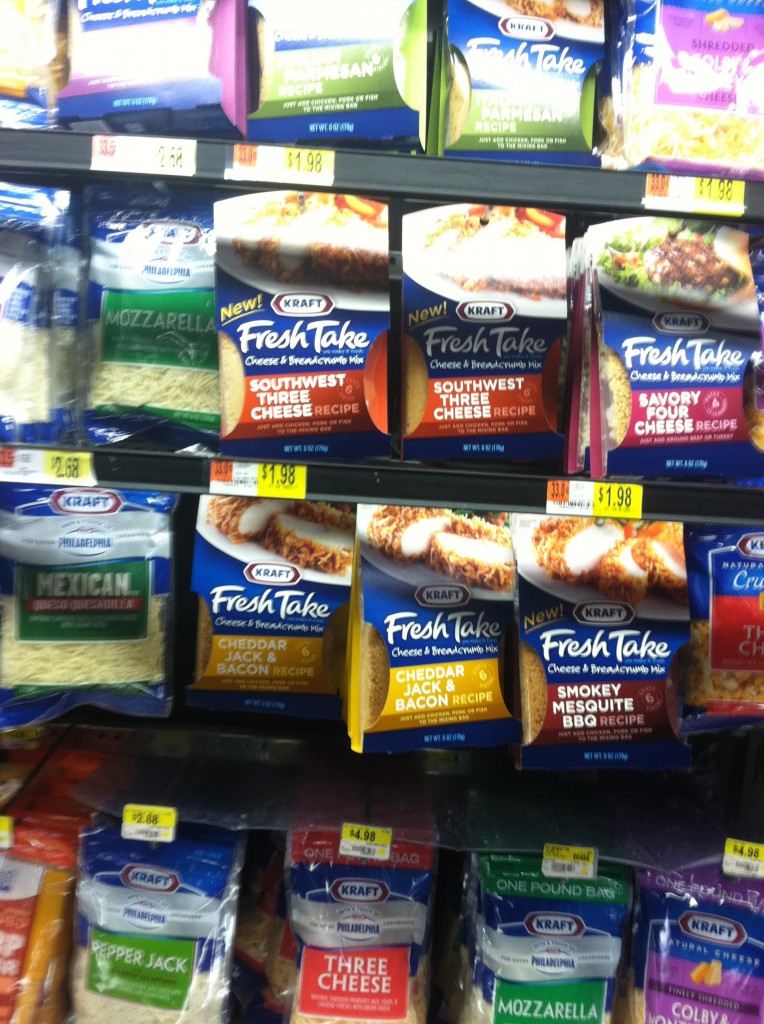 Next time, I think I'll top my mac and cheese with the Kraft Fresh Take. It will be cheesy and crunchy on top, just the way I love my mac & cheese.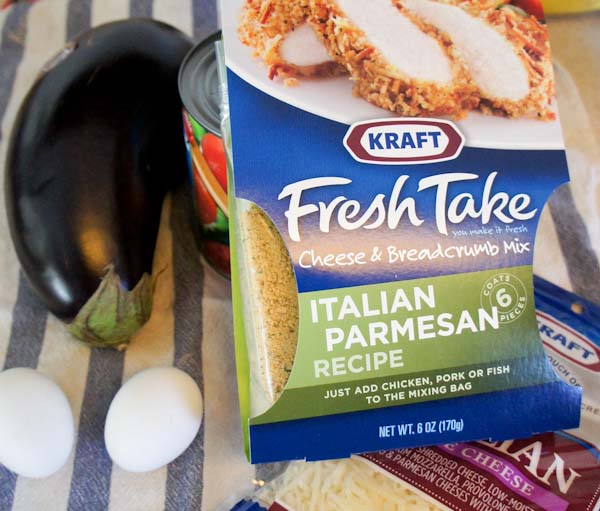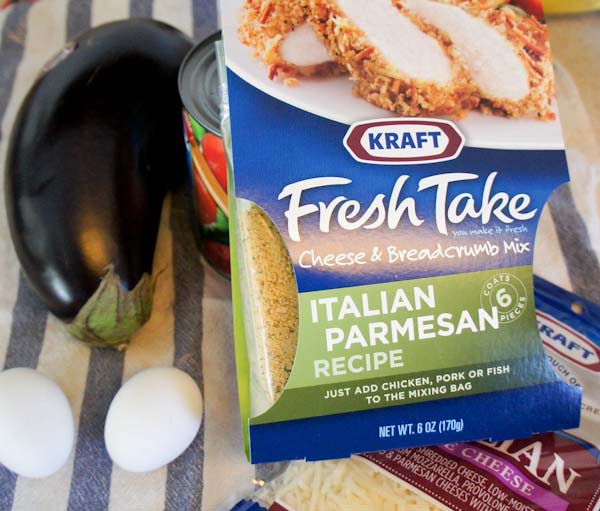 I love that eggplant parmesan only takes a few ingredients when I use the Kraft Fresh Take. A quick stop by Walmart and I can pick up everything I need.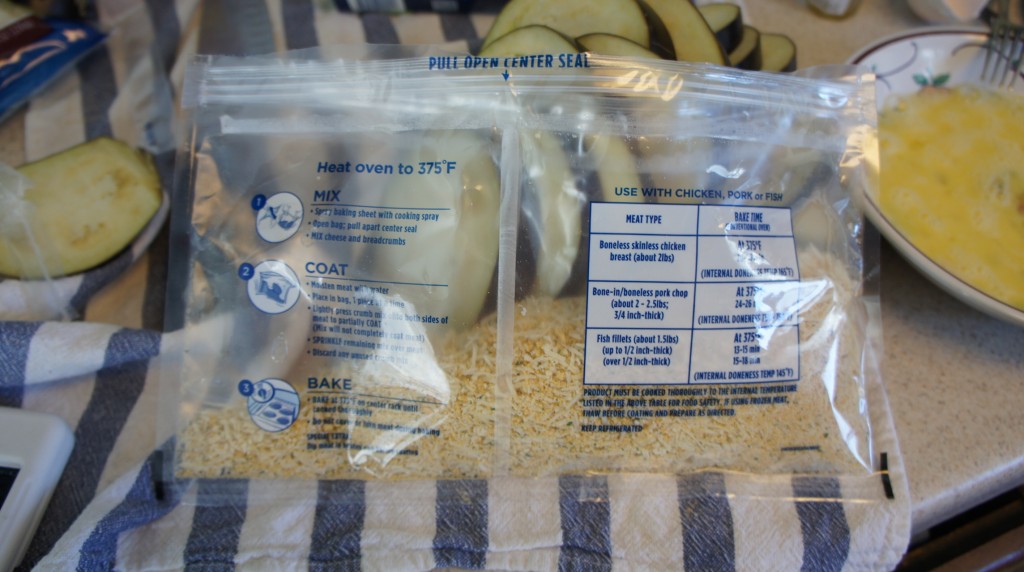 The Kraft Fresh Take includes the breadcrumbs and the cheese. Just mix the two together, then dip your eggplant slice in egg, place it in the Fresh Take bag and give it a good shake.
That's all there is to it. Not much clean up required since you just toss the bag when you are done.
Eggplant Parmesan Recipe
1 large or 2 medium eggplant
2 eggs
1 Italian Parmesan Kraft Fresh Take
1 jar (or make your own) spaghetti sauce
1 cup Italian shredded cheese
Slice eggplant into 1/2″ rounds
In a shallow bowl scramble eggs.
Dip eggplant slice in egg and then place in Kraft Fresh Take bag and shake until well coated.
Place slices on baking sheet and bake in 350 degrees for 5 minutes on each side. Remove eggplant slices from oven.
Spread spaghetti sauce to cover the bottom of a 9×13 pan. Place a layer of eggplant slices on top of the sauce, sprinkle with left over Kraft Fresh Take. Repeat with remaining ingredients. Top with Italian shredded cheese.
Bake in 350 degree oven for 30 minutes or until golden.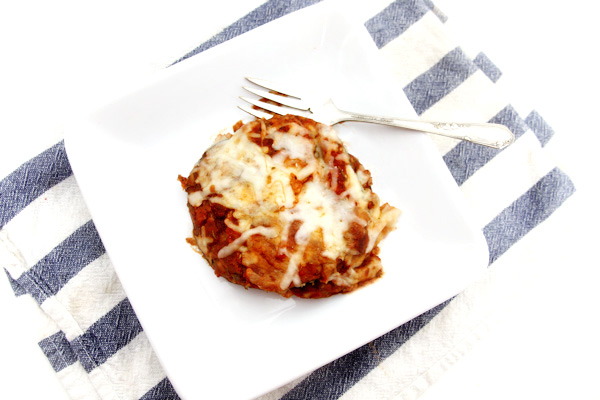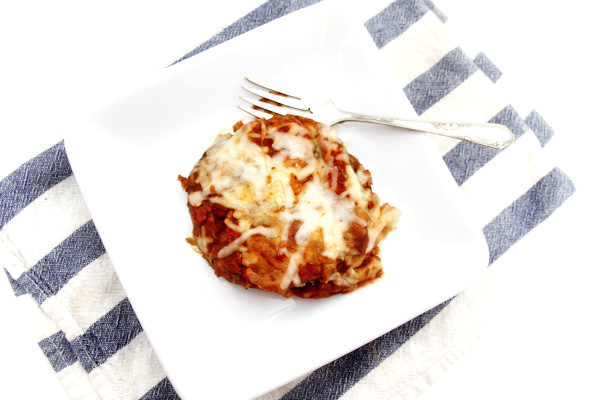 How would you use Kraft Fresh Take?
Pin This Recipe To Pinterest