Summer is in full swing which means easy and refreshing snacks is the name of the game. It doesn't get much easier than this summer fresh fruit salad with honey yogurt dip.
A handful of ingredients plus your favorite summer fruit and you are on your way to a delicious lunch or afternoon snack.
The great thing about this recipe is that it tastes great with whatever fruit you like to eat. Not a fan of pineapple or mango?
Simply eliminate it from the recipe and add your favorite fruit.
If you are adding strawberries add them right before serving to keep the other fruit from absorbing the red color. You'll want to add the kiwi right before serving as well to prevent it from browning.

Summer Fresh Fruit Salad with Honey Yogurt Dip Recipe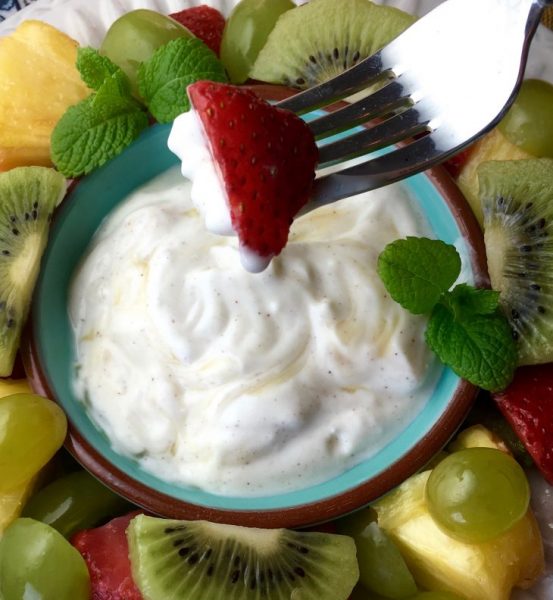 Yogurt Dip Ingredients
1 c. plain, full-fat Greek yogurt
2 T. honey
1 t. ground cinnamon
Fruit Salad Ingredients
1 c. seedless green grapes, washed and halved
1 c. fresh pineapple, cut into chunks
1 large ripe mango, peeled and cut into chunks
¼ c. fresh pineapple juice
Zest of 1 organic lime*
2 T. fresh lime juice
2 T. fresh mint, finely chopped
Optional: 1 T. honey
1 c. fresh strawberries, hulled and cut into chunks
2 large fresh kiwi, peeled, halved, and sliced
*zest lime before juicing
Fruit Salad Directions
Prepare yogurt dip by combining all ingredients in a medium bowl. Cover and place in refrigerator until ready to use.
To assemble fruit salad, combine prepared grapes, pineapple, and mango in a large glass or another non-reactive bowl. Add pineapple juice, lime zest and juice, and mint to bowl and toss to combine.
For additional sweetness, drizzle mixture with honey and gently stir to combine, if desired.
Chill fruit mixture in the refrigerator for at least one hour. Place prepared strawberries in a separate container to chill at the same time.
Once chilled, remove fruit salad and strawberries from the refrigerator and add strawberries and freshly sliced kiwi to the bowl. Gently stir to combine and serve immediately with honey-yogurt dip.
Pin Summer Fresh Fruit Salad with Honey Yogurt Dip Recipe to Pinterest