This 5 Cheese Lasagna is the epitome of an ooey-gooey Italian recipe that is perfect comfort food! Loaded with my favorite cheeses, this is a perfect addition to your meal plan.
It's hard to imagine a classic lasagna recipe without lots of luscious cheese. Three of the most common types of cheese found in traditional lasagna recipes are mozzarella, ricotta, and Parmesan.
This recipe builds on this delicious cheesy foundation with the addition of freshly grated Asiago and shredded Gruyere to create this indulgent yet easy 5 cheese lasagna recipe.
This recipe is easier to prepare if you have the meat sauce prepared ahead of time. If you don't have time, or the inclination to do so, use your favorite prepared pasta sauce instead.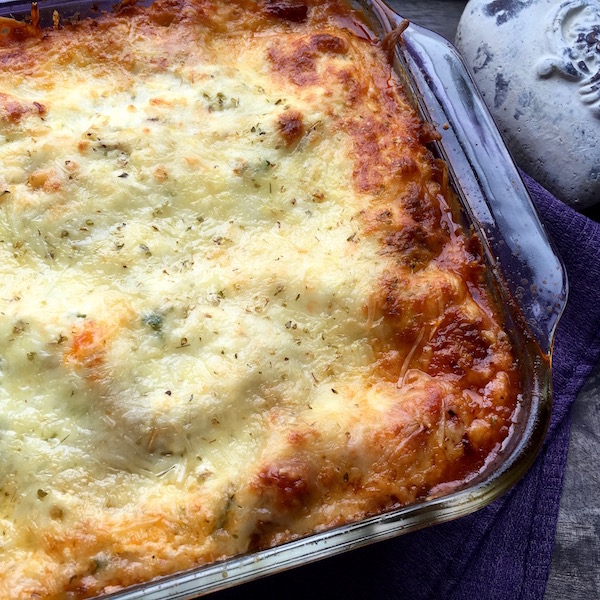 5 Cheese Lasagna Recipe
Fortunately, the meat sauce recipe referred to below can be made in large batches that freeze beautifully for future use.
Since it is a great make-ahead recipe, you can easily make this to share with friends or family who could use an extra meal in the freezer.
Note: If you want, you can add a meat sauce to this recipe, but it is not necessary for the meal to be enjoyable.
Tips for Making Lasagna
For best results in this recipe, pulse 4 cups of the chunky meat sauce in a food processor prior to using.
Remember, the key to keeping lasagna from getting soupy is to make sure your noodles are thoroughly dried before assembling your lasagna.
After preparing noodles according to package instructions, arrange them in a single layer on large cookie sheets sprayed with non-stick cooking spray.
Gently pat noodles dry with a paper towel. Turn over and repeat. Allow them to air dry until all excess moisture is gone.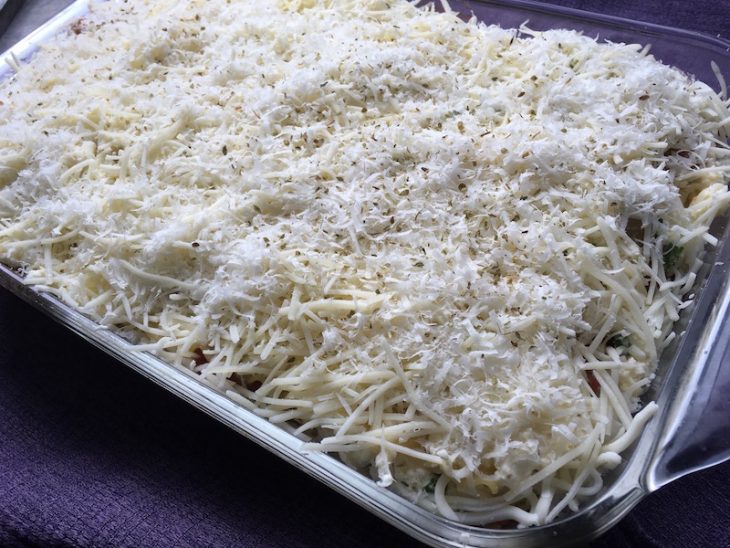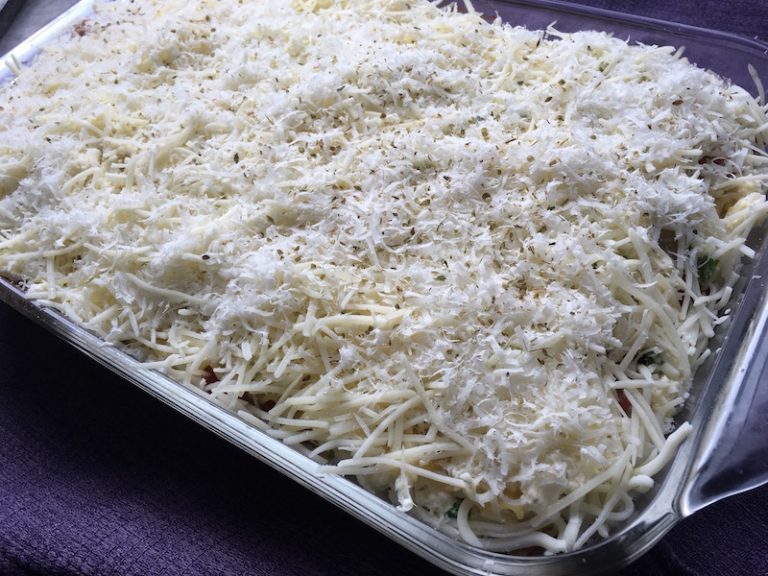 5 Cheese Lasagna Ingredients
4 c. meat sauce
12 whole lasagna noodles, cooked according to package instructions
24 oz. container ricotta cheese
1 egg, beaten
4 T. Italian seasoning, divided
½ c. fresh parsley, chopped, plus extra for garnish
2 t. kosher salt
1 t. black pepper
8 oz. package shredded mozzarella cheese, divided
8 oz. package shredded Gruyere cheese, divided
¾ c. Parmesan cheese, freshly grated
¾ c. Asiago cheese, freshly grated

How to Make 5 Cheese Lasagna
Preheat oven to 375 degrees.

In a large glass bowl, combine ricotta cheese, beaten egg, 3 tablespoons Italian seasoning, and fresh parsley. Stir to combine.
Spray a 13 x 9" glass baking dish with non-stick cooking spray. Add enough meat sauce to cover the bottom of the pan and then cover with 3 lasagna noodles.
Top with an even layer of the ricotta cheese mixture, followed by a layer of shredded mozzarella and Gruyere cheese, using equal amounts of each. Finish with a layer of grated Parmesan and Asiago cheese, also in equal amounts.
Repeat this process three more times: meat, noodles, ricotta mixture, shredded cheeses, and grated cheeses. Sprinkle the remaining Italian seasoning across the final layer.
Loosely tent dish with aluminum foil and bake for 30 minutes. Remove foil and continue baking for another 20-25 minutes. Remove from oven and allow to rest for 20 minutes before serving.
Pin this Delicious Easy 5 Cheese Lasagna Recipe to Pinterest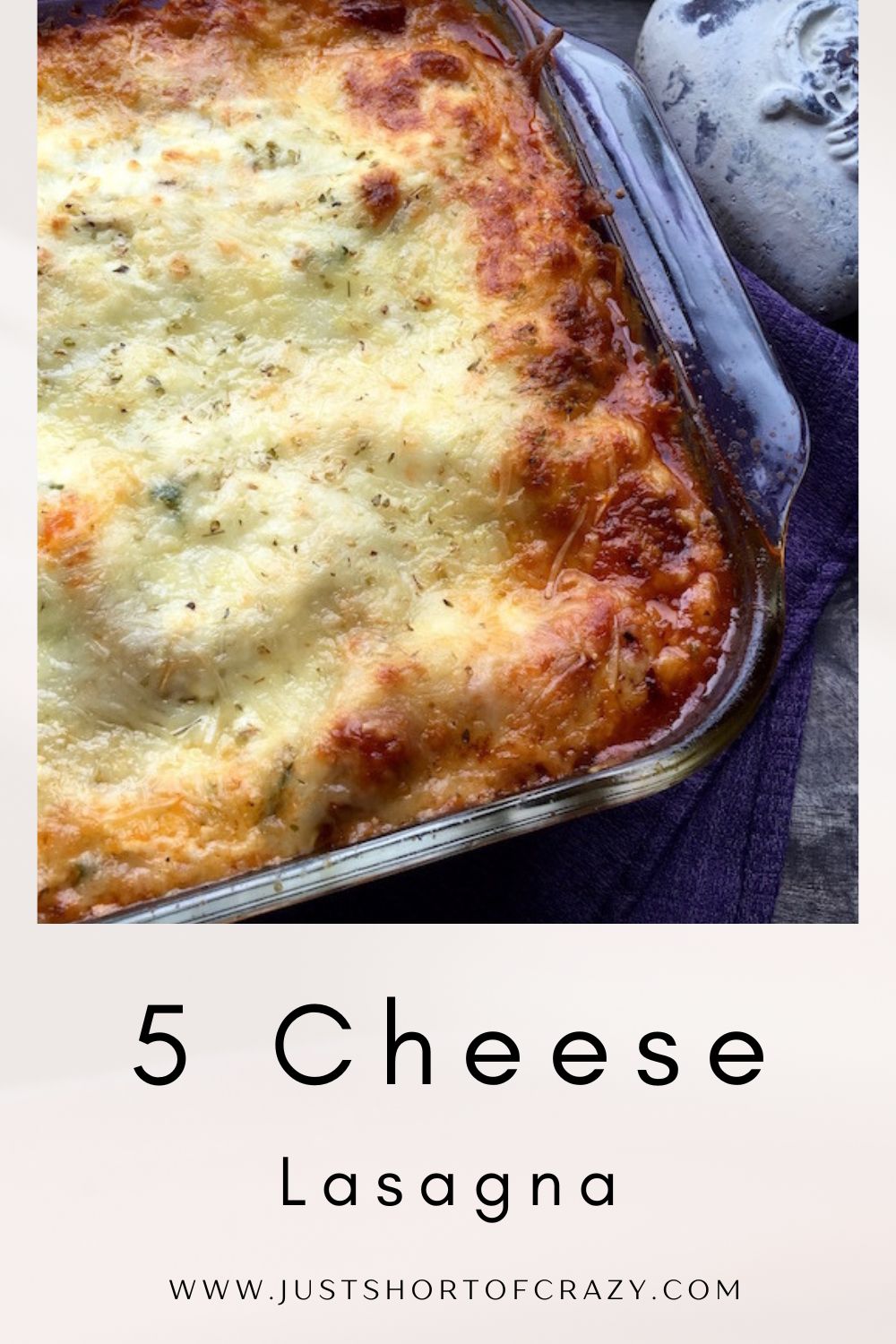 More Italian Recipes You'll Love
I love anything with a great pasta sauce and cheese, so if you want more variety, make sure to check out the recipes linked below. Tons of great flavors in easy to make recipes!