To make this ground turkey lasagna I used a combination of white sauce and turkey sauce, the result is a super creamy, velvety lasagna that's really amazing.
If you don't have enough time you can just make it with the turkey sauce. You can find more Weight Watchers Turkey Recipes here.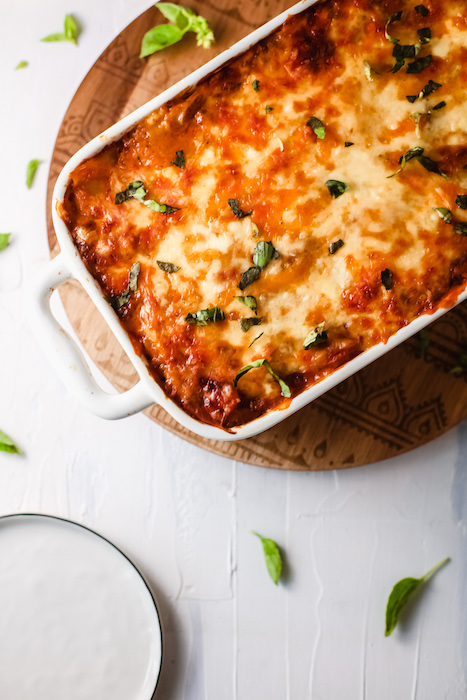 I like to finish it with only mozzarella cheese, but you can also top it with extra parmesan cheese.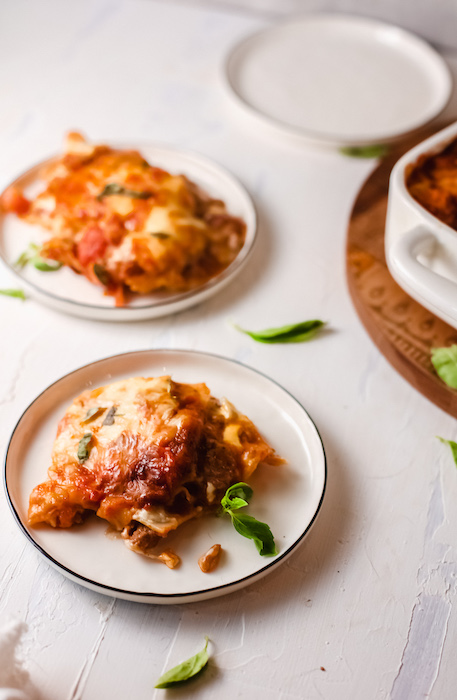 Also, you can freeze it! Just follow all the directions and wrap it with plastic wrap before baking. Once you are ready to serve it, take it directly from the freezer to the oven and bake for around 1 hour and a half.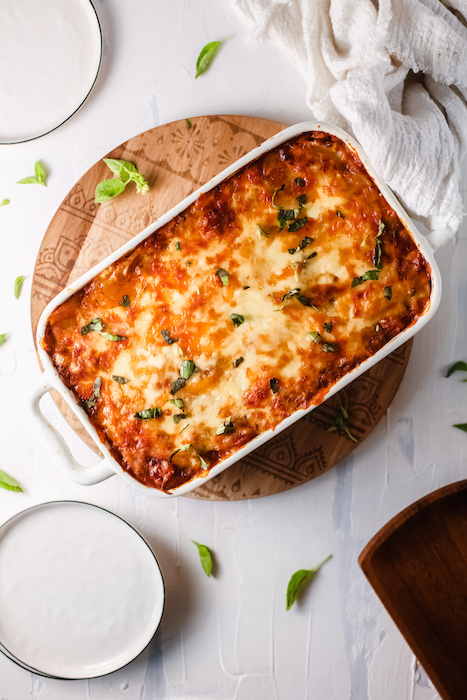 Ground Turkey Lasagna Recipe
Ground Turkey Lasagna Ingredients
Turkey Sauce:
1 tbsp olive oil
1 medium onion, chopped
1 garlic clove, minced
1 carrot chopped
1 can tomato sauce
1 pound extra lean ground turkey
1 tsp oregano
½ tsp dried rosemary
1 cup beef stock
Salt and pepper to taste
White Sauce:
5 tbsp butter
5 tbsp flour
3 cups milk
½ cup parmesan cheese
Salt and pepper to taste
Pinch of nutmeg
Lasagna:
1 package lasagna sheets, cooked according to package directions
2 cups fat-free mozzarella cheese
Chopped parsley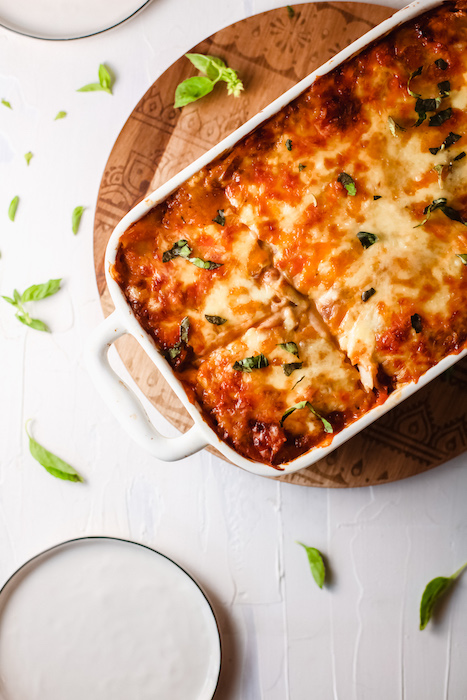 Ground Turkey Lasagna Directions
Prepare the turkey sauce
Heat olive oil in a saucepan over medium heat. Add onion and cook until translucent (around 4 minutes). Add garlic and cook until fragrant. Add the carrot and cook until soft.
Incorporate the ground turkey and cook for around6 minutes or until browned. Incorporate tomato sauce, beef stock, and spices and let it simmer for around 10 minutes. Remove from heat and set aside.
Prepare the white sauce
In a saucepan over medium heat, melt butter add flour and mix until incorporated, let the flour cook for 1 minute. Slowly pour milk, stirring constantly.
Add salt, pepper, and nutmeg and cook until the sauce thickens. Remove from heat and mix in parmesan cheese.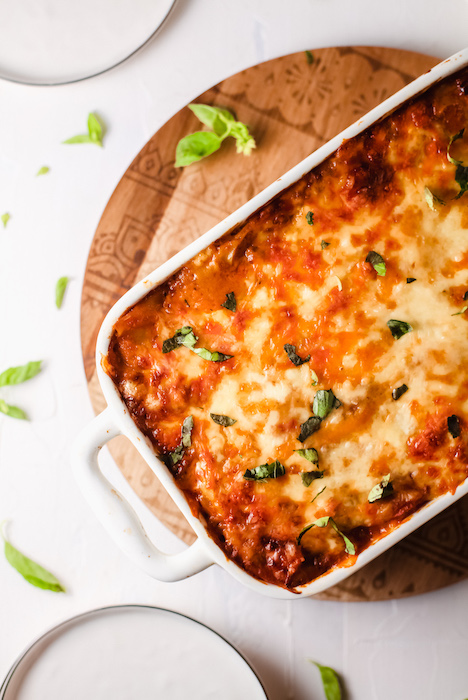 Assemble the lasagna
Preheat oven to 350 degrees.
Pour around ¼ cup white sauce in the bottom of a casserole dish, cover with lasagna sheets and top with around ½ cup meat sauce, ⅓ cup mozzarella cheese, and ⅓ cup white sauce, finish with another layer of lasagna sheets.
Repeat the process with the rest of the ingredients finishing with sauce and cheese. Take to the oven and bake for 40 minutes or until golden brown and bubbly.
Decorate with chopped parsley.
6 servings
15 WW Freestyle Points per Serving
Pin Ground Turkey Lasagna Recipe to Pinterest