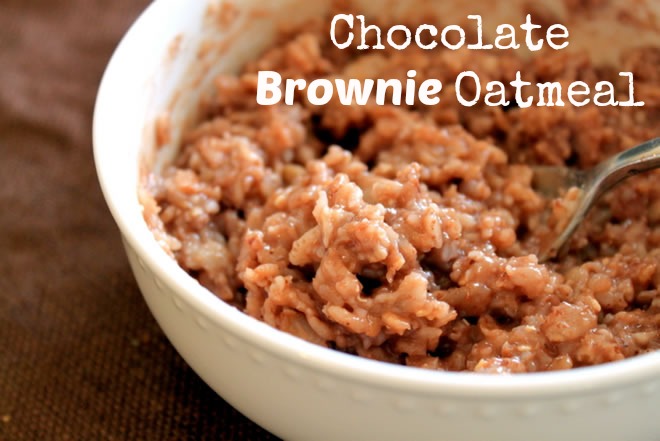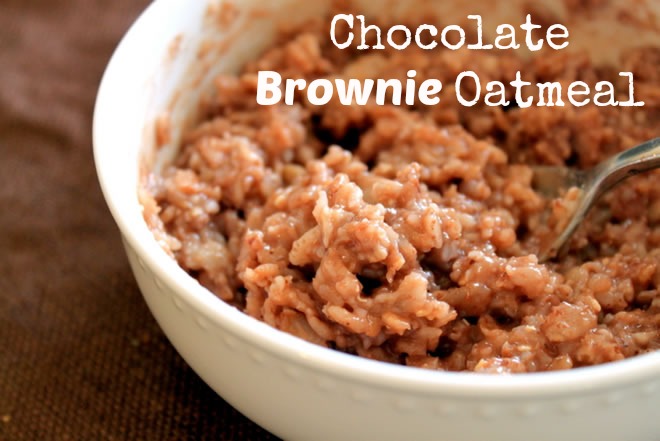 I'm not a fan of chocolate, but I love sharing chocolate recipes. They always look so good, but I find chocolate bitter. Occasionally, I'll try something chocolate thinking I might like it, but I never do.
I know that the majority of the population loves chocolate and when I read* this recipe I knew that all the chocolate lovers out there would want to try this. It looks simple to make and I bet it would be good. I might try replace the cocoa powder with peanut butter and see how that tastes.
Ingredients
1/2 cup rolled oats cooked with 1.5 cups of water
1 tsp raw, unsweetened cocoa powder
1/4 teaspoon cinnamon
1/2 cup non-fat milk
1 tablespoon walnuts (optional)
1 cup Blueberries (optional)
2 tablespoons Splenda
Superfood: The raw cocoa powder – believe it or not, this is actually one of the healthiest parts of this dish. While normally, adding chocolate would make the dish unhealthy, adding raw unsweetened cocoa powder is completely different. It comes straight from the cacao bean, so it contains tons of antioxidants, polyphenols, a bit of fiber and some protein too.
Procedure
Cook the oats with 1.5 cups of water until the oats are fluffy and all the water has disappeared (I do this by cooking it for 2 minutes in the microwave, stirring, and cooking it for 2 more minutes.)
Add the cocoa powder and cinnamon to the cooked oats while they are still hot.
Stir until everything is fully combined, and your oats have a deep chocolatey color.
Add the walnuts, and the milk (you can add as much milk as you like – I use about 1/2 a cup to give the oats a nice creamy consistency)
Add the splenda and stir to combine until the oats have the consistency you like. If you're using blueberries, add them in now.
Enjoy the chocolatey brownie goodness of the oatmeal.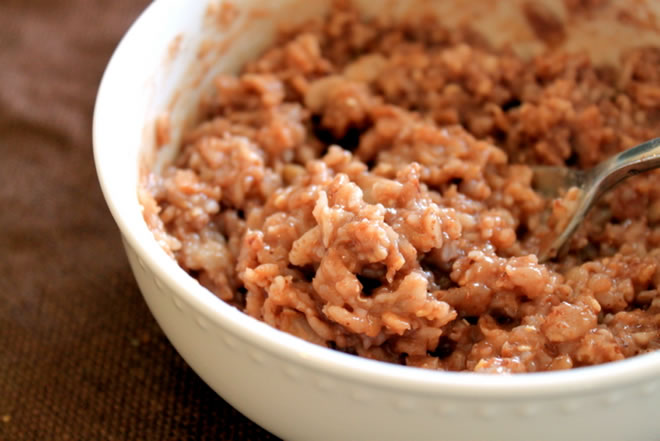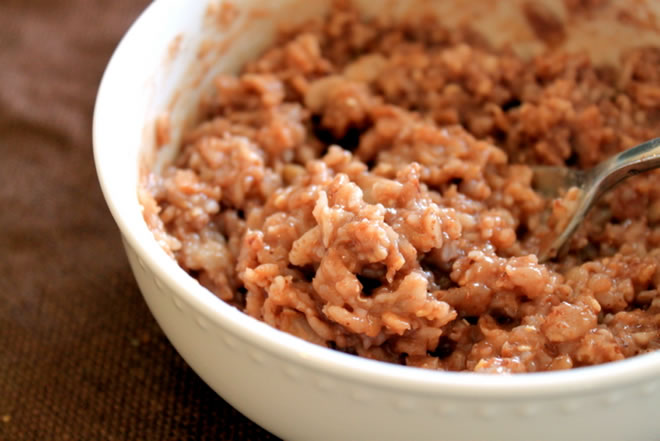 *recipe and photo courtesy of Pritkin Longevity Center.