I have a slight addiction to cookbooks and old recipe boxes which is how I found these Pumpkin Chip Cookies Recipe.
It's interesting to look through the recipes and see how things have evolved.
However, sometimes the original is perfect. This is a recipe from my mom dated 1978. No adjustments needed and they are soft, chewy & delicious!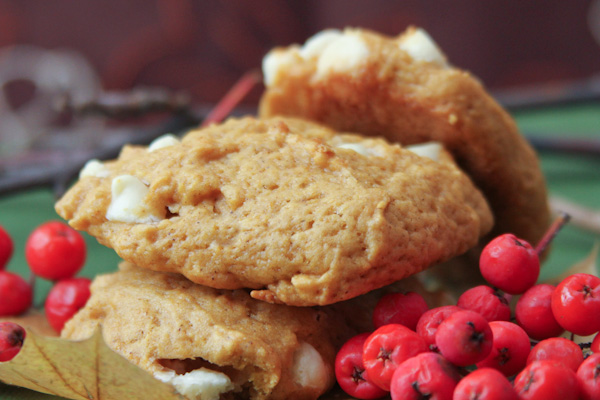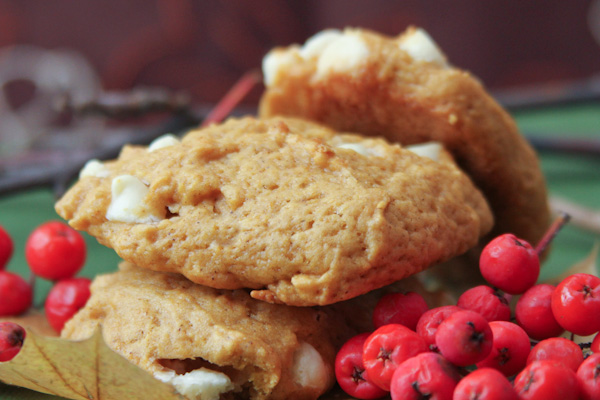 Fall is the perfect time to bake up these Pumpkin Chip Cookies.
The air is cooler, farmers markets are abundant in pie pumpkins, which you can cook up and use in place of canned pumpkin, and baking turns to all things apple and pumpkin….life is good!
If you'd like you could eliminate the white chocolate chips from the cookie dough and instead melt the chips and drizzle it over the baked cookie.
Make sure you have baking supplies on hand to make your Pumpkin Chip Cookies. At the minimum, you'll need a really good cookie sheet, cooling rack and cookie scoop.
PUMPKIN CHIP COOKIES RECIPE
Pumpkin Chip Cookies Ingredients
4 cups flour
2 teaspoons baking soda
4 teaspoons baking powder
1 teaspoon salt
2 teaspoon cinnamon
2 cups sugar
2 eggs
2 tablespoons milk
1 cup oil
2 teaspoons vanilla
1- 16 oz can of pumpkin
1 package of white chocolate chips
Pumpkin Chip Cookies Directions
Preheat oven to 375 degrees.
Combine flour, baking soda, baking powder, salt and cinnamon in a bowl.
In a separate bowl, mix sugar, eggs, milk, oil, and vanilla.
Add dry ingredients, in small amounts, to your wet ingredients, mix well. Continue until all your dry ingredients are blended into the wet ingredients.
Add white chocolate chips, mix well.
Line a cookie sheet with parchment paper.
Drop dough by spoonful onto cookie sheet.
Bake for 14 minutes. Remove from oven, cool on baking sheet for a few minutes and then transfer to cooling rack to cool completely.
Enjoy.
More Delicious Fall Recipes To Try:
Make These Easy Monster Balls Halloween Treats For Your Next Party
Pin This Recipe To Pinterest