Check out these easy mummy brownies, a creative and fun Halloween dessert to serve up. If you enjoy an easy and tasty themed treat, you have to give these Halloween brownies a try. The best part of all, they are so simple to decorate!
I have a few more delicious ideas this Halloween you might enjoy. Caramel apple dip, Halloween sugar cookies, or even serve up Halloween pizza!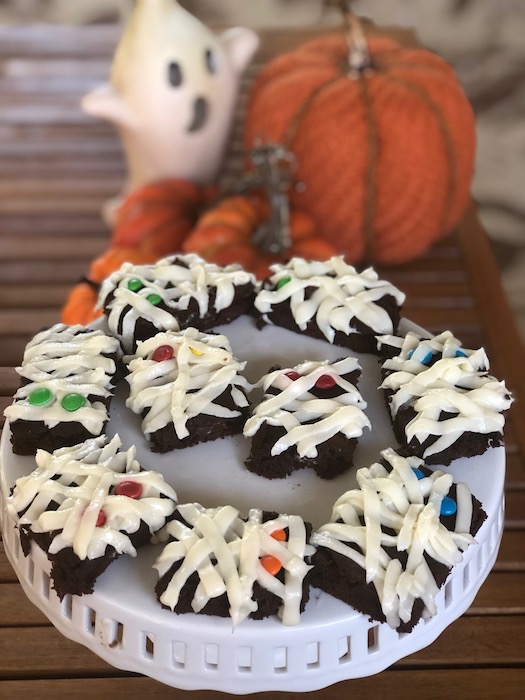 Easy Mummy Brownies
Grab that box of brownies, frosting and mini M&M's and grab your kiddos for a fun afternoon of baking. Let them help whip up the brownie batter and decorate their one-of-a-kind mummy inspired brownies!
What Is The Best Type Of Brownie To Use
Honestly, you can use any type of brownie you want. Whip up a homemade batch making them any type of brownies, double fudge, turtle style, ect. Since you are pretty much covering the whole top it is okay if it has nuts throughout!
Or if you are gluten free replace with your favorite boxed brownie mix or make from scratch. Then slice up the exact same way.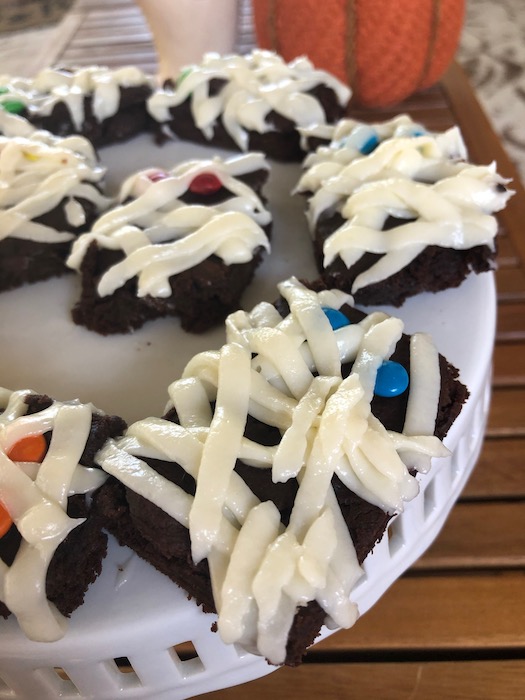 How to Get The Mummy Look On Brownies
I used a flat piping tip and bag to get the thicker lines for the mummy. Now you can do really thin lines and more of them if you don't own piping tips.
The idea is to give the look of a wrapped mummy, so all directions is key. Have fun with it, and once you add the candy eyes you will be amazed at how much they look like mummies!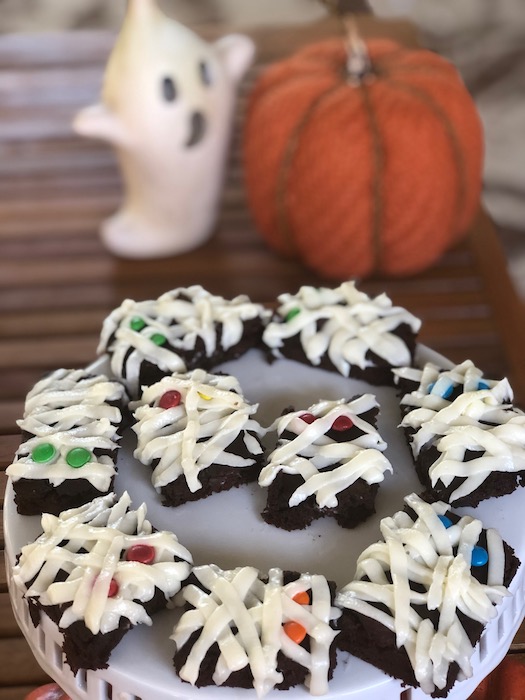 Storing Mummy Brownies
Due to the frosting being on top, you want to store your brownies in a single layer in an airtight container. If you were to go stacking them, they would smear and mess up. So, if you have to, use multiple containers for a single layer of brownies.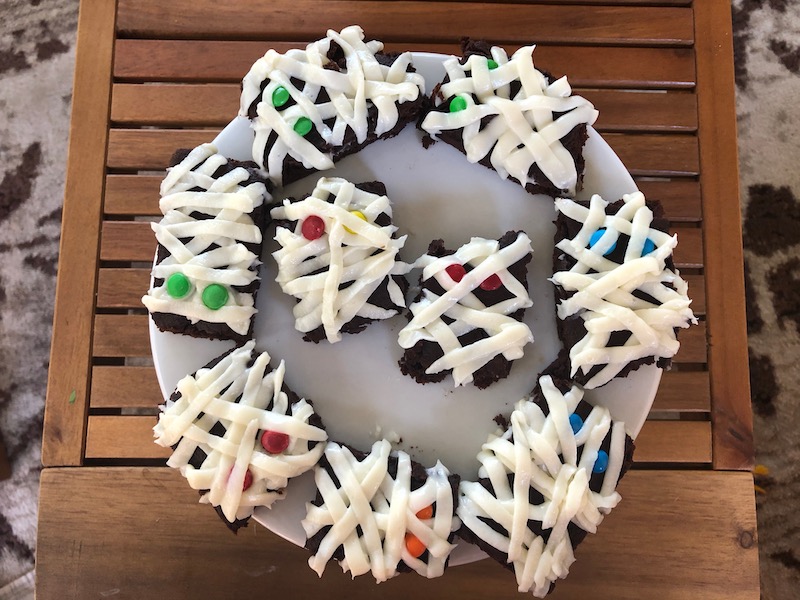 Can I Replace Frosting For The Mummy Effect
You can use white chocolate if you don't want to use frosting. Just melt down candy melts or almond bark. If you use chocolate chips, you can add a teaspoon of shortening in with it. This will help the chocolate set up properly.
Then before the chocolate hardens, which is pretty fast, get your candy eyes in place.
You could even use colored candy melts like bright purple, green, etc to give it a fun and colorful look! Kids just have fun decorating, and taste-testing these delicious desserts!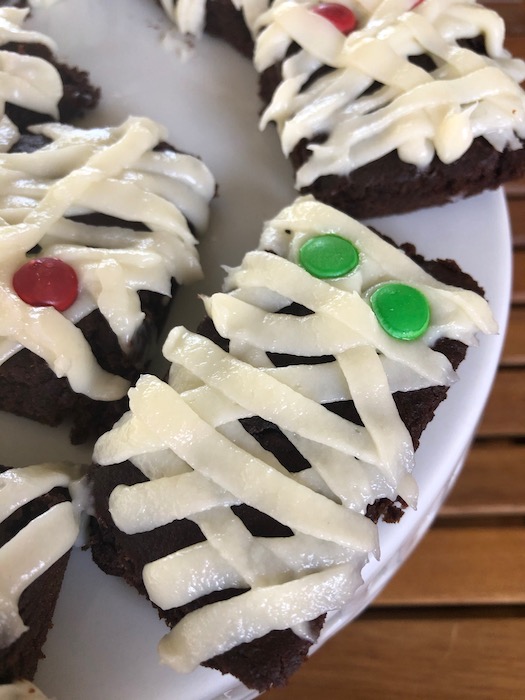 Do These Brownies Freeze Well
Go right ahead and freeze any leftover brownies you don't plan to eat right away. Place in an airtight container or freezer bag. They will store for 2-3 months in the freezer. Then remove and allow to thaw on the counter, or toss in the microwave for 15 seconds for a quick thaw.
Add-In Brownie Mix Ideas
Crunch up Halloween Oreos and stir into the brownie batter for added color
Sprinkle chocolate chips, nuts, etc for a crunch
Use up candy bars by cutting them up and stirring in to the brownie batter
Etc
Feel free to add some easy mix-ins to the brownies. You could even make a cream cheese style brownie or pumpkin brownie. Just have fun and enjoy your handmade dessert.
Pin Easy Mummy Brownies to Pinterest