We are always looking for ways to cut back on calories while still enjoying some tasty treats. September is Childhood Obesity Month and in honor of this, I wanted to show how you can easily reduce the sugar without reducing the taste in your favorite sweet treats.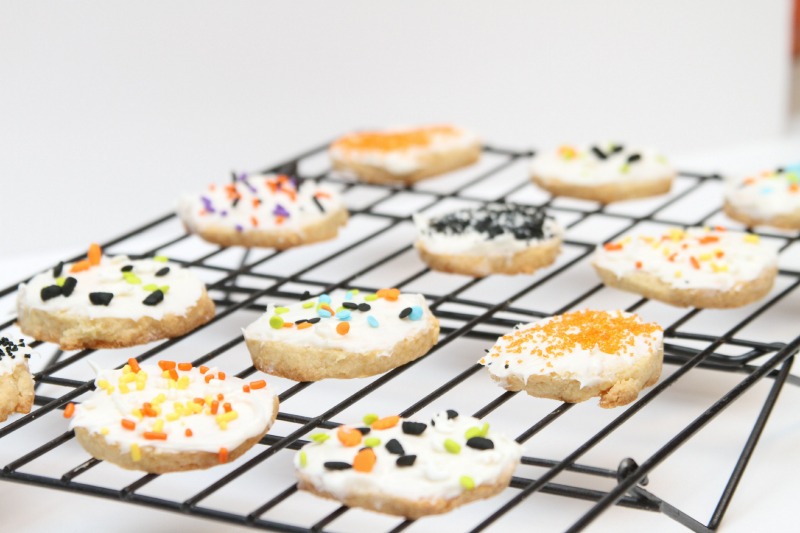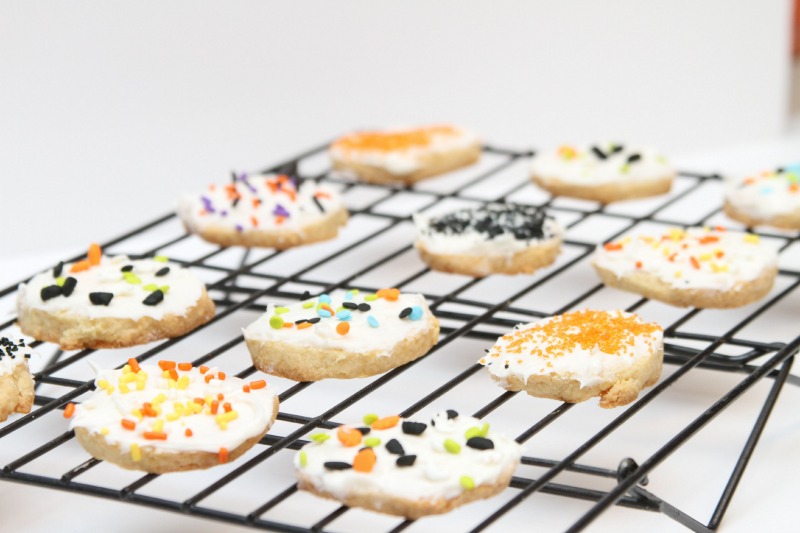 I mixed up a batch of my favorite sugar cookies and replaced half the white sugar with Monk Fruit In The Raw and created these delicious Halloween Sugar Cookies that are full of flavor.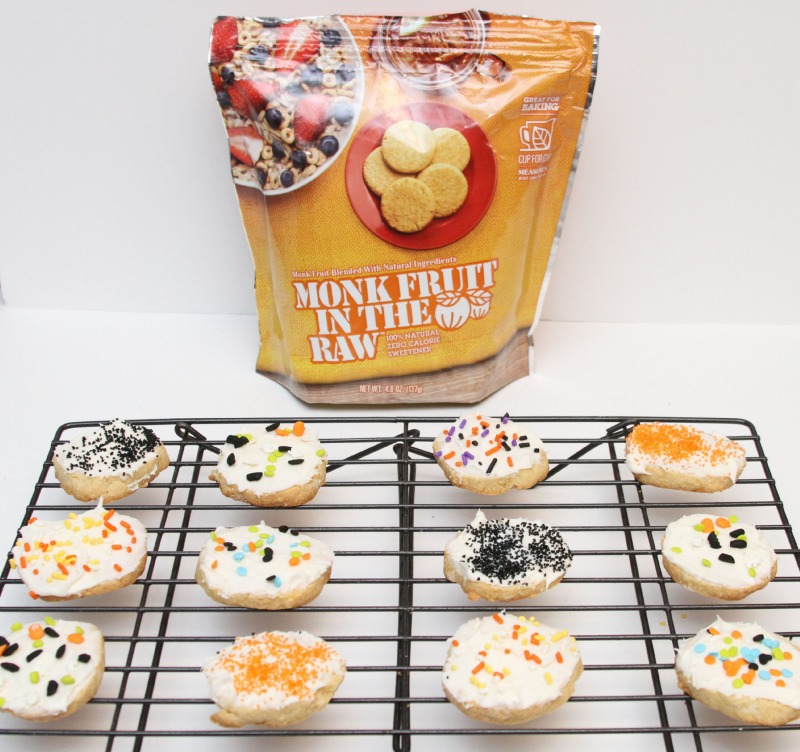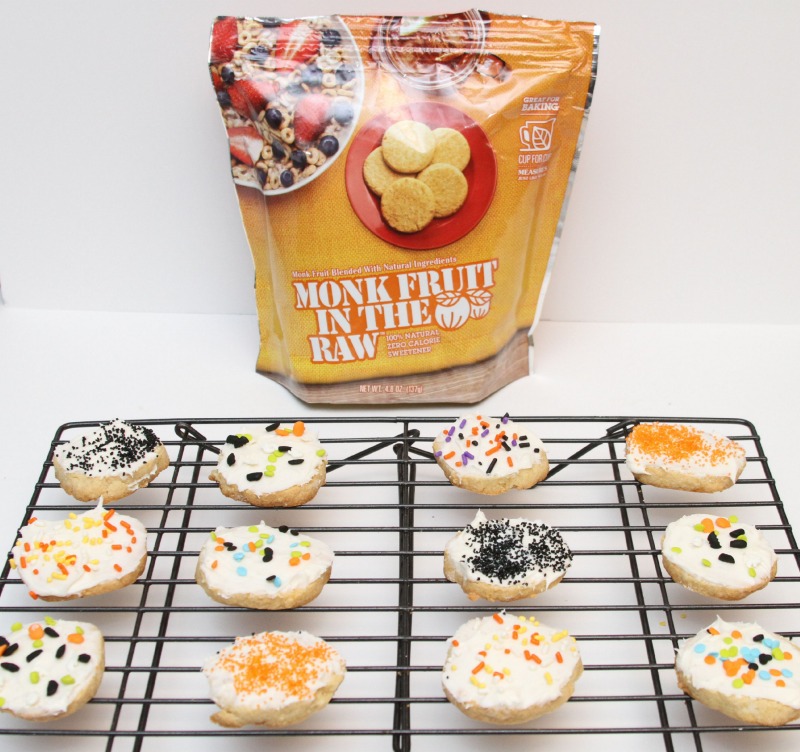 Monk Fruit In The Raw can be used cup for cup in place of sugar for so many recipes. For baking recipes replace 1/2 of the regular sugar with Monk Fruit In The Raw to keep moisture, browning, and rising in your baked good.
Monk Fruit In The Raw is a 100% natural, zero calorie sweetener. That's right ZERO calories versus the 15 calories in every teaspoon of white sugar.
15 calories may not sound like a lot, but they add up quickly when using sugar in baking.
Monk Fruit In The Raw can be used in teas, juices, sauces, baked good, and more. Simply use Monk Fruit In The Raw like you would any other kind of sugar.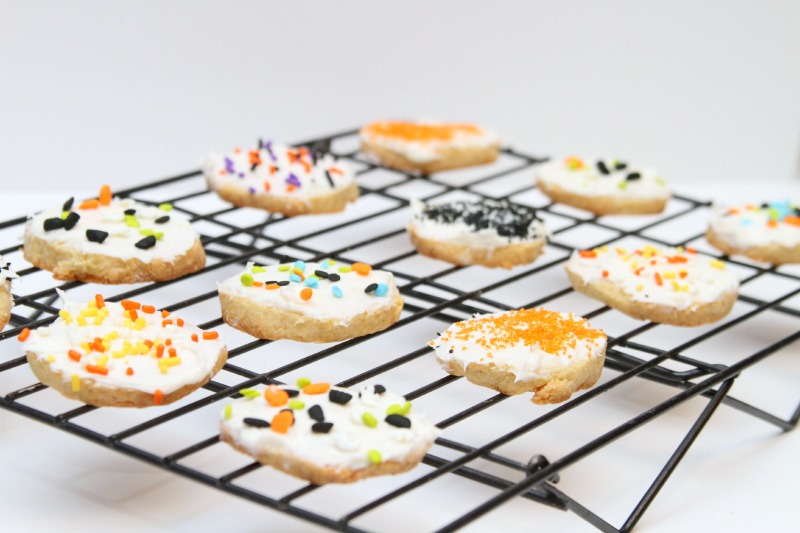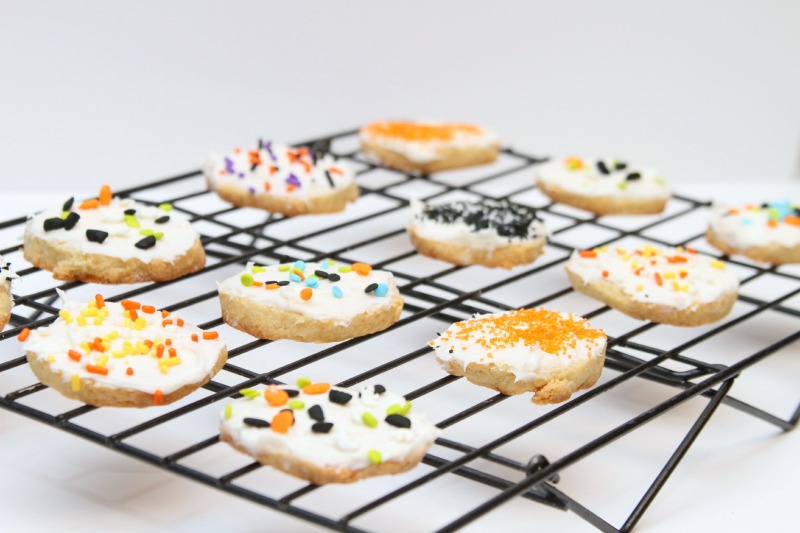 Halloween Sugar Cookies Ingredients
1 cups all-purpose flour
1/2 teaspoon baking powder
1/4 teaspoon salt
1 1/4 sticks of unsalted butter, softened
1/3 cup Monk Fruit In The Raw
1/3 cup white sugar
2 large eggs, room temperature
2 teaspoons vanilla
Store purchased cream cheese frosting
Halloween colored cookie decorations
Halloween Sugar Cookies Directions
Combine flour, baking powder, and salt in a medium-size bowl.
In another medium-size bowl mix together butter and sugars. Mix well for 2 minutes. Add egg and vanilla and mix until completely combined.
Add dry ingredients to wet ingredients. Mix everything together with a hand mixer until well blended.
Create two logs out of dough, wrap in plastic wrap and chill for 2 hours.
Preheat oven to 350 degrees, Cut dough into 1/4″ slices, place on parchment lined cookie tray and bake for 11-13 minutes. Remove from oven and cool on cooling rack.
When cookies are completely cool frost and sprinkle with Halloween colored cookie decorations.
Pin Halloween Sugar Cookies to Pinterest