I have found a great way to serve rice krispie treats at your Halloween or Fall Harvest party. Instead of boring old squares create a Halloween rice krispie pop that is easy to hold and looks great on the table!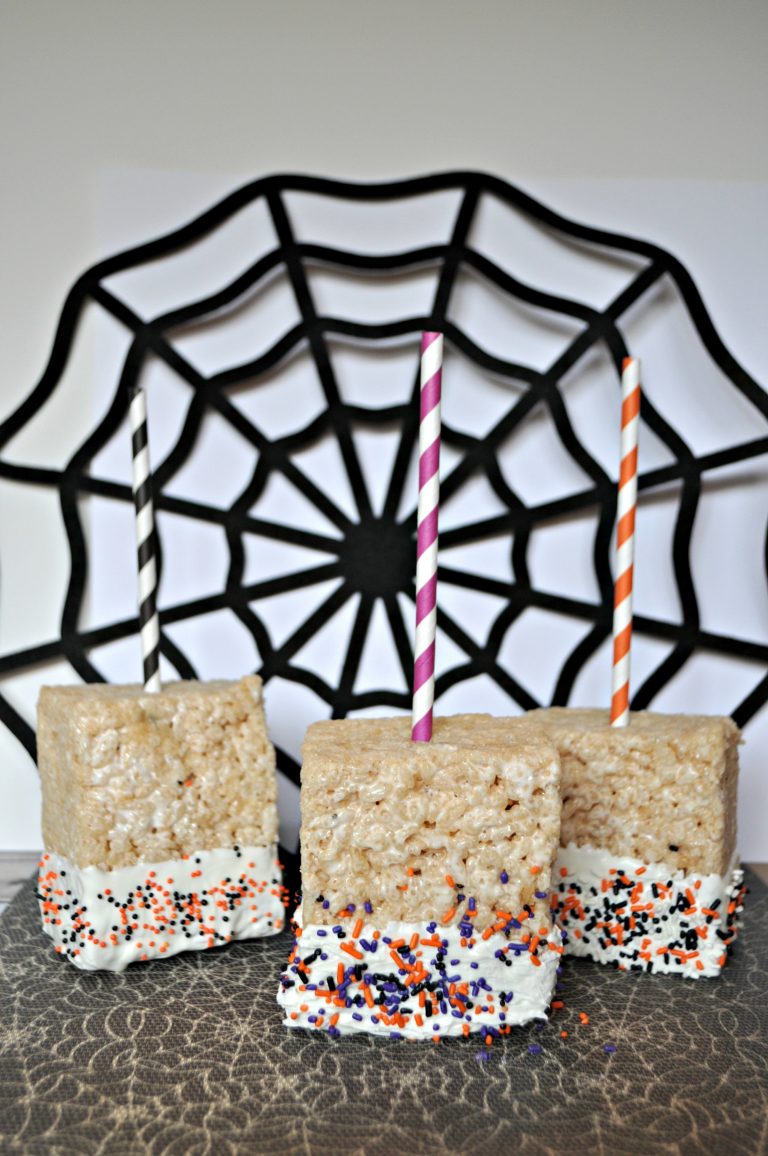 Halloween Rice Krispie Pops Recipe
This recipe will yield 6 jumbo or 12 medium size pops.
Halloween Rice Krispie Pops Ingredients
4 Tablespoons butter
4 cups mini marshmallows
6 cups Rice Krispies cereal
12 ounces white chocolate chips, almond bark or candy melts
Halloween sprinkles
6 or 12 lollipop sticks
Halloween Rice Krispie Pops Directions
Insert wax or parchment paper into the pan so that it hangs over by several inches on each side (this makes it easier to lift the bars out)

Melt the butter in a large saucepan over low heat.

Add the marshmallows and stir until they are melted.

Remove your saucepan from the heat.

Add the Rice Krispies cereal and stir until well combined.

Press the Rice Krispies mixture evenly into the pan.

Place pan into your refrigerator to cool.

Once cool (approximately 30-45 minutes), lift paper out of the pan to pull the bars out and place on a cutting board. Using a sharp knife or pizza cutter, cut them into 6 jumbo squares or 12 small ones.

Insert the lollipop sticks into one side of the bars.

Melt the white chocolate chips in the microwave or double boiler

Dip the ends of the bars into the melted chocolate and shake sprinkles onto the chocolate immediately (the chocolate hardens really fast and the sprinkles will not stick if the bar cools off too fast)
That is it. Really simple to make yet a nice addition to any upcoming party. Change out the color of the sprinkles and the color of the lollipop sticks and you can use this recipe for any upcoming holiday party.
Brown, orange, red for Thanksgiving. Red and green or silver and blue for Christmas. Red and white for Valentine's Day. The possibilities are endless.
Enjoy!
Pin To Pinterest: