Skip the reservation and bring the magic of Disney's restaurants straight to your kitchen with these 100 Disney Park recipes inspired by Walt Disney World's and Disneyland's hottest restaurants.
Recreate popular restaurant favorites right in your own home from appetizers and main dishes to refreshing drinks and popular desserts.
The Unofficial Disney Parks Restaurants Cookbook features 100 table service and quick service restaurant favorites to help you make your own Disney-inspired menu.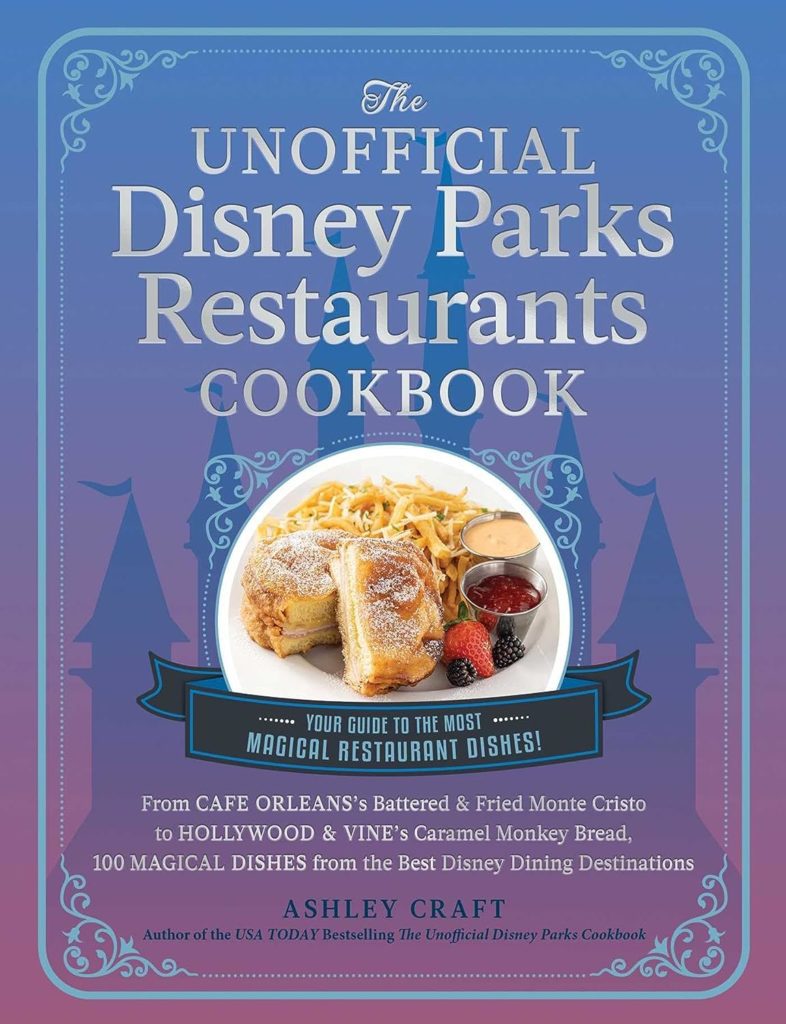 You'll learn to make this Disney Park Recipes:
-Tiffins Signature Bread Service from Tiffins
-Fried Chicken Dinner from Plaza Inn
-Herb-Salted Pork Tenderloin from Be Our Guest
-Chocolate Cake from Satu'li Canteen
-And much more!
Perfect for everyone from Disney experts who miss those familiar flavors in between trips to fans who have never visited the Parks but still want to have the full restaurant experience.
The Unofficial Disney Parks Restaurants Cookbook has all the recipes you need to make a meal worthy of the Mouse himself.
Johnny Appleseed's Warm Apple Cakes Disney Park Recipe
You can find these delicious treats at The Diamond Horseshoe, Magic Kingdom
These individual little cakes are as adorable as they are scrumptious. Johnny Appleseed is an American legend who planted apple trees everywhere he went and ended up fruiting much of America with delicious apples.
Johnny was actually a real person named John Chapman and really did plant an abundance of apple trees! Enjoy this dessert as you wonder whether Johnny himself planted the tree that these apples came from.
Excerpted from The Unofficial Disney Parks Restaurants Cookbook by Ashley Craft. Copyright© 2023 by Simon & Schuster, Inc. Image credit: Harper Point Photography. Used bypermission of the publisher. All rights reserved.
Yields 10 Cakes
Johnny Appleseed's Warm Apple Cakes Ingredients
11⁄2 cups salted butter, melted
11⁄2 cups granulated sugar
1⁄2 cup light brown sugar
1 teaspoon baking soda
1 teaspoon ground cinnamon
1⁄2 teaspoon ground nutmeg
1⁄2 teaspoon salt
2 teaspoons vanilla extract
3 cups all-purpose flour, divided
3 large eggs
3 medium Gala apples, peeled, cored, and finely diced
10 tablespoons whipped salted butter
1⁄2 cup caramel topping
Johnny Appleseed's Warm Apple Cakes Directions
1. Preheat oven to 325F. Spray two jumbo-muffin tins with nonstick cooking spray.
2. In the bowl of a stand mixer fitted with paddle attachment, cream together butter and sugar on medium speed until well combined, about 2 minutes.
Sprinkle in baking soda, cinnamon, nutmeg, salt, and vanilla while continuing to mix. Add in 11⁄2 cups flour and mix 1 minute.
Add in eggs one at a time and mix 30 seconds between additions. Add remaining 11⁄2 cups flour and mix 1 minute more. Add in apples and mix until just incorporated.
3. Scoop batter into muffin divots, filling each divot about 1⁄2–3⁄4 full. Bake 30–40 minutes until
a knife inserted in the center comes out clean. Allow to cool in pan about 5 minutes.
4. Place cakes on individual plates and top each with 1 tablespoon whipped butter. Drizzle caramel topping over cakes. Serve warm.
About The Author, Ashley Craft:
As a child who grew up in Anaheim, California, Ashley Craft could recite the Star Tours ride by heart, navigate the Park without a map, and fell asleep to the sound of Disneyland fireworks each night in her bedroom.
After two internships at Walt Disney World and many, many more visits to the Disney Parks, Ashley is now one of the leading experts of Disneyland and Walt Disney World.
Her popular blog, Ashley Crafted, is best known for featuring recipes inspired by Disney Park foods to help people recreate that Disney magic right in their own kitchens. Follow her on Instagram @UnofficialTasteTester.
Find more Disney fun here.
Pin Johnny Appleseed's Warm Apple Cakes Recipe To Pinterest