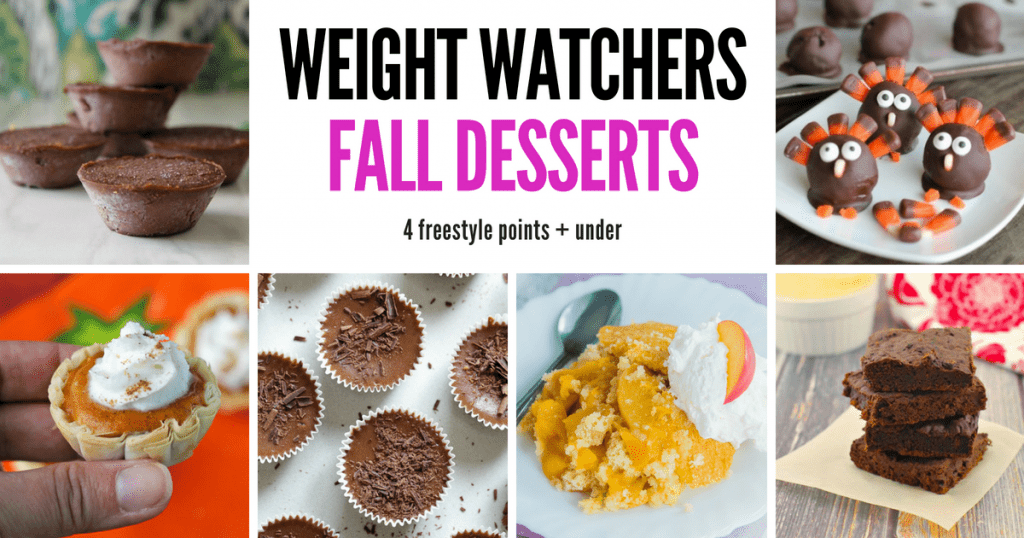 If you're watching your calorie intake and following the Weight Watcher plan you might feel like dessert is out of the question. However, I've found some delicious Weight Watchers dessert recipes that are perfect for fall.
Each of these recipes come in at four points or less which means you'll still have plenty of points for well-balanced meals.
Make these Weight Watchers dessert recipes for your go-to dish to pass for Halloween, Thanksgiving, and Christmas.
I love anything apple and apple pies is, hands down, my favorite dessert.
Luckily, Midlife Healthy Living has a low point option that will cure that craving. For those that love chocolate, there are quite a few Weight Watchers chocolate recipes from our favorite recipe developers.
Need more easy Weight Watchers recipes? Be sure to check out these articles:
Weight Watchers Dessert Recipes – 0 Points
1. Apple Chips from Everyday Maven – 0 FREESTYLE POINTS
Weight Watchers Dessert Recipes -2 Points
2. Crock Pot Weight Watchers Baked Apples from Midlife Healthy Living – 2 FREESTYLE POINTS
3. Pumpkin Pie Bites from Emily Bites – 2 FREESTYLE POINTS
4. Thanksgiving Turkey Oreo Cookie Balls from PinkWhen – 2 FREESTYLE POINTS
5. Yummy S'mores Bites from Suburban Simplicity – 2 FREESTYLE POINTS
6. Crunchy Cinnamon Sugar Cookies from An Italian in my Kitchen – 2 FREESTYLE POINTS
Weight Watchers Dessert Recipes – 3 Points
7. Balsamic Roasted Berry Ice Lollies from Recipes from a Pantry – 3 FREESTYLE POINTS
8. Keto Cinnamon Rolls from Sugar Free Londoner – 3 FREESTYLE POINTS
9. Five Ingredient Chocolate Cheesecake Cup from Skinny Taste – 3 FREESTYLE POINTS
10. Chocolate Banana Crepes from Gimme Some Oven – 3 FREESTYLE POINTS
11. Pumpkin Pie Snowball Cookies from Beauty and the Foodie – 3 FREESTYLE POINTS
Weight Watchers Dessert Recipes – 4 Points
12. Applesauce Spinach Brownies from Food Meanderings – 4 FREESTYLE POINTS
13. 5-Ingredient Tahini Fudge from A Clean Bake – 4 FREESTYLE POINTS
14. Pear Oatmeal Bars from Happy Healthy Mama – 4 FREESTYLE POINTS
15. Weight Watchers Nutella Cookies from Your Brew My Tea – 4 FREESTYLE POINTS
16. Apple Nachos from Fuschia Freezer – 4 FREESTYLE POINTS
17. Weight Watchers Peach Cobbler from Midlife Healthy Living – 4 FREESTYLE POINTS
18. Apple Pie Tacos from Spend with Pennies –4 FREESTYLE POINTS
19. Caramel Apple Muffins from Beauty and the Foodie – 4 FREESTYLE POINTS
20. Healthier Pumpkin Cheesecake Bars from To Simply Inspire – 4 FREESTYLE POINTS
21. Chocolate Pumpkin Keto Fudge from Divalicious Recipes – 4 FREESTYLE POINTS
Pin Weight Watchers Dessert Recipes To Pinterest