Road trip season will be here before we know it and being prepared with your favorite road trip snacks is so important.
I travel a lot and if I don't prepare food in advance I find it almost impossible to eat healthy-ish while on the road.
Although, some gas stations are getting better at offering things like healthy fruits, vegetables, yogurt, etc.
The key here is preparation and portioning out food in advance.
Some snacks will require a small cooler (noted with a *), but I've tried to keep the list to as many foods as possible that can just be packed in a tote bag.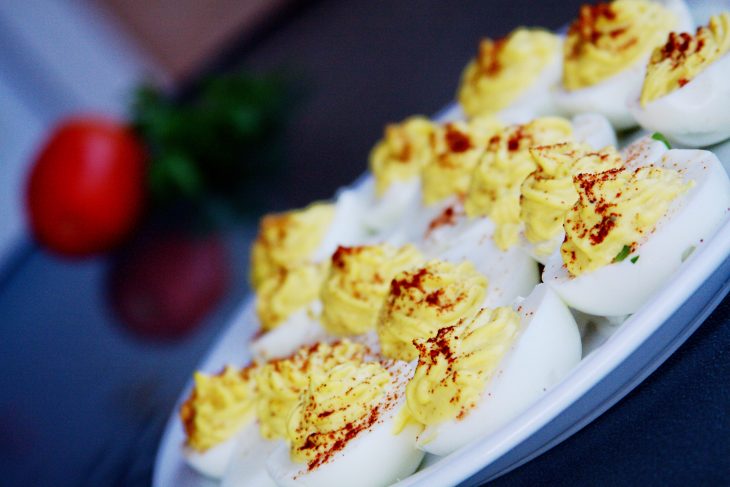 25 Weight Watchers Road Trip Snacks Under 3 Freestyle Points Each
It's going to take a little bit of work to stay on track, but it's going to be worth it. So, without further ado, here are 25 Weight Watchers Road Trip Snacks Under 3 Freestyle Points each.
Point Calculation Note: WW has changed their program since these were calculated. Please calculate points according to your program.
SAVORY ROAD TRIP SNACKS – ZERO TO THREE WEIGHT WATCHERS FREESTYLE POINTS

1. Oven-Roasted Chili-Lime Chickpeas (adapted from MyFitnessPal) Preheat over 400 degrees. Drain a can of chickpeas and dry with a paper towel. In a bowl, spray with a couple pumps of vegetable oil and toss with 2 teaspoons of chili powder, 1/4 teaspoon salt, and zest of one lime. Bake for 30–45 minutes until chickpeas are crispy. THREE POINTS for 1/4 cup. IF you don't roast them and eat them raw with the spices it's ZERO POINTS.
2. Hard Boiled Eggs or Deviled Eggs*– If making deviled egg mix cooked yolks with 0% fat-free Greek yogurt, a dollop of mayonnaise, some mustard (deli style if you prefer), salt, pepper & paprika. Even though the light mayo has 1 point for 1 tablespoon I don't count any points unless I eat ALL the eggs.
3. Good Thins Corn Crackers, 29 for 2 POINTS + 1 Laughing Cow Light Spreadable cheese*, can also top with sliced cherry tomatoes or broccoli to mix it up a bit. TOTAL: 3 POINTS
4. Babybel Light Cheese*. I like these plain. 1 POINT
5. Rold Gold pretzels sticks, 53. Perfect when you are craving salty + crunchy. 3 POINTS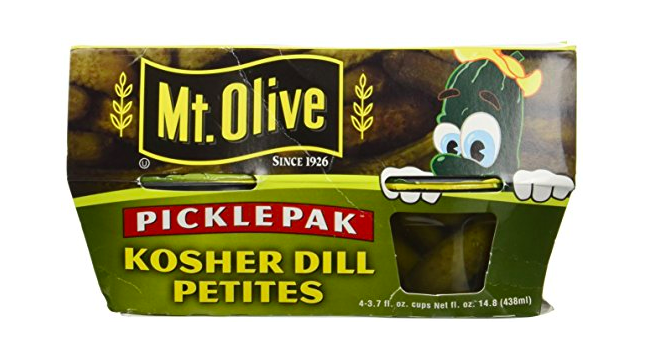 6. Baby Kosher Dill Pickles. I've found these in individual cups before, I think at Walmart, which makes it easy for travel. ZERO POINTS
7. Baked Cheetos, 34 pieces for 3 POINTS.
8. Air popped popcorn. Spritz with a bit of olive oil cooking spray and top with kernel seasons popcorn seasoning. 1 POINT per cup
Protein Packed Weight Watchers Snacks
9. Slim Jim Original Smoked Snack Sticks. Two sticks in 3 POINTS.
10. Bean salad, ZERO POINTS + tortilla chips, 1 POINT. Drain and mix 1 can corn, 1 can black beans, 1 can of garbanzo beans, 1/2 cup crumbles fat free feta cheese. Add salt and pepper to taste. Can also toss with a bit of taco seasoning for a different flavor. For tortilla chips, cut an Ole Xtreme Wellness Wrap into chip size and cook in oven or an air fryer until crisp. Dip chips into bean salad. Enjoy.
11. Turkey Rolls*. Spread Laughing Cow Light Cheese, 1 POINT over 2 ounces of Oscar Mayer Selects Natural Turkey Breast, Slow Roasted,1 POINT, roll up. Total 2 POINTS.
12. BLT*. Three slices of crispy cooked center cut bacon, 2 POINTS + slices of tomatoes,0 POINTS + lettuce leaf, 0 POINTS, + 1 slice of low calories bread OR 1 Ole Xtreme Wellness Wrap, 1 POINT. Roll 1 slice of bacon + tomato in a leaf of lettuce for 1 POINT (can have 3 for 3 POINTS) OR layer bacon, lettuce, and tomato slices in the tortilla wrap or on a slice of low-calorie bread. 3 POINTS
13. Chicken or Tuna Salad Stuffed Mini Peppers* This chicken salad recipe is 1 POINT and this tuna salad recipe is 1 POINT. They both look delicious and you can either wrap in a lettuce leaf, 0 POINTS, or stuffed in a mini pepper that has been deseeded, o POINTS. The stuffed mini peppers make it easy for travel!
14. Calbee Snapea Crisp Original. 22 pieces, 3 POINTS.
SWEET ROAD TRIP SNACKS – ZERO TO THREE WEIGHT WATCHERS FREESTYLE POINTS
15. These banana oat chocolate cookies are worth a try. They are only 1 POINT each which is great because who can stop at one cookie. You could have a couple and still be in a good snacking point range, in my opinion. 🙂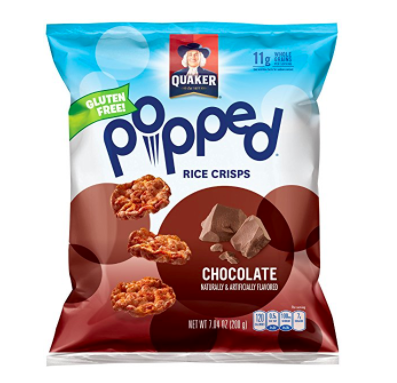 16. 10 Chocolate Popped Rice Cakes. 3 POINTS
17. Berry French Toast Muffins from EmilyBites.com. These look SO GOOD and they are only 2 POINTS each.
18. Vitatops 100 calorie sugar free velvet chocolate muffin top. 3 POINTS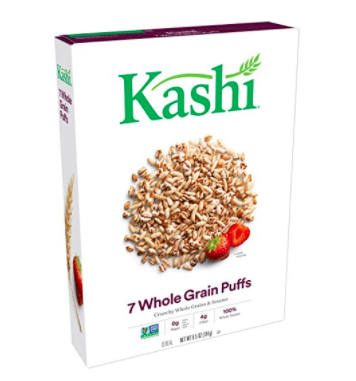 19. 1 cup Kashi Cereal, 7 whole grain puff cereal. 2 POINTS
20. These four-ingredient, flourless cookies also come in at 1 POINT each…..winning!
21. Banana Pancake Bites are sure to please. 1 POINT
22. These Strawberry Shortcake cookies are only 2 POINTS each. Oh, so good!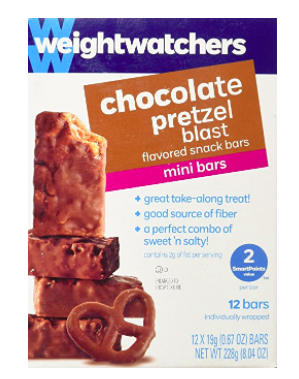 23. Weight Watchers Chocolate Pretzel Bars. 2 POINTS
24. PB Banana Sushi-Wrap one large banana in an Ole Extreme Fitness tortilla wrap, drizzle with prepared PB2 and sprinkled with cinnamon. Roll up, slice into pieces, store in Ziploc container. 2 POINTS
25. Cheesecake stuffed strawberries for 1 POINT each. Thank goodness these are only 1 point each because they are SOOOO good!
You'll also love this list of Weight Watchers Desserts!
FRUITS & VEGETABLES ROAD TRIP SNACKS- ZERO to TWO WEIGHT WATCHERS FREESTYLE POINTS EACH
I couldn't help myself. There are just so many options! I had to share some of my favorite fruits and vegetables and different ways to enjoy them. It's easy to get tired of fruits and vegetables but there is no denying that zero point foods have a place in the Freestyle program. Fruits and vegetables beat a fast food burger every day of the week. Here are my favorites:
Note: The prepared fruits may have a bit of natural browning as it oxidizes. Avoid by spritzing with some lemon juice or wait to prepare until you are ready to eat the snack.
Apples-cut up in advance, toss in Ziploc, enjoy with 2 tablespoons of prepared PB2 (1 point)
Cherries-I live in northern Michigan where cherries are plentiful in the summer. This is one of our favorite road trip snacks.
Blueberries – Easy to eat while driving. Pre-rinse and store in a reusable container.
Cutie Oranges – Peel in advance so you don't have to deal with that while you're driving.
Applesauce cups and fruit cups (make sure zero calories, water packed) are hard to eat if driving but ok for passengers. ZERO POINTS
Carrots-I prefer whole carrots that I peel and cut up myself. I swear they are more flavorful, but it could all be in my head.
Grape Tomatoes – I never thought I would like eating tomatoes plain, but they are quickly becoming my favorite snack.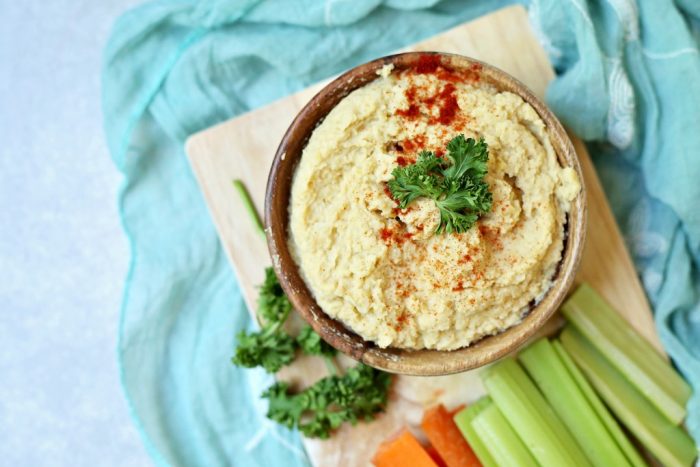 FRUIT & VEGGIE DIPS
Ranch Dip–Mix a couple tablespoons of Dry Ranch Mix in 0% Fat-Free Greek Yogurt of choice (I prefer Fage). ZERO POINTS
PB2-Prepared 2 tablespoons. 1 POINT
Hummus-SlapDashMom has a fantastic ZERO POINT Hummus recipe. Perfect for carrots and celery.
PIN 25 Weight Watchers Road Trip Snacks