What do tequila-soaked gummy worms, zydeco music and kids chasing chickens have in common?
I was about to find out as I stepped up in the parade trailer complete with a blue johnny strapped at the back.
By the vibe in the air, I could tell that I was in for a really good time.
Who knew that by the end of the parade I'd make new friends indulge in, maybe one too many, tequila-soaked gummy worms and cheer on a swarm of kids chasing chickens.
This is the kind of fun that can only be had at the Iowa Chicken Run in Iowa (pronounce Eye-Oh-Way), LA.
What Is The Iowa Chicken Run?
This rural, authentic Mardi Gras parade is a centuries-old tradition that includes riders on horseback, ATV's and on parade trailers. Revelers and parade goers wear their absolute best Mardi Gras colors and you'll see traditional style costumes mixed in the crowd.
A parade captain is in charge and blows a whistle for everyone to load up and head out. Stopping at rural homes along a predetermined route the captain will blow his whistle again indicating it's time for zydeco music and dancing to entertain the homeowners.
If the music and dancing meet with homeowners approval gumbo ingredients are donated to the community gumbo dinner for later in the day. Before leaving the yard, a chicken is gently tossed into the air and as soon as the chicken's feet hit the ground all the kids scramble to try to catch it.
Afterward, everyone loads back up on parade floats, ATV's and horses and the parade moves on to the next lucky house. Rinse and repeat until the parade ends.
Who Started The Iowa Chicken Run
In 1978, Willie Bushnell, his son Willis Bushnell, Griffin Victorian, Rogers Bellard, Boo-Zoo Chavis, and their families started the Iowa run to keep their heritage and cultural traditions alive for their children and future generations to come.
When Mr. Bushnell passed away his youngest daughter Helen Bushnell Morris and his oldest grandsons and granddaughters continued the tradition until 2009.
The last several years, the eldest grandsons, Rodney Louis Victorian, Kimmy Bellard and their families have preserved the event.

Chasing Chickens
Just when you think you've seen it all the captain throws that chicken and the kids go WILD. My number one tip is to stay out of the way of the kids when that chicken flies free.
Stay close enough to enjoy their chicken chasing enthusiasm though because there's nothing quite like it.
Usually, the captain only tosses a chicken once during a stop, but sometimes a couple of chickens are chased.
Yes, there are multiple chickens that get to share the thrill of being chased by local kids.
The successful child that actually catches the chicken receives a small monetary token from the captain.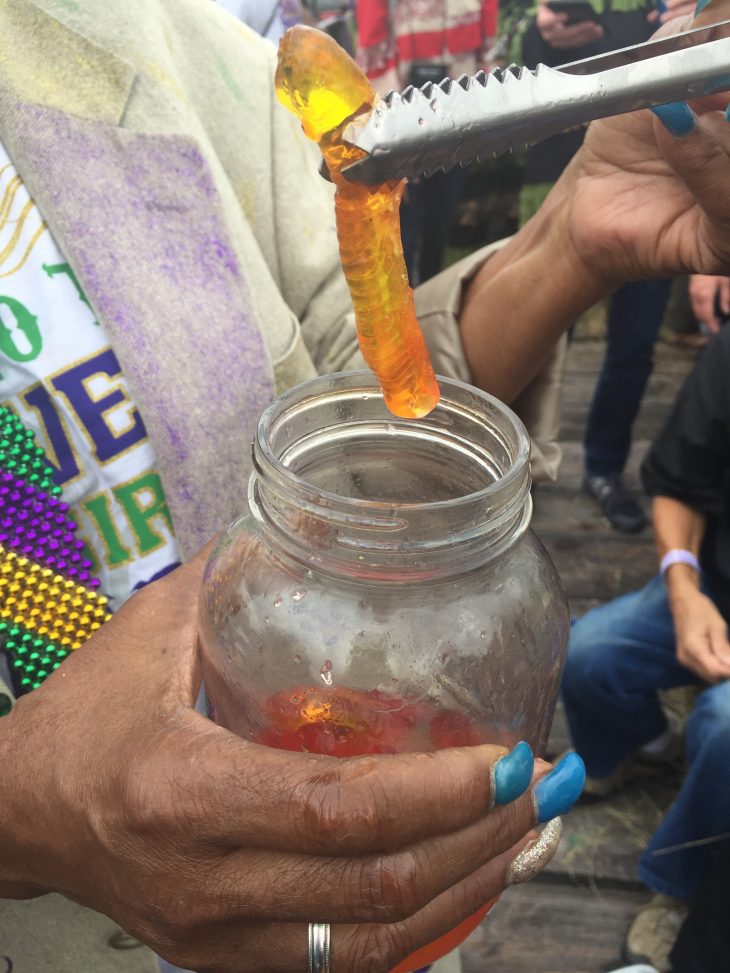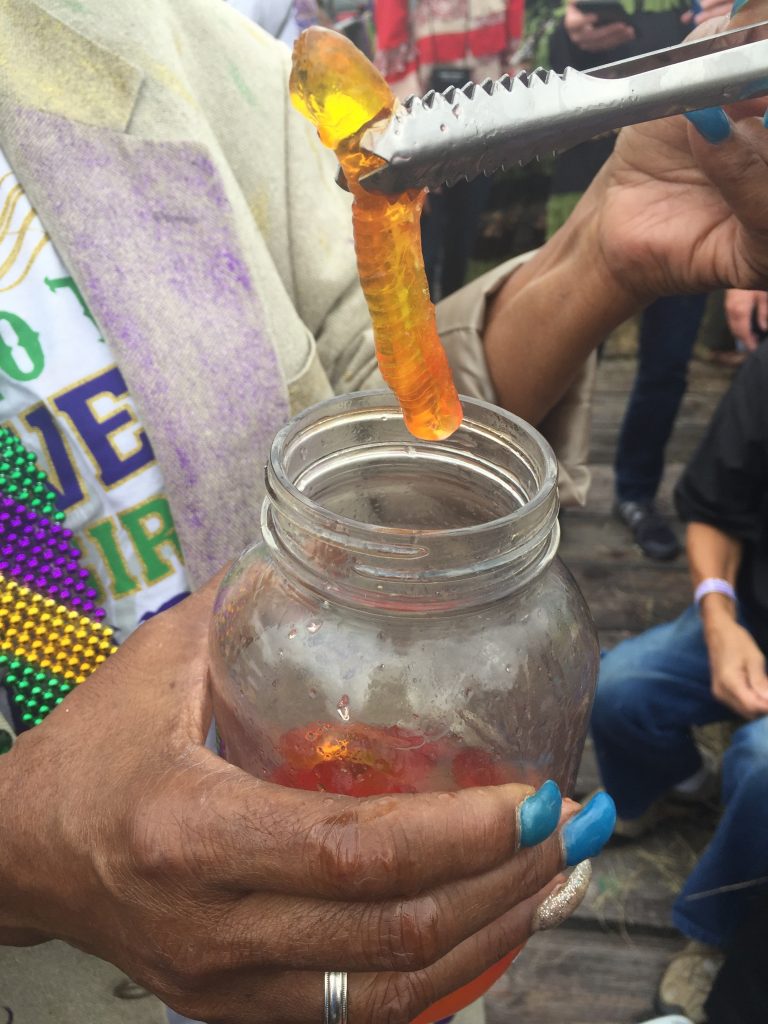 I Blame The Tequila Soaked Gummy Worms
Whew, the chicken run is one heck of a good time especially when it comes to a new friend offering up tequila soaked gummy worms.
Planning is key as she made a couple of jars full of these alcohol soaked treats. Just like her mama taught her she made enough to share with strangers and for that, I say THANK YOU.
At first, I declined this interesting delicacy as tequila and I am not on the best of terms.
However, by the third time, the gummy worms came my way I threw caution to the wind and accepted my fate a big, fat juicy gummy worm.
Thankfully, I had a beer chaser to help keep that gummy worm down.
I'll just say the second worm goes down a lot easier than the first 😉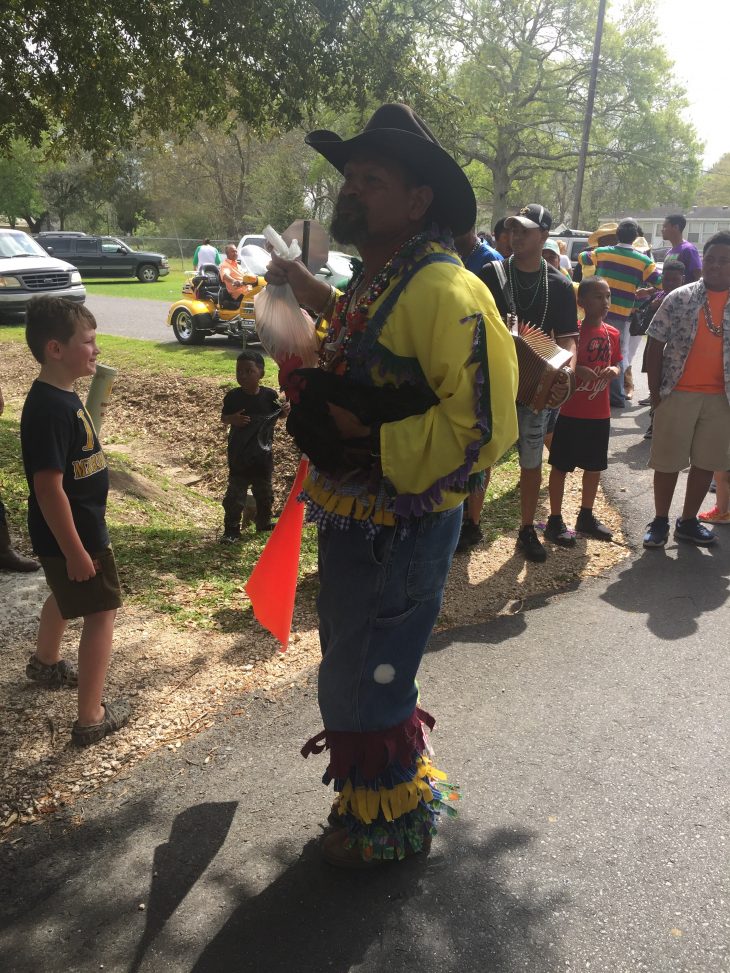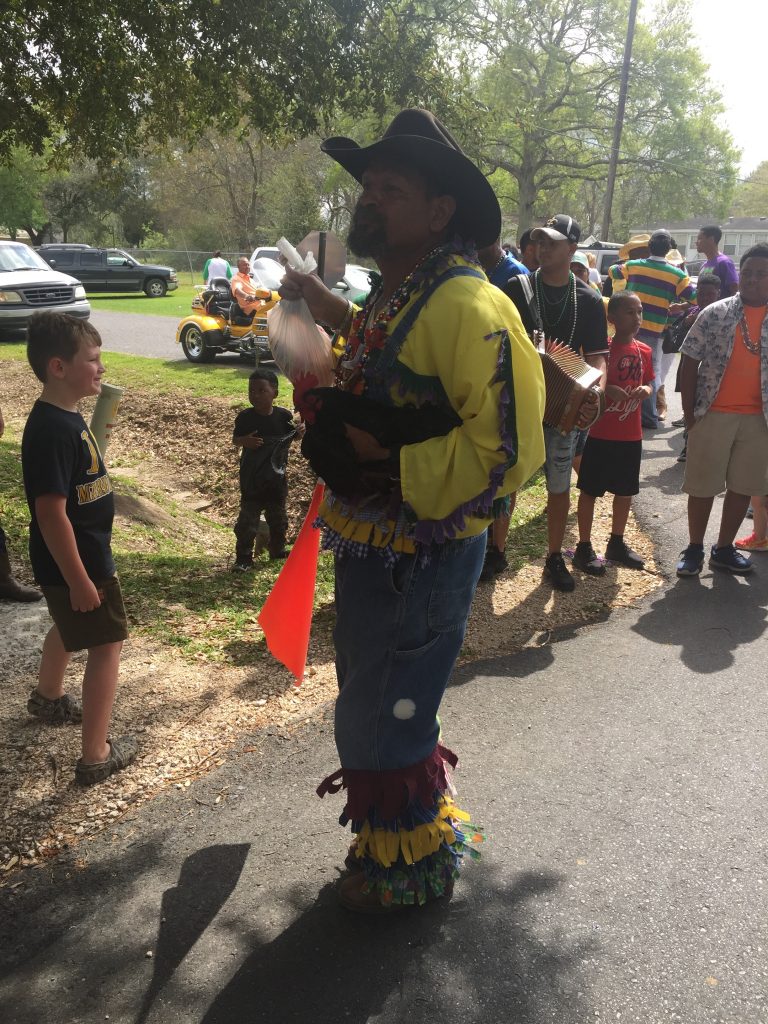 Zydeco Music
A band on a parade float keeps the music going while traversing between homes.
Once you hop off your parade float for a bit of music and dancing the music is provided by an accordion and scrub board.
Even if you don't have an ounce of rhythm or dance skill (slowly raises hand) Zydeco music will have you moving to the beat and a couple of gummy worms will have you not caring how bad you dance.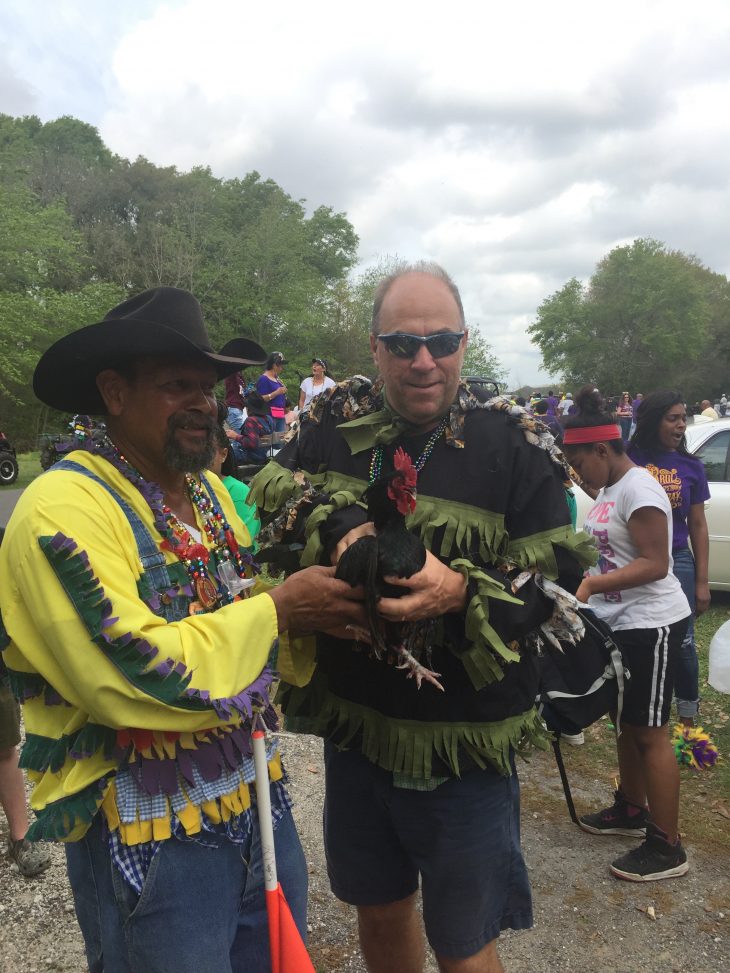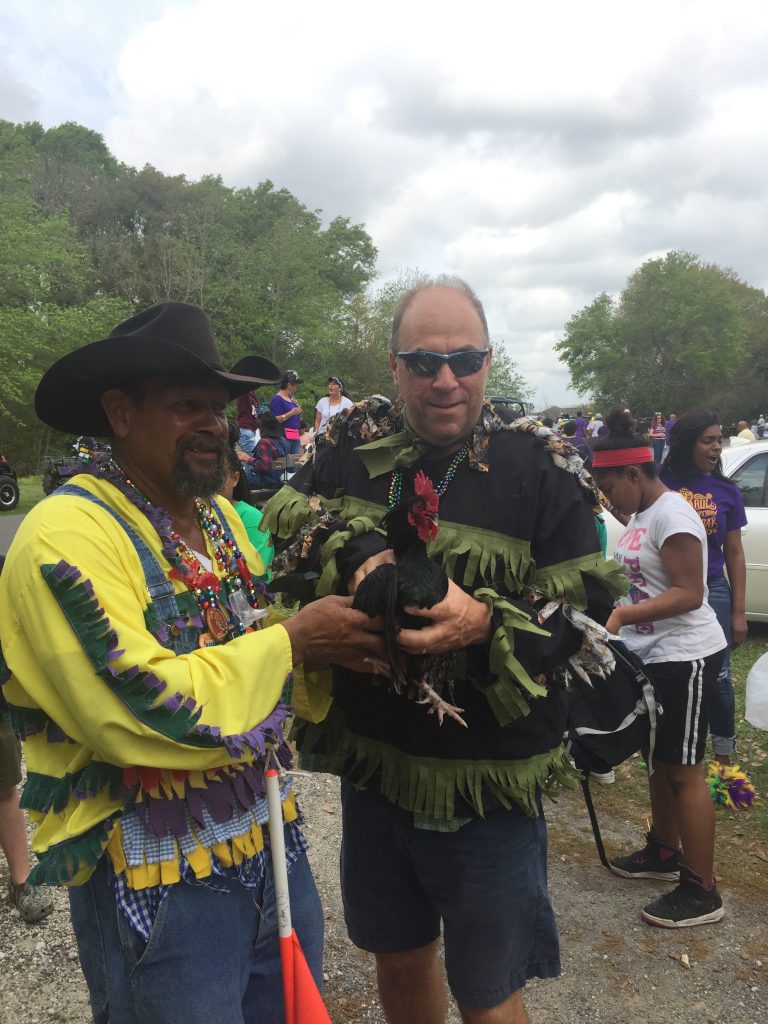 Is It Worth Attending?
In my opinion, the Iowa Chicken Run is a must-attend event for anyone interested in experiencing an authentic Louisiana rural Mardi Gras. I had so much fun!
The locals were warm, welcoming and made us feel like we'd been friends for years.
So thankful for the invite to join them on an Iowa Chicken Run float.
More Information at Southwest Louisiana Mardi Gras
More Mardi Gras & Lake Charles Fun
PIN IOWA CHICKEN RUN TO PINTEREST